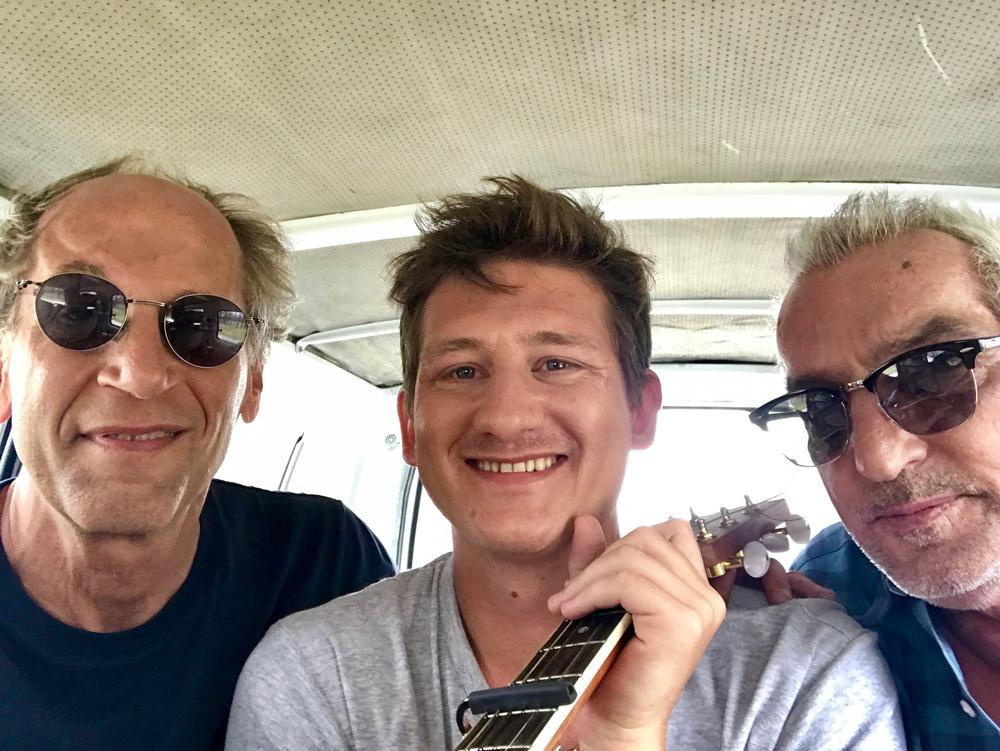 26 November 2022
Let's start with a bit of background. How did the band get together, and what paths brought you to becoming The Burnt Pines?
Aaron: Miguel (the pianist/keyboard player) and I met here in Boston, attending Berklee College of Music. Miguel later moved back to his home country of Portugal and opened up a recording studio in Lisbon, where he eventually met Kris, who is originally from Denmark. Kris sang some songs I had written and produced, and I loved his voice, he loved my guitar playing, and soon we were talking about what it would be like if we tried to actually co-write some songs together, the three of us.
After co-writing our first song together (the song "Outside of Us" from our debut album), we loved the results so much and got so musically excited that we continued to co-write, which resulted in a burst of songs that resulted in our first debut album, and then continued co-writing to create the songs for our upcoming second album. The Burnt Pines were really formed after that first song, and we discovered that when we co-wrote, we had a unique sound that was very different from what any of the three of us would have written alone, our co-writing created what seemed to us like a unique new sound and one that really pleased all three of us.
How challenging has it been to record an album with members of the band based in Boston and Lisbon?
Aaron: Interestingly enough, though it might seem challenging, we've developed a really productive and effective process for recording our two albums. I have a home studio, and Miguel and Kris share a studio in Lisbon. We send our ideas and recordings back and forth to each others' studios, adding one instrument or voice at-a-time, a process that's not so uncommon anymore, and for some time now. As our co-writing evolved, our method of remote recording between our two studios got very fine-tuned, and we got quite good at it, which especially served us well during the pandemic!
What musical influences and reference points are you conscious of as you have developed The Burnt Pines sound?
Aaron: We've tried not to be too derivative of anyone else's sound, at least not consciously. We've tried to remain true to each of our own personal strengths, and bring each of our three uniquely different musical perspectives to our songs.
Given the distances involved, do you ever see the band as a live vehicle, or is it destined to remain a studio project?
Aaron: Hard to tell at this point. Certainly, being bi-continental makes it challenging to perform with any regularity. It's possible that with some more exposure and visibility with our second album, that we'd consider performing live in Europe to start, probably in a trio format rather than the full band, which would be cost-prohibitive for us at this point. We'll have to see how our new album is received, if it "pops" somewhere, etc.
Although there is very much an Americana and indeed American sound running through your music, how much has the multi-cultural aspect of the band played its part?
Aaron: I think we've each brought a different and unique musical sensibility to our overall Burnt Pines sound. Miguel's Latin-and-Jazz-steeped piano sensibilities on all the songs make all the piano and keyboard parts, in my opinion, really tasteful and interesting, rhythmically and harmonically too. My more Americana-ish acoustic guitar brings maybe most of that Americana and American sound you mention. And Kris, who grew up with an American mother and a Danish father in Denmark, brings his own unique and separate sense of musicality to our whole sound. Kris also writes almost all of the lyrics on both of our albums.
As a big Jethro Tull fan, I enjoyed your inclusion of "Skating Away (On The Thin Ice of a New Day)". Was there a particular reason why you chose that rather than covering a better-known song?
Aaron: Honestly, "Skating Away (On the Thin Ice of the New Day)" has always just been one of my favorite songs of all time from all artists! I'm also a huge Jethro Tull and Ian Anderson fan. Obviously, Ian's voice is one of his most amazing and singular musical gifts, so we really had to make sure that if we covered this song, Kris's voice could make it his own and also be convincing and appealing and that our whole arrangement would also hold water to the original! Not many people cover Jethro Tull songs, mainly, I think, because Ian's voice is so singular and unique. So I hope, mainly, that we were able to do the song justice, and make it our own, while also remaining true to the spirit of the original! We had a blast covering this song!
And finally, what does the future hold for The Burnt Pines? Both in terms of practical plans and more distant dreams and ambitions?
Aaron: In our immediate future, we'll be waterfall-releasing our new second album with four singles and music videos for those singles – the first single release from that album was just released along with a music video. After that, we have three more singles to be released, each with an accompanying music video: "The Ghost Living In My Beer" on December 2nd, 2022; our radio single, "Bring Out Your Book," on January 6; and then our whole second album will drop officially on February 3, followed by our fourth single/video "What Did You Come Back For?" shortly after the album drops. All four of our music videos are directed by produced by Kris Skovmand, our lead singer and main lyricist.
All of this follows on the heels of our self-titled debut album from 2021, THE BURNT PINES, which spent 11 weeks on the AMA/CDX Top 50 Americana Album Chart, and also earned a Top 10 spot on the Roots Music Report's Best Albums of 2021 year-end list. So we're hopeful for our second album to do as well, or hopefully even better! In the future, it would be a blast to one day play some of the Folk Festivals, in the distant future to tour with The Lumineers, or Marcus Mumford, and for now, to mostly be able to have the opportunity to continue making music with my bandmates in The Burnt Pines.
Thank you for your time, and best of luck with everything.
Website
Linktree
Instagram
Don't Look Down listen
Don't Look Down video