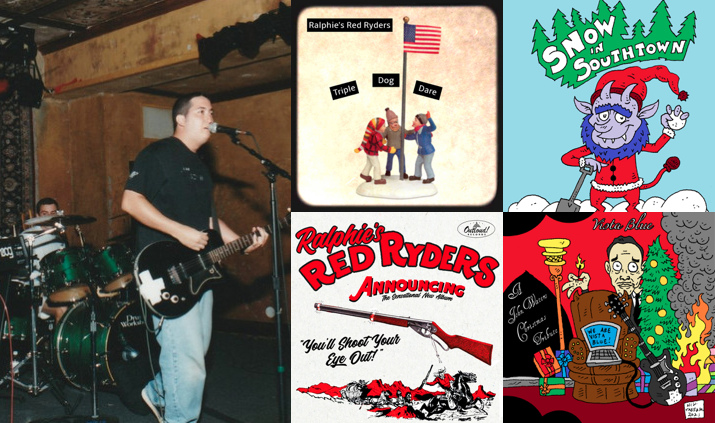 25 November 2022
No, not that Mike Patton. This Mike Patton is a Christmas-obsessed power pop/pop punk musician who lives in Nashville. His A Christmas Story -themed band, Ralphie's Red Ryders, just released a new digital track called (what else?) "Triple Dog Dare." RRR's previous releases include "Pulverized," "They Traded Bullfrog" and, of course, "You'll Shoot Your Eye Out," among others. Patton also co-hosts the Snow In Southtown holiday-themed podcast with his frequent collaborator Rusty Spell. Outside of the holidays, Patton records and performs with the band Vista Blue… which, come to think of it, has also released around 40 holiday songs (not a huge surprise when you consider that both RRR and Vista Blue feature the same line up of Patton, Mark Crowley, Reese Chism and Todd Patton). This Mike Patton knows a thing or two (or twelve) about holiday music, so I asked him to share his five favorite Christmas albums.


Mike Patton's Top 5 Favorite Christmas Albums
5. Harry for the Holidays by Harry Connick, Jr. (2003)
I think Harry Connick is one of the most talented musicians around, but he also has an amazing band. As a native New Orleanian, I feel like I'm back home again when I hear this record. There are some of my favorite versions of classics like "Santa Claus Is Coming to Town," "Frosty the Snowman," and "Silver Bells," while originals like "I'm Gonna Be the First One" and "The Happy Elf" remind us that Connick is a great songwriter. The whole record is just a special pre-Katrina celebration that likely will never be matched.
4. Christmas Portrait by The Carpenters (1978)
The Carpenters are the band on this list that I listen to the most outside of the holiday season (and I've heard a lot about that from friends over the years). Karen Carpenter is my favorite female vocalist of all time, possibly rivaled only by Mama Cass, while Richard Carpenter has been an inspiration to me for as long as I can remember knowing about music. I've learned so much from studying him, and on this Christmas album, he's at the top of his game. Although Side B is really good and even contains the hit ("Merry Christmas Darling"), Side A is essentially holiday pop perfection.


3. A Charlie Brown Christmas soundtrack Vince Guaraldi (1965)
When I'm ready for it to "feel" like Christmas, I turn to this record. It's perfect for any time of the day, whether I'm waking up, driving to work, eating dinner, or going to bed. It helps, of course, that the Charlie Brown TV special itself is pretty perfect, but this album stands on its own, and I listen to it constantly throughout the holiday season.
2. A Christmas Gift for You from Phil Spector (1963)
I love the Beach Boys and the Four Seasons holiday albums, but when it comes to rock and roll Christmas records, this one just blows everything else away. Every single note is perfect, and Spector, the singers, and the musicians created a true work of art. It's the Pet Sounds or Sgt. Pepper of Christmas records, and I can only imagine what it must've been like to be in that studio. So many of these arrangements instantly became standards, especially for rock and pop versions, and we still hear artists covering Spector's takes today.


1. Merry Christmas by Bing Crosby (1955)
This record will always put a smile on my face. I try not to do it, but if I had to play it on July 1st for an adrenaline boost, I know it would work. Most of the songs on this album are the essential versions for me, especially "White Christmas" (of course), "Christmas in Kilarney," "Jingle Bells," and "Santa Claus Is Coming to Town," my favorite Christmas song. If the record (the 1955 version, which is still in print today) were only Side A, it would likely still be in my Top 5 Christmas albums. But Side B truly may be my favorite side of any record ever.
Previously On Playing Favorites
Spike Slawson's Top 5 Favorite Panettone/Pandoro
Parry Gripp's Top 5 Favorite Weird Al Songs
Linus Of Hollywood's Top 5 Favorite Classic Metal Albums