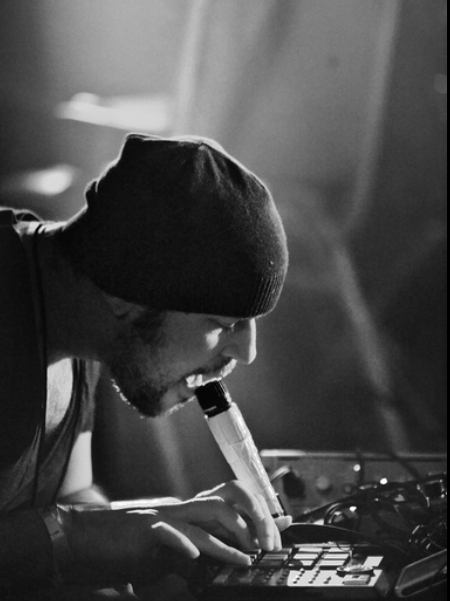 19 July 2019
Photo: Tim Bugbee
As covered in yesterday's interview with Todd Fink, frontman for dance-pop new-wavers the Faint, this year's installment of Psycho Las Vegas sees the festival ballooning to include indie-rock to a greater degree than in past years. One of the other decidedly un-metal artists that Fink revealed his excitement to see perform next month at the Mandalay Bay Resort and Casino is Tobacco, with whom we happened to snag an interview last month.
While Psycho will feature such adventurous artists as Godspeed You! Black Emperor, Yakuza and Oranssi Pazuzu, it is Tobacco (née Thomas Fec) who will likely stand out as the most outlandish act at the festival. The one-time Nine Inch Nails opener — who also fronts Black Moth Super Rainbow — focuses his solo project on experimental rock, alternative hip-hop and dance music with the help of analog synths, tape machines and other devices that probably won't be seen elsewhere at the venues.
Tobacco, who is performing at Psycho for the first time, is slated to perform Saturday alongside such varied artists as Old Man Gloom, Black Mountain, Grails, Tomb Mold and Mark Lanegan. (Stay tuned for our interview with Lanegan soon.)
When we caught up with Tobacco via telephone, the prolific performer was on a rare break from recording, which he referred to as "a never-ending process." The seemingly introverted musician opened up about his lack of familiarity with Psycho and whether he thinks he'll fit in at the festival (and in Vegas generally). He also recounted an outrageous story involving the Flaming Lips, grandparents and an alien blow jobs.
Did you know about Psycho Las Vegas when you were invited?
TOBACCO: I had never heard of it. I looked into it. Truly, I usually hate festivals and want to get in and out as quickly as I can. But there are a few bands I really want to see, so I might come in early and stay late. [With this festival,] I have to change my thinking.
Which bands would those be?
TOBACCO: Fu Manchu, Electric Wizard, Kadavar. I haven't seen any of them. I don't get to shows, we don't get those bands here. I don't go out. I have to play shows, so I'm trying to save my hearing. I'm sure I'm in the minority, but I have to spend so much time at venues that the last thing I want to do when I'm off is go to a venue.
Were you or Black Moth Super Rainbow invited to Psycho in the past?
TOBACCO: I didn't think we were invited. I don't know anyone [who will be there]. Laughs. I really don't know anyone in music honestly. I'm on my own.
What are your feelings about Vegas?
TOBACCO: I've spent almost no time in Vegas and have done nothing except literally played there twice in the past two years and [usually] getting Uber Eats at the hotel room. It'll be something. I really don't like Las Vegas, but it doesn't really matter. It's more about the kind of people who are coming out [to the festival]. That kind of lineup is going to bring out a pretty open-minded group of people.
So gambling isn't your bag?
TOBACCO: I can't stand that shit. I think I'll just be looking for good food. I heard there were a lot of good restaurants. I'll be there when I'm not seeing bands. One place I've been a couple of times ago, our first time in Vegas — I wish I could remember the name — it's Japanese and South American, some kind of fusion food. [The chef] had this watermelon poke. It was in one of the new casinos.
Do you prefer playing indoors or outdoors? In the daytime or at night? I saw your daytime performance at Riot Fest Chicago in 2017, and it was hard to see some of the visuals you had playing on the screens adjacent to the stage.
TOBACCO: I don't know if I'm playing outside or inside. It doesn't bother me. I prefer to play at night. I don't think we're going to do videos at this show.
Why not?
TOBACCO: I want to try to do something new. I don't want to use videos as a crutch. I feel like it's maybe becoming that. I want to play some new material and make it about that. I think this will be the first Tobacco show we're doing this year.
So what will your set entail?
TOBACCO: We don't normally do this, but we're going to go stripped-down, just the two of us [Tobacco and Black Moth Super Rainbow bandmate the Seven Fields of Aphelion] with a drum machine. We're growing up. It's going to be more simple.
Will you feel comfortable playing at a festival that is largely dominated by heavier guitar-based bands?
TOBACCO: I hope so. I've never played this kind of show — I always get invited to festivals with the types of music that I don't listen to. I guess that's where I'm perceived to fit in. I actually listen to [heavy music]. I don't know that I'm going to fit in, but hopefully.
I [usually] have my safe space with my people when I play my own shows. This is not a safe space, because I don't know the people, but it's better to be up against it. That forces you to be better.
Will you debut any new material at Psycho?
TOBACCO: I record as I write, so it's always kind of ongoing. Everything is pretty much demoed and begun and starting to be built. I haven't figured out the right way to communicate this yet, but this is the most labored-over and thought-out [album I've created]. I'm really putting a lot of work into arranging songs.
Why so?
TOBACCO: I think a lot of people think I'm just a palette of sounds, but I think it's gonna be fun to do more than that. Whether people hate it or not, I don't know, but I'm really spending a lot of time writing this thing, which I've never done this before. It's mostly done on impulse. I made the last record [2016's Sweatbox Dynasty] in a month and a half. I'm really proud of it, but live, I fucking hated it. It sounded lazy. This is almost the opposite of that.
What else do you have in store for your set?
TOBACCO: I'm going to play some old stuff too. I don't have a ton ready to go. There will be some new stuff that I'm really proud of right now. I do all the vocals live through a bass guitar these days, through the vocoder, so the drums and I guess other parts you can't do with other people will be programmed in.
What is your wildest festival experience to date?
TOBACCO: We got kicked offstage a few years back. We did a show about five years ago with the Flaming Lips in Niagara, in upstate New York — I assumed that because it was called Artpark that it was about art. So we did our soundcheck, and the Flaming Lips had their huge screen. It was this giant field with 5,000 or 6,000 people. When I noticed there were grandparents and families and shit, I ran back to the Flaming Lips trailer and saw Wayne Coyne and said, "I shouldn't be doing visuals today." He insisted we do, so I said, "I guess we will."
When sunset was going down, you could see where there was an alien blow job [on our screen]. I've never really shown any human anatomy in my videos.
An alien blow job?
TOBACCO: It was one of those pool noodles, and a girl was deep-throating this thing on an alien. So I get a hand on my shoulder — I'm in the middle of doing the vocals — and this guy shows me his badge and says, "You gotta get the fuck out of here." And another guy shows me his badge. I was like, whatever, I was getting paid anyway.
We cut the show, but the promoter said, "Keep playing, they said you just have to cut video and you're good." So we started playing again, and the hand is on my shoulder again, and [the official] is like, "If you don't stop, you're gonna get your head smashed in." [Unbeknownst to me,] the alien blow job was still going on the screen. So I'm banned now from that park. We're not in the right era for alien blowjobs anymore.
For previous installments of the Big Takeover's Psycho Las Vegas preview series, check out our interviews with:
• Colin H. Van Eeckhout, vocalist for Belgian post-metal purveyors Amenra
• Jason Shi and Scott Key, singer/guitarist and drummer, respectively, for melodic hard-rock masters ASG
• Jay Bentley, founding bassist for politically progressive punk pros Bad Religion
• Stephen McBean, singer/guitarist of long-running psychedelic-rock project Black Mountain
• Jean-Paul Gaster, drummer for "the quintessential American rock band," Clutch
• Greg Meleney, vocalist/guitarist for Portland psych-rock mainstays Danava
• George Clarke, vocalist for shoegaze/black-metal powerhouses Deafheaven
• DJ Painkiller, an L.A.-based metalhead who will be spinning between sets
• Darkest Prince, lead guitarist for black-metal punks Devil Master
• Victor Vicart of Scottish progressive-metal quintet Dvne
• Laura Dolan, vocalist for Cincinnati rock 'n' roll purists Electric Citizen
• Todd Fink, frontman for electro-pop punks the Faint
• Zack Simmons, drummer for blackened death-metal demigods Goatwhore
• Emil Amos, drummer for experimental post-rock band Grails
• Julien Chanut, guitarist for French sludge-doom band Hangman's Chair
• Tony Campos, guitarist and founder of thrash revivalists Hell Fire
• Nashville cosmic-riff connoisseurs Howling Giant
• Gabriel Franco, vocalist/guitarist for gothy post-punks Idle Hands
• Joshy, drummer for crusty death/doom-metal outfit Ilsa
• Johanna Sadonis, vocalist for "heavy magic rock" band Lucifer
• Stuart Braithwaite, founding guitarist/vocalist for beloved post-rock legends Mogwai
• Thomas Eriksen, centrifugal force behind true Norwegian black-metallers Mork
• All-female Motörhead tribute band Motorbabe
• Mikael Åkerfeldt, frontman for Swedish progressive-metal kings Opeth
• Ethan Lee McCarthy, frontman for blackened-doom trio Primitive Man
• Tobias Grave, frontman for shimmering post-rock trio Soft Kill
• Derrick Vella, guitarist of death-metal arsonists Tomb Mold
• Niklas Källgren, guitarist for Swedish fuzz fanatics Truckfighters
• Los Angeles Satanic doo-wop duo Twin Temple
• Kevin Starrs, frontman of British fuzz royalty Uncle Acid and the deadbeats
• Sean Killian, vocalist for cult-favorite Bay Area thrash band Vio-lence
• Bruce Lamont, frontman for experimental heavy-jazz project Yakuza and Led Zeppelin tribute band Led Zeppelin 2
• Aaron Rieseberg, bassist for Oregon doom-metal dealers Yob
Also, don't miss our special feature in which Deafheaven's Clarke and Mogwai's Braithwaite discuss their mutual affection for each other's bands, whether Deafheaven should play their Mogwai cover at Psycho Las Vegas — and the possibility of a collaboration between the two projects.