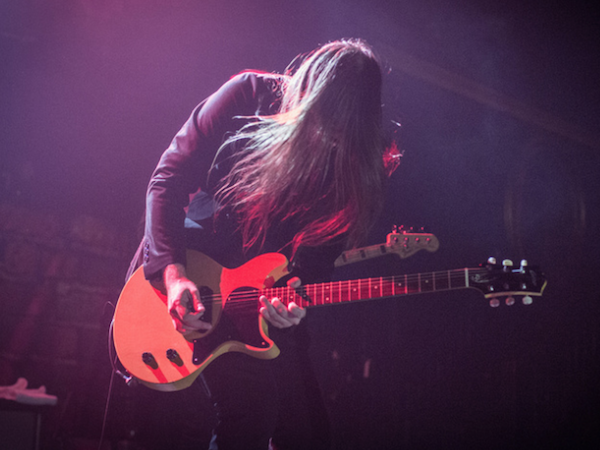 11 July 2019
Photo: Tim Bugbee
Four days ago, Uncle Acid and the deadbeats joined a slew of their Psycho Las Vegas partners and updated the cover photo on their Facebook profile to promote the much-anticipated heavy-rock festival. The throwback hard-rockers from Cambridge, England, are billed third on what is arguably Psycho's strongest day: Sunday, August 18. They will join Opeth, Beach House, Mogwai, Deafheaven, Power Trip and many others at the Mandalay Bay Resort and Casino.
In addition to performing at Psycho's latest installment, the posse led by Kevin Starrs — a.k.a. Uncle Acid — previously played the fest's first swing through Vegas, in 2016. They wowed concertgoers on the same day doom machine and fellow Brits Electric Wizard, who are also returning to Psycho this year, did the same. This year, Uncle Acid and the deadbeats will find kindred spirits on the festival's final day alongside fellow fuzz band Truckfighters from Sweden.
The Big Takeover caught up with Starrs via email around the same time we chatted with Danava, ASG, Lucifer and Twin Temple — all of whom said Uncle Acid and the deadbeats were high on their short lists of must-see bands at Psycho. For his own part, Starrs noted Danava and Twin Temple among the acts he's most eager to see, and also told us about the "hammer attack" his band has in store for so-called "rock 'n' roll bacchanal."
[Note: This interview took place before Megadeth canceled their headlining appearance at the festival and were replaced by Misfits.]
What makes Psycho special — both from a performance perspective and as a personal experience?
STARRS: The fans make it worthwhile. People were really responsive last time we played, so hopefully it will be the same again. It makes it a much better show when people are willing to go wild, and Vegas is definitely a good place for that.
What memories do you have of playing Psycho Las Vegas 2016?
STARRS: It was just a really great show, although the set got cut short. I suppose certain people weren't happy and wanted us off, haha. I remember afterwards [Blue Öyster Cult guitarist] Buck Dharma came into our dressing room and gave us his bottle of whisky.
Do you have any surprises planned for your Psycho set, whether they be songs you wouldn't normally play, added stage elements, etc.?
STARRS: We'll hopefully be playing our full set this time! I've also been working on some "dollar store" visuals for the show because I know people can't go anywhere now without constant visual stimulation.
Do you prefer playing in the heat or in the cold? Indoors or outdoors?
STARRS: Indoors in the cold. I'm not really a fan of sunlight, and when it's too hot, I end up slipping all over the fretboard, which isn't much fun to listen to. I think we're playing indoors at night, so we'll be in our natural habitat.
What other bands are you most excited to see perform at Psycho?
STARRS: It depends on what day we turn up, but I'd like to catch Danava, Twin Temple, Mogwai, the Black Angels, Carcass and Megadeth.
What friends of yours are also playing at the festival? Who are you planning or hoping to hang with in your downtime?
STARRS: Danava are good friends of ours. Also, Twin Temple, who we toured with recently. We're pretty antisocial, so hopefully that will be it. I'm not sure if I even know anyone playing on our day, so I'll probably have a pint after the show, then leave.
What can fans and newcomers expect from your performance(s) at the festival?
STARRS: Fuzz, small amps and loads of songs that sound the same. The set is designed to be like a relentless hammer attack, so don't expect any dynamics or warmth from us!
For previous installments of the Big Takeover's Psycho Las Vegas preview series, check out our interviews with:
• Colin H. Van Eeckhout, vocalist for Belgian post-metal purveyors Amenra
• Jason Shi and Scott Key, singer/guitarist and drummer, respectively, for melodic hard-rock masters ASG
• Stephen McBean, singer/guitarist of long-running psychedelic-rock project Black Mountain
• Jean-Paul Gaster, drummer for "the quintessential American rock band," Clutch
• Greg Meleney, vocalist/guitarist for Portland psych-rock mainstays Danava
• George Clarke, vocalist for shoegaze/black-metal powerhouses Deafheaven
• DJ Painkiller, an L.A.-based metalhead who will be spinning between sets
• Darkest Prince, lead guitarist for black-metal punks Devil Master
• Victor Vicart of Scottish progressive-metal quintet Dvne
• Zack Simmons, drummer of blackened death-metal demigods Goatwhore
• Emil Amos, drummer of experimental post-rock band Grails
• Julien Chanut, guitarist of French sludge-doom band Hangman's Chair
• Tony Campos, guitarist and founder of thrash revivalists Hell Fire
• Nashville cosmic-riff connoisseurs Howling Giant
• Gabriel Franco, vocalist/guitarist for gothy post-punks Idle Hands
• Joshy, drummer for crusty death/doom-metal outfit Ilsa
• Johanna Sadonis, vocalist for "heavy magic rock" band Lucifer
• Stuart Braithwaite, founding guitarist/vocalist for beloved post-rock legends Mogwai
• Thomas Eriksen, centrifugal force behind true Norwegian black-metallers Mork
• All-female Motörhead tribute band Motorbabe
• Ethan Lee McCarthy, frontman for blackened-doom trio Primitive Man
• Tobias Grave, frontman of shimmering post-rock trio Soft Kill
• Derrick Vella, guitarist of death-metal arsonists Tomb Mold
• Niklas Källgren, guitarist of Swedish fuzz fanatics Truckfighters
• Los Angeles Satanic doo-wop duo Twin Temple
• Sean Killian, vocalist for cult-favorite Bay Area thrash band Vio-lence
• Bruce Lamont, frontman of experimental heavy-jazz project Yakuza and Led Zeppelin tribute band Led Zeppelin 2
• Aaron Rieseberg, bassist of Oregon doom-metal dealers Yob
Also, don't miss our special feature in which Deafheaven's Clarke and Mogwai's Braithwaite discuss their mutual affection for each other's bands, whether Deafheaven should play their Mogwai cover at Psycho Las Vegas — and the possibility of a collaboration between the two projects.