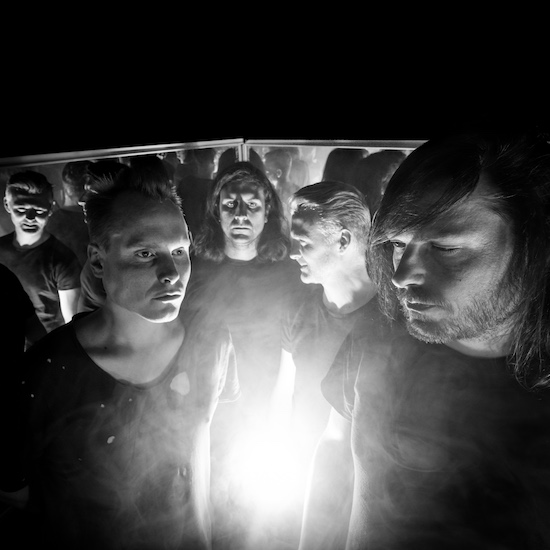 7 November 2017
In 2010, things were looking quite positive for Nottingham-based dream rockers Amusement Parks On Fire. What had started out as the one-man vision of Michael Feerick had grown into something much more—a dynamic rock band that blended the sounds of early 90s shoegaze with a modern sound that sounded fresh and exciting and contemporary, while maintaining a sound that hearkened back to the classic sounds of yore. That the band seemed to be on the ascendency was obvious as well; their releases received not only critical acclaim but also radio play, especially in the notoriously hard-to-break America. Taking advantage of this, the band relocated to Los Angeles to create their third album, Road Eyes—an easy-on-the-ears record that seemed destined to kick start commercial success.
But then—nothing. After a round of touring, Amusement Parks on Fire all but disappeared; a shocking development, to say the least. Even more shocking, then, was the announcement this year that they were back; they had signed to Saint Marie, they released a deluxe edition of Road Eyes (digitally for now, with a physical release coming in early 2018), and the promise of new material. Last week, they released their first new single, "Our Goal To Realise," and we're proud to present the video to that new single.
We sat down with Feerick for a conversation about what happened in 2010, what the band's doing now, and their future plans.
Let's jump back a little bit, to the making of Road Eyes. It seemed like going into the record, things were going well for you. Your records were being heard in America, your reputation was on the rise. It seems as if things were looking promising for the band. Was there a sense of something bigger for the band on the horizon.
Not a sense of something bigger as such, not in a 'career' sense or anything. It was impossible to have that kind of perspective at the time and it was clear that we didn't have the requisite level of control over our fate. At every stage it felt like various things were going horribly wrong and impossibly right simultaneously. But yeah, certainly there were hopes for what we were trying to do and an artistic ambition that was palpable. There was more of a defined analogue of ourselves that we wanted to will into reality than wasn't previously apparent. We'd learned enough by that point not to have any great expectations of the ether and to remain philosophical.
Considering you'd relocated to Los Angeles to make Road Eyes, it seems like the making of the record was going to be a new experience for you. How was it? Was it a pleasant one? Was it difficult? Did it create strains on the band?
It was, and did, all of those things. It focused us as a unit and the album itself as a tangible commodity in a way I hadn't experienced previously. It was great to spend a prolonged period of time with friends there and hunker down in what we considered at the time to be a more suitable home-base for the group. But sure, it focused a lot of existing and meta-typical tensions and inevitably the endeavour destroyed us, for a period of time at least. In hindsight, all things considered, conceptually speaking it was probably the perfect way to make that record. The approach was so pure and distilled that the whole mess self-destructed upon completion.
Road Eyes had a distinctly slicker, more radio-friendly, American sound than its predecessors. Was this the intention, and were you happy with how the album came out?
The intention was almost to comment on that sound at the same time as embracing it and let what we perceived as our sonic surroundings seep into the mix. We wanted to subvert the medium. That was the idea with Out Of The Angeles and going to Iceland as well.They're all a record in the purest sense of the word too, a diary almost. There's a tip-of-the-cap, tongue-in-cheek quality to the songwriting throughout Road Eyes and it seemed appropriate to match that with a certain hi-fi bombast. Plus it was just loads of fun to unabashedly take that stuff as far as it could go. There's an energy to that. In terms of what we set out to do, it's the one I'm happiest with.
Yet after Road Eyes came out, you guys disappeared. What happened?
Exactly that I suppose; we disappeared. Sometimes I think artistically that's the best thing you can do. I wish we could've disappeared for 88 years, only to return having not aged at all, but I've learned now to accept my artistic limits. We toured the US on the back of the album and finished the run with two shows in LA, back where we started, and just imploded. The last show was open-air in Echo Park, eerily apt if you happen to know the record well. I was an emotional wreck I think, looking back. I noticed at some point during the set that I'd cut my hand open and had bled all over the guitar. As I walked off stage I felt a tectonically-induced gravity shift and knew something was different. It wasn't until 2017 I felt it correct to continue.
What brought you guys back together? Did you ever feel as if you'd broken up, or was it a case of just wanting a little time off, which then turned into nearly seven years away?
Amusement Parks is very much a collective but, as it began as a solo-project, it would be unnecessarily academic to declare it broken-up, on-hiatus or otherwise. But yeah, a little time off was all but essential. I guess in the intervening 8.8 years I've accidentally, or should I say automatically, been writing an album which I came to realise had to be made, at some point anyway. I wouldn't presume to make some grandiose comeback though, of course. I wish we had the clout to pull-off a 23 year moratorium in the style of the JAMs, but alas. It's funny that in the time we've been away several bands have done both 'farewell' and 'comeback' albums and tours, which was great business I'm sure but presumably, in hindsight, creatively meaningless.
Tell me a little bit about the new recordings you've made? I'm feeling more of a vibe that's akin to your earlier singles and Out Of The Angeles than to Road Eyes.
That's interesting you're hearing that. One of my initial ideas for a new album was to do a 'best-of' but with new material, with reprises of the three existing records. Partly because, at the time, I didn't especially care to make guitar music and wanted to find a reason to do something new with the name. So I actually wrote the new single "Our Goal To Realise" quite cynically in an 'Amusement Parks On Fire' style, and recorded it mainly just to see if I still wanted to do it. Turns out I did so I thought it would be perfect as the first single. "Black Beacon Sound" I actually wrote in LA when we were mixing Road Eyes, hence the reprise at the beginning. This was an opportunity to stretch our legs a little. It's the first time we've had multi-instrumentalist Rafe Dunn playing in the studio which was exciting to hear.
What are your plans for the immediate future?
We're being rather systematic with planning as we're all leading wonderfully fulfilling adult lives these days. Immediately we're releasing the 7" and touring the UK on/from November 17th. We're finishing up a new EP, again of all-new material, for release in April and we're doing a couple of European runs in April and November culminating a big London show in December. All this is leading up to the release of a new album which I've promised myself won't be rushed at any stage so I can't say precisely when that'll be. For anyone waiting though, what I can say is, it'll be fucking worth it.
Watch the video for "Our Goal To Realise"

Amusement Parks On Fire: http://www.apof.co.uk
Saint Marie Records: http://www.saintmarierecords.com
Photo Credit: Saint Marie