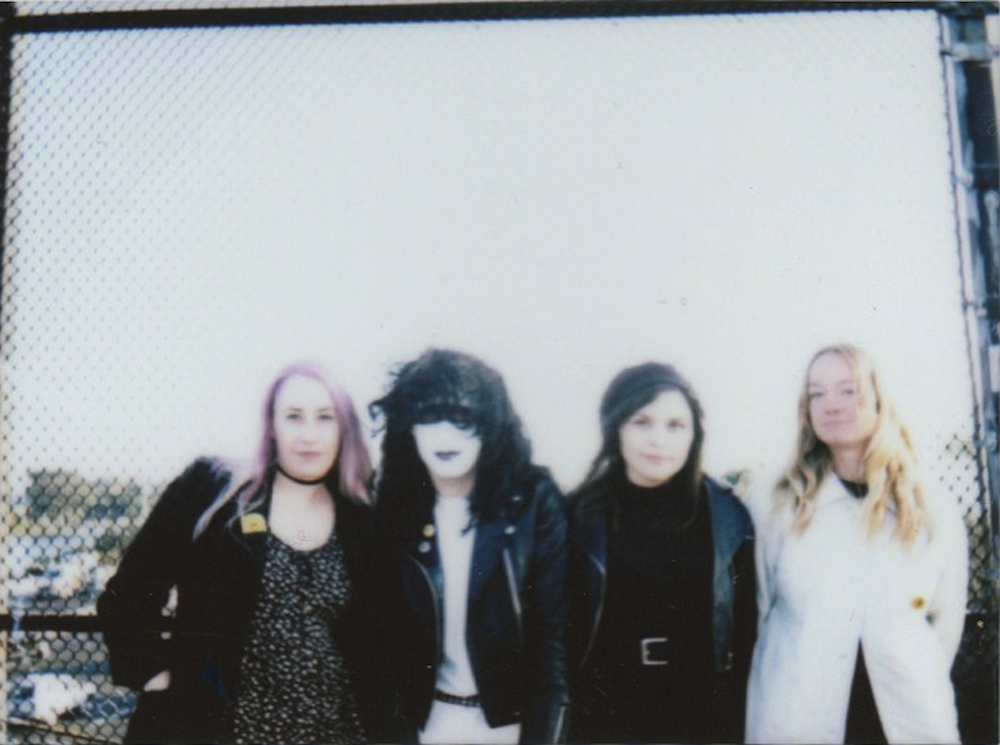 16 October 2023
Photo by Karina Gill
Recorded entirely in 2021, Perfect Worlds, the newest album by San Francisco's mysterious lo-fi pop legend Tony Jay, delivers an intimate record of thirteen dreamy, assured arrangements. Fresh off the heels of Hey There Flower (re-released by Mt. St. Mtn. after a sold out Paisley Shirt Records run), Perfect Worlds marks Tony Jay's first album with Slumberland Records and further cements Tony Jay's status as dejected crooner of the quotidian par excellence.
Headed by Michael Ramos, the former drummer of April Magazine, and current member of Flowertown, Al Harper, and Sad Eyed Beatniks, Tony Jay began recording in 2006 and added a live band in 2017. Perfect Worlds, recorded in Ramos's bedroom and mastered by Mikey Young, features Kelsey Faber, Alexis Harper, and Cameron Baker, with guest vocals by Karina Gill (Cindy, Flowertown, Sad Eyed Beatniks).
Studded with instant classics, Tony Jay's new album encapsulates the isolation and loneliness of the past few years. "I watch my neighbor install new lights on his home / I'm quite concerned they'll keep me awake all night." Dreams decay and worlds dissolve. Time passes, tapes get rewound. But even tracks with titles such as "Without Connection" have a way of making listeners feel less alone — comforted by the knowledge that, "From way up here the waves look calm."
Our times may be inescapable, but we're fortunate to be able to wall ourselves in with fantasies of our own creation alongside Perfect Worlds.
Special thanks to Mike Ramos for coordinating and making time for the interview.
James Broscheid: When I interviewed Mike Schulman from Slumberland Records for his label's 30th Anniversary, he brought up a handful of local artists in a scene he takes tremendous pride in. Tony Jay was one of those bands on his list so it is no surprise Perfect Worlds finds a home on SLR! How long was that collaboration in the works and what are your feelings being associated with such a seminal label? How does SLR differ from Mt. St. Mtn. and Paisley Shirt – all three are great to work with I'm sure!
Michael Ramos: It was in the works for a while. Mike and I first met back in 2010 or 2011 when our bands at the time played some shows together. Fast forward 10 years to Mike inviting us to submit something for Slumberland in late Summer 2021. I remember waking up to his message before work one morning and feeling very honored to receive an invitation from such a prestigious label. Mike is very easy to work with – very generous, funny, and communicative.
I'm very grateful for all that Mt.St.Mtn. has done for projects I've been in the past few years. Mark (Kaiser) does a great job of promoting the records he releases and knows how to get them out into the world for people outside of our circle to listen to.
Paisley Shirt Records, though a smaller label, is very special to me. The albums released on PSR have opened the door for several bands, and have helped draw attention from outside of San Francisco, to our small indie scene here. Kevin Paisley is great to work with, is obsessed with stairs, and at most, has a pet snail.
JB: Raven Sings The Blues describes Tony Jay's aesthetics as a "Black Metal Joey Ramone." Can you elaborate on the persona and how Tony Jay came about? How does Tony Jay differ from a collaboration / creative points of view from other work you are associated with?
MR: I've been recording as "Tony Jay" for a long time, but the visual presentation of Tony came about Halloween 2018. Peter (Hurley), of April Magazine, and I were on our way to see Kati's (Katiana Mashikian) other band play a show that night. On the way, we made ourselves up with cheap face-paint and a wig I found at a thrift store. Next to each other, we looked not unlike wannabe members of KISS, which made us laugh, thinking of a local band putting that much effort into getting ready for a 20 minute set in a dive bar. I find the pairing of the corpse face paint with punk clothing, juxtaposed with the quiet, and usually gentle sound, to be interesting. At this point, I've done it too many times to turn back. Over time, I've added other uncomfortable pieces – pants that are too tight, shoes that hurt my knees, and have struggled to keep the wig from totally disintegrating. I (think) the costume helps me feel a little less uncomfortable than I normally do on stage, and helps me hide at the show after I've changed back into me.
Record-wise, most of the writing and maybe half the music in the recordings is just me, but my bandmates, Alexis, Cameron, and Kelsey all contribute to shaping and recording in ways that I am unable to on my own. Inviting other friends to record vocals is also a nice way to give some variation to my relentless whispering.
JB: Real-world experiences with relationships, isolation and issues around sleep or lack thereof are all relatable in so many ways for people to gravitate towards. I remember receiving a concussion from being hit by a car one morning while cycling! Did writing/recording this record help relieve the pressure associated with some of the issues you've faced? I assume your work on Perfect Worlds was therapeutic in a way? It certainly is as a fan listening to it!
MR: It definitely was. I've always been blessed with a tinge of sorrow and disappointment in myself, but I've usually been able to lean into writing and recording as an outlet. The bicycle injury was my own fault (during the filming of a Sad Eyed Beatniks video). Miraculously, no bones were broken, but my knees took the brunt of the fall. That, plus the road rash on my legs, put me on the couch for two weeks, self-medicating with over the counter, weak Tylenol and a ton of weed. That left me with a lot of time to reflect, to feel sorry for myself, and to spend time with the 4-track. When writing lyrics, I find it amusing to try to find the most extreme, or tragic way I can to phrase the mundane. I've never been good at dating – nothing yet has lasted forever – so that's a pool of inspiration I frequently dip into. And yes, to make a long story even shorter, by the time I was back on my feet, I had spent a fair amount of time processing my misfortunes. But making music usually makes me feel more sad, so I guess if a record came out of that, that's something.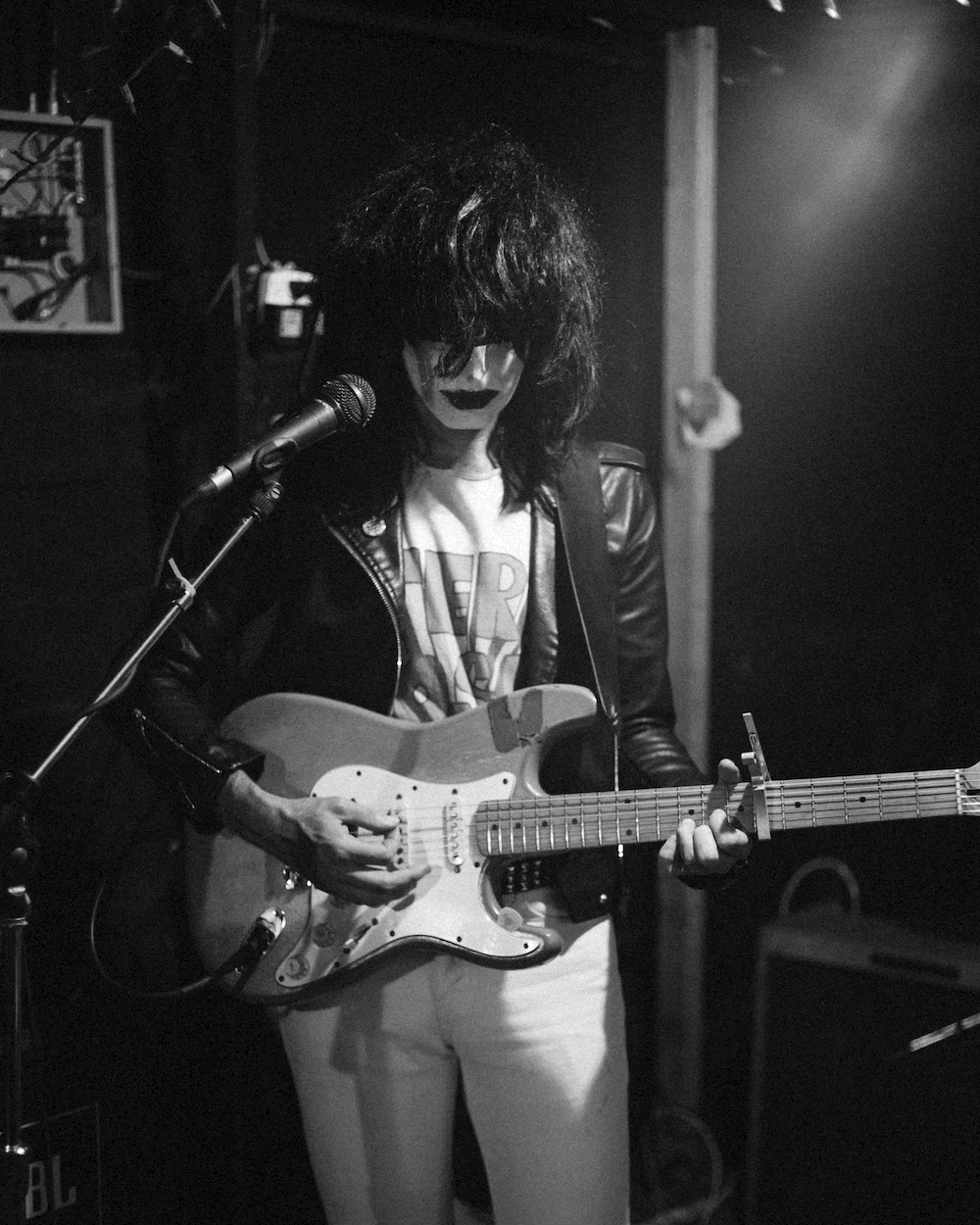 Photo by Jeffrey Harland
JB: You are a part of and have worked with other Bay Area bands, all phenomenal, in Cindy, Al Harper, April Magazine, Flowertown and Sad Eyed Beatniks. Do you find it difficult to juggle or differentiate the energy you bring to all of the projects you are involved in? Do your contributions/levels of participation change depending on which project you're working on? Am I missing any projects?
MR: The music of Tony Jay generally comes from a much more personal place, than say the more observational commentary of Flowertown. While writing, sometimes an idea will fall on one side of the line, but there have been times I've tried to write something for Tony Jay that will morph into a Flowertown song, or vice versa. Before pandemic shutdown, I was spread pretty thin with multiple very active projects and filling in for shows with friends. In some ways, I enjoyed the step back we were forced to take. When things started to reopen and shows were happening, there were 2 band bills that were over by 8PM. I would most definitely welcome a shift back to that live music model.
In the early days, April Magazine was very collaborative. There were a couple times we would rotate instruments every "song" until several tapes were filled up. I view Cindy, Al Harper, and Sad Eyed Beatniks as vehicles for the front person's ideas. In those projects, I usually take a back seat creatively, offer suggestions, and try to help the songs sound as good as can, even if that means I end up playing very little (or nothing at all) in someone else's song. 
I don't think it's difficult to balance or differentiate between the energy I bring to the table for the various projects – I feel like my playing is usually pretty similar. Even if the instrument is different, I think I tap into the same region(s) of my brain.
As for other projects, I think you touched on most of the ones from recent years, though recently my old power pop band, Grandma's Boyfriend (George Tarlson of Whitney's Playland played bass), played a reunion show. Karina (Gill, also of Flowertown and Cindy) and I first started playing music together in our friend David Castillo's band, Panaderia. Other bands I've been associated with: Galore (filling in on drums for a couple shows), Mister Baby (Kati of April Magazine). Earlier this year I sang as part of a choir to back up Cold Beat. At the end of high school, I played in a band with Sean (Robert Monaghan of Cold Beat and Hit Bargain). Other projects include The Cherries, Jer Bear, Adam Healton & The Situation. In the past couple years, I've co-written songs for friends' projects. Slumberland included a bonus cassette with a limited quantities of "Perfect Worlds" that spans recordings I've been a part of over the past 20 years.
JB: The reviews for Perfect Worlds I have read so far attribute it to the slowcore leanings of Galaxie 500, Bedhead, Codeine, Low, His Name Is Alive and the like. I would even throw East River Pipe into the mix as well. The subdued vocals and hypnotic melodies – I think this record hones your own style of bedroom pop that results in your best work yet – it finds beauty in melancholy. Did you go into the writing / recording with a different philosophy or mindset? 
 
MR: After finishing Hey There Flower (Mt. St. Mtn., 2022), I kept working on new recordings, which is usual. When there are windows of time with bursts of creative output, I try to keep it rolling, afraid I'll lose the spark or the muscle. "Hey There Flower" was very song-driven in the classic sense – each song contained a little world separate from the others. In a way they fit together, hence the collection being pressed as an album, but I wanted to try to tighten the reins a bit, thematically and aesthetically. Of course there are singles and songs on "Perfect Worlds" that stand on their own, but I wanted the collection, when listened to as a whole, to contain the power to leave the listener devastated. At least in the soap opera, emotionally devastating way. I'm a sucker for films and music that revolve around heartbreak – unrequited, the cosmos conspiring to keep two apart, etc. We don't live in a perfect world. In fact, when it comes to love and or romance, things hardly ever live up to unrealistic expectations. But in one's head and heart, there are infinite possibilities, each containing an equal possibility for devastation.
JB: Can you introduce us to the players on Perfect Worlds and give us the background on Tony Jay and its history – how this project came to be? Mikey Young seems to be the Bay Area's choice for mastering! He's pretty in tune with the scene up there I would say!
MR: Alexis (vocals, guitar) and I met almost 20 years ago when a mutual friend brought me to a meeting of our school's Feminist Club (Vox). We fell out of touch when Alexis moved to New York. 10+ years later, we ran into each other at a show at The Knockout. Shortly after, I started playing in an early version of Al Harper.
Cameron (drums) and I met back in the high school days, though we never went to school together. After a 10 year drumming hiatus, I asked her to join the group. She enjoys using a variety of percussive instruments, including a shaker shaped like a banana.
Kelsey (guitar) and I used to live in the Outer Sunset in separate houses, and would run into each other a lot, and share several mutual friends (Crisp Calliope, for one). In late 2016, we lived in the same house for about a week before it burned, forcing us to move out. Luckily her guitar survived the fire, as did our cat, Penny.
Mike's invitation to submit an album to Slumberland got me to sit down and dig through the files for one or two good ones to use as a foundation. A week or so later, Kelsey and I got together and spent a day in my room with the 4-track, trading off guitar and keys (running through pedal circuits). Our process was to spend a few minutes jamming until something sounded almost good enough to record, pressing record, and moving on to the next idea. I then later went through the tapes, and began overdubbing other instruments, and eventually brought Cameron and Alexis in to add percussion and vocals.
JB: The bio mentions Perfect Worlds being recorded back in 2021. Was that length of time deliberate or circumstantial? Has the passage of time between when the album was recorded and its release produce different feelings or emotions now? 
MR: The when was circumstantial. But I think Mike and I both thought the album would be out much sooner. Manufacturing delays (so many) plus the music that was already in queue for release pushed things back. Listening to these recordings now induces minor emotional flashbacks of sorts and it does make me think about the things on my plate at the time. But I'm happy the album is out now and that there are people out there who are enjoying it. We're looking forward to taking these songs on the road soon.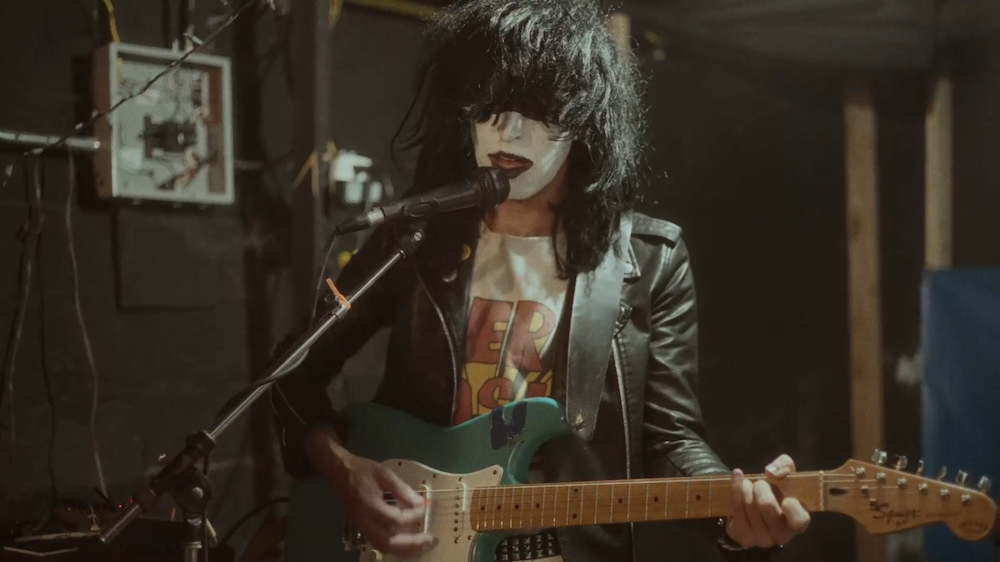 Photo by Jeffrey Harland
JB: I will continue to ask all Bay Area artists I interview until I'm blue in the face about the local scene and how collaboration is a key driver within it. What makes the area so special to you and do you see it continuing into the foreseeable future? Do you have any recommendations on local bands/artists we may not have heard yet?
Alexis Harper: I think part of the Bay Area magic is a combination of how beautiful the bay is and how much of an effort it takes to stay here. You have to be very deliberate with free time which for me means only committing to projects that are inspiring and fulfilling and fun. Every band is a passion project.
There are so many bands in the Bay Area – too many to list to paint an accurate picture. Yea-Ming & The Rumours released one of my favorite albums last year or the year before on Dandy Boy (So, Bird…, 2022). Yea-Ming has also contributed vocals to a few yet to be released Tony Jay songs. We will also be playing some dates in southern California in early December. Katsy Pline's new record Incandescent Fire just came out on a new label called Take a Turn. Beautiful music to cry to. Another band to check out: The Losers. 
JB: There are a handful of dates on the west coast coming up for the band. Is there any chance of expanding those dates? Into AZ and Tucson in particular maybe?! The band is always welcome to crash at our place!
MR: This Fall we'll be playing dates along the west coast. We would love to play in places further away from home. My brother lives in Prescott, AZ, so Tucson isn't out of the question! Work and the fact Alexis has to buy pre-washed lettuce (because she's a mom) make constant touring a little difficult, but short bursts of out of town shows have been fun to do. If you have some Tuscon venues and bands to recommend, we're open to it!
JB: With everything you're involved in as far as music, is there anything in development currently or seeing the light of day in the near future? 
MR: I've continued to record since Perfect Worlds was finished. I'm getting closer to wrapping things up for the next collection, but we'll see how long that takes. A couple songs are awaiting release on compilations. Flowertown recently finished a new album that Paisley Shirt Records will release – probably sometime next year. Alexis has a new Al Harper record coming out next year on Take a Turn.
JB: Finally, congratulations on the new album – it is a beauty! Do you have any personal favorite or stand-out moments on the record? What does the future hold for Tony Jay?
MR: Thank you. We're very proud of the album. Right now, I think the instrumental tracks are probably my favorite moments on the record. But song wise, Feel For Yesterday might be my favorite, as it was an exercise in trying to write a song in the style of Bruce Springsteen. I think i got pretty close. As for Tony Jay and the future, you'll just have to wait and see!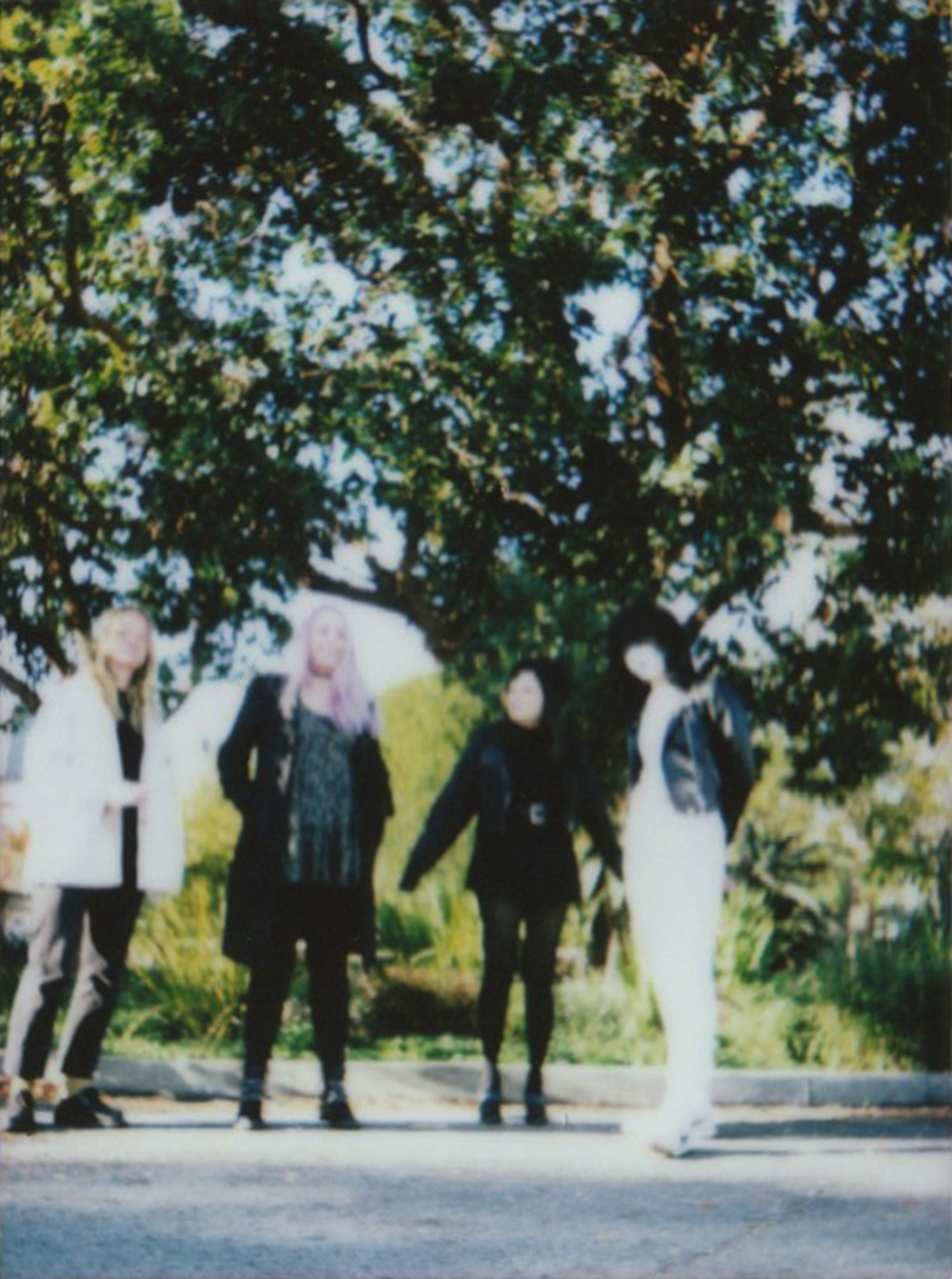 Photo by Karina Gill
Upcoming tour dates:
Oct 20 – Portland, OR at The Six w/ Scorch (ex-*Mope Grooves*), Al Harper
Oct 21 – Seattle, WA at Drongo Tapes Festival w/ Al Harper and many others
Oct 22 – Olympia, WA at The Crypt w/ Field School, Al Harper
Dec 9 – San Francisco, CA at Edinburgh Castle w/ R.E. Seraphin, Yea-Ming & The Rumours
Dec 10 – Los Angeles, CA at Permanent Records
For further information or to purchase Perfect Worlds, please visit Tony Jay's Bandcamp, current label Slumberland Records or dig through the band's back catalog at Paisley Shirt Records or Mt. St. Mtn.