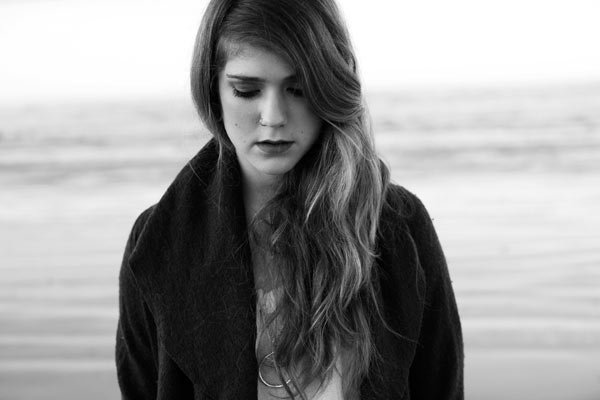 31 August 2023
I can often hear the ethereality of the likes of PJ Harvey as well as the artistic aggression of Patti Smith in your music. Can you tell me about some of your influences, musical and otherwise?
I love both of these women very much. The other day, I was trying to figure out what the thread is between the artists I love, and I think it has something to do with integrity and intensity. The commitment to a personal voice which allows for the transmission of something true – transcending time, genre, and gender.
One of the first times I felt, and perhaps started to understand this, was when I found Joni Mitchell's album Blue at the age of sixteen. A woman was singing to me from another country and another time as if she was there in my bedroom/heart/body. I love storytelling – especially through the song. To be able to listen repeatedly to something so that it becomes ingrained in your own experience. A way to understand – a safe place to feel and to store memories.
I have also always loved the act and the experience of performance. To see, hear, and feel bodies and voices pushing beyond what is socially acceptable. It's very liberating and exciting. It is my favorite and most meaningful form of catharsis.
Can you tell me about the road from South Africa to Berlin? What's your musical evolution, and why Berlin?
More than anything, I love to perform. I would do this all the time if I could – which in South Africa is very challenging. There are fewer touring opportunities. In 2015, I went on my first European tour with my previous band, Medicine Boy, and it was amazing to feel what playing every night did to the music and the performance. The repetition allows you to explore nuance. There is only so much you can think about and learn through reading and imagination. One needs to feel what it is. An embodied learning. At least, that has been my experience and my preferred process.
In terms of my decision to move there – we (myself and my previous bandmate, André Leo) had performed in Berlin a few times and were excited by the city – but in truth, we would have moved to a number of other European cities too – but Berlin was logistically/legally a much more viable option than many of the others. We didn't have as much knowledge as one should probably have before moving continents and just sort of leaped. I think we landed in a good and lucky place.
You are working with Unique Records and Schubert Music Europe for this release. How did this relationship come into being? Are there also other labels involved?
Shortly after moving to Berlin, I went on tour with Laura Carbone, performing a solo opening set and helping out with merchandise. It was here that I came into contact with Unique Records and Schubert, and I have been working with them since. It has been a very warm and meaningful relationship. Heaving was just recently signed to Metropolis Records, which will be distributing the album in North America.
"Howl," in particular, is rich with unconventional vocals, spoken word, and the voice as an instrument. How important is it to push the boundaries of what vocalists can do?
It felt important to me this time. Or perhaps it's felt important for a while, and after years of singing and speaking about it, I finally gathered enough courage to do it – and not in a particularly subtle way either. I literally went into the studio and tried to scream, 'I wanna scream.' I'm not sure I could have continued to take myself seriously if I hadn't done something – and I didn't know the way in. This seemed to work.
I wanted this album to have a physical quality to it – visceral and embodied. A way to challenge convention that is playful and personal. The voice is so intimate and specific and recognizable – and has some element of performance – I think. I'm not sure there is a singular true voice – it is all some aspect of autobiography. It's interesting to try and push that performance and see how varied we can be. To celebrate – and make apparent – our complexity and strangeness.
Is there any real difference between song and noise and art? How do you see them intertwining/feeding off each other?
I suppose the song has such a clear framework. The narrative arc is easy to understand and hold on to. The noise is the feeling that humanizes/dehumanizes – pierces something subliminal. They go beautifully together, I think. Humans hold onto patterns. They help us make meaning and form context. Noise defies it. It helps us process and celebrate – experience – the nonsense of it all. The chaos. Art is an act of translation, I think. A mirror to experience.
You are about to embark on a pretty extensive run of European gigs. What are you looking forward to most about playing in so many different places? Any plans to visit North America in the next year?
We're in the midst of a tour as I write this. We spent the last week in Italy. I've never spent time in Italy, and the beauty, strangeness, and privilege of what we're doing really struck me this time around. We've been playing smaller clubs in small towns, and every night is quite a different situation – I'm always very moved to meet strangers – on and off the stage – who are willing to listen to the songs.
We're very much hoping to come to the States soon. It's a bit of a bureaucratic nightmare, but we're working on it.
What does the live performance hold for you that the recording studio doesn't? And vice versa? Which do you prefer?
They're so completely different, and I feel quite a bit more comfortable in the realm of the live show. The channel of communication is clearer, and the effect so immediate – and then it's gone. The ephemeral nature of it takes away a lot of the pressure. Recording produces an everlasting product. There is also a lot of technical knowledge required in the studio. These things make the act of being radically present a bit more complicated.
Lately – and particularly for this album – I've been recording more of myself and less in a studio with an engineer, and that has been very helpful to the process of letting go of the idea of perfection and leaving more for play.
Your videos are all very different from one another. Tell us about your videos and the performance art aspect of what you are doing with your music.
For my previous albums, I've always done at least three music videos, but for this one, I decided to only do one full performance video and to take time with it. Lena Nerinckx, a filmmaker and artist from Belgium, reached out to me after seeing a Berlin performance of the show. We had a glass of wine and shared thoughts about all sorts of things and decided we wanted to make something together. There was a strong overlap in certain themes we wanted to explore.
After we had settled on a song, "Heaving," we spent a lot of time speaking through our intentions and our ideas. I wanted the process to be as important as the product, and I wanted that process to remain intimate and engaged. Lena suggested shooting on Super 8 as a strong and clear aesthetic approach and as a way of keeping the integrity of a low-budget film. We had a tiny team including myself, Lena, Liú – my partner and bandmate – and Lenny Dee Doucha – a friend and fellow artist from South Africa – as art director.
There is a whole other layer of the music to explore with the visual/performative aspect of it. I am very moved by bodies. The performance of self. I would love to take it even further. I'm not sure what I need for that. Time, funding, courage, perhaps. But I do feel like "Heaving" was a start. A way to complicate and excavate the story even further.
I studied theatre and have always loved how transgressive I felt I was allowed to be in that space. I don't feel it quite so clearly in the music world that I am in.
The visual loops/other videos for this last record were collaborations between DTAN (who created visual loops by filming me/an object, and then riso printing the frames and re-assembling them) and Cult Wife, who created lyric videos working with those animations.
DTAN – Julia Schimautz and Francis Broek – were responsible for the visual world and language of the album, and I was completely blown away by their work and process. I spoke to them about the music and the feeling of the world I wanted to create, and from that, they offered ideas and suggestions that they brought to life so cleverly and clearly – and with such kindness. It has added a lot of depth to the album.
Beyond the tour, what does the future hold for you personally and the band?
Oh gosh. I'm not a very good big-picture thinker, and dreaming is always a bit frightening, but I love what I do and the way the band is growing, and I hope to keep playing and keep discovering.