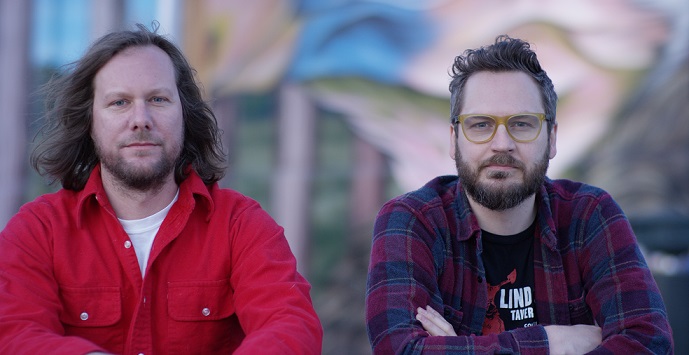 14 December 2017
Bay Area duo Conrad The Band have a rich history in music and the team up of the two makes an attractive sound. It was a must to hear more about Valley Fever and the relationship they have. Meet the movers and the shakers Nick Andre (percussion, synth, production, occasional lyric and additional instrumentation) and Matt Shaw (guitar, bass, vocals, lyrics, other odds and ends).
Do you still send tracks to each other or are they writing / rehearsing in the same space now?
NICK: We still start things on our own occasionally and then share it with each other and see what ideas we have, but the majority of the Conrad The Band stuff we worked out together in the same room.
MATT: I think that's part of the departure this record is sonically for us. Being able to work things out together lead to some interesting things. When we get inspired on our own we start ideas or I write the bones of a song, but we're able to record and collaborate simutaniously now which is great.
What is the writing process with Shaw and the lyrics? Sketching them out over Andre's beats, or writing them narratively first and then finding music to match?
MATT: For me there's no consistent flow or method. Sometimes it's writing over a beat or a full instrumental, and sometimes it's me with a guitar on my own. There's a certain amount of mystery to how a song comes together, even for me and Nick.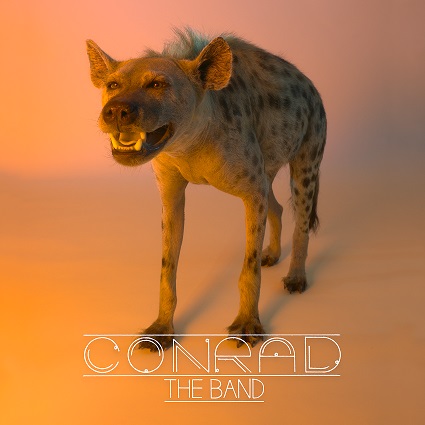 What exactly was the process of sending music to each other? Did it go back and forth several times between them?
NICK: In the beginning Matt would usually send me a sketch track and I would add drums and samples and send it back, then we would get together in person and add additional instruments and change the structure until we had something we were happy with.
MATT: We still end up doing this even though we can be in the same room now. We might bounce mixes back and forth a dozen times. It's cool to hear the other persons ideas without knowing exactly what was done. I think we find the process kinda fun.
What are your favorite venues in Bakersfield growing up? Or basement or backyard show?
NICK: Jerry's Pizza had an all ages venue in the basement that we both spent a lot of time in growing up watching punk shows. Bakersfield had a few other venues at the time but i feel like Jerry's was the most constantly attended for us both.
MATT: Jerry's! Every Friday and Saturday we just ended up there. Good times, bad times, it was all at this crappy pizza place downtown. It's pretty much how we met, from the circle of punks and skaters that frequented the place.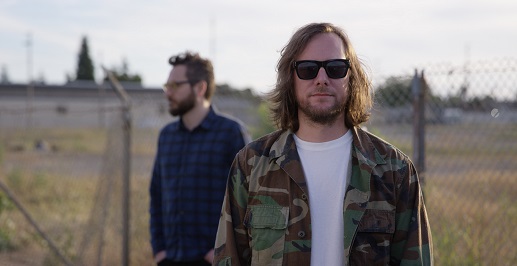 What band's gear would you like to borrow / steal to play with?
NICK: If we can borrow some gear from Pink Floyd to make a record that would be rad. Pretty sure they have a good selection of vintage guitars and amps for Matt and a good selection of synths, keys and drum shit I would be stoked on. Can you guys reach out and try to make this happen?
MATT: I would say Wilco if their Chicago loft was included.
What song would The Ramones / Mobb Deep do together like Run DMC / Aerosmith did "Walk This Way"?
NICK: It'd be nothing like Walk This Way. I think it'd be best to give The Ramones some codeine cough syrup so they would play a little slower with a 808 trigger on the kick drum, then just let Mobb Deep do their thing over that.
MATT: Chopped and screwed I Wanna Be Sedated?
Has anyone they've written lyrics about responded to them?
NICK: Not that I know of… Matt?
MATT: The names have been changed to protect the guilty. Seriously though, I did use different names for the people that inspired these tunes. They are the first true story or caricature songs I've written and the record hasn't been out long. It will be interesting to see if anybody picks up on it.
What is next for the band?
NICK: We are about halfway through writing a new EP and hope to release it next year.
MATT: Finishing a video for One More Smoke this week, then we have a Christmas cover single dropping soon. We are thinking about doing another single in early 2018 too. I'm feeling optimistic that we could get an LP together in the new year.
https://soundcloud.com/conradtheband
https://conradtheband.bandcamp.com/releases