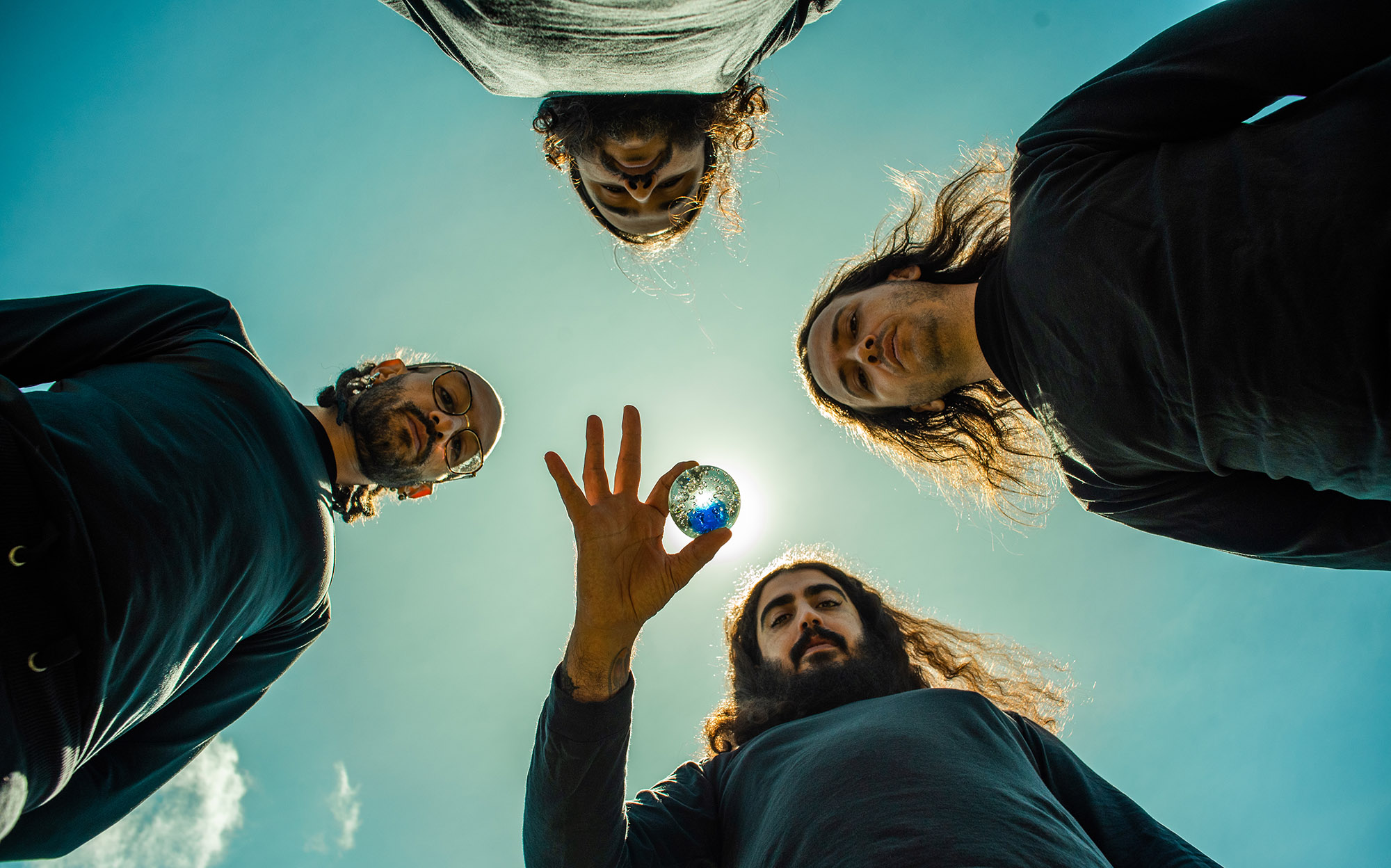 31 August 2023
Brazil-based sonic adventurers BIKE released their new album Arte Bruta earlier this year after a busy start to 2023 – the band has toured extensively, performed live on Seattle's KEXP, played dozens of shows at SXSW and Treefort Music Fest, in addition to opening for The Brian Jonestown Massacre in their native city of São Paulo. We caught up with these Amazonian sonic ambassadors for a quick catch-up.
Who is BIKE, and how in the world did you end up with this band name? How did you come together as a band?
BIKE started with the two guitarists and vocalists, Julito and Diego, as a project. Before long, we had to learn how to be a real band, and Joao, bass player, and Dandas, drummer, long-time friends, joined us. The name is kind of obvious for those who know psychedelic drugs. It comes from the first LSD trip in the world, which was on a bicycle. One of our biggest influences is also the first Pink Floyd album, where there is a Syd Barret song with the same name. We knew each other from the music scene in the region. Everyone had a type of band, but what brought us together was a love for psychedelic rock.
What is your musical evolution? Can you tell me about some of your influences, musical and otherwise?
The biggest influence that unites us for sure was Pink Floyd. But the psychedelia made in Brazil ends up being what transpires more in our songs. The cinema of Jodorowski and the literature of Carlos Castaneda also guide many of our lyrics. Currently Silver Apples and Can have been our soundtrack. But there are bands that never leave our playlists, like Sonic Youth, Brian Jonestown Massacre, and Brazilian artists like Pedro Santos, Milton Nascimento, and Lula Cortes.
Would you say that living near the Amazon or just being from Brazil in general has in any way influenced your music?
Yes. We are from Sao Paulo, and so we are quite far from the Amazon but still surrounded by a lot of nature. A lot of our popular music from the '60s and '70s was influenced by international artists, but Brazilians always put their own spice in their music. This ends up sounding different from anything else. Just listen to the first album of the Mutantes; there is a lot of Beatles in it, but it is very different.
Is there any real difference between singing and noise and art? How do you see them intertwining/feeding off each other?
I believe that every form of expression ends up being art. The show is a moment of high performance and expression, so it is interesting for us right after a song to introduce some noise – noise to take the spectator out of his comfort zone. Will the audience wait for the noise to finish until the next song? We always make this challenge live. The show has to be an experience, and it will never be the same.
How was your recent visit to the US – where did you play? What did you do? Will you be back soon or touring elsewhere?
The US was awesome! We played 13 shows in one week in Austin at SXSW. We played at Treefort Fest in Boise and recorded a live session on Seattle's KEXP radio. It was our first visit to the country, and we hope to return soon. We are waiting for the invitations. We still hope to tour all over the country.
It can't be easy to find a new audience for your music in distant corners of the planet, yet I see you mentioned with regards to press and radio coverage in multiple countries already. How have you managed to take your music to the international level this year?
Some things are developing well in Brazil, but most things are new to us, so we are also learning a lot. We are working with both Quadrado Mágico Records and Before Sunrise Records here in Brazil, as well as Brain Productions for booking and management. Bruno is already a long-time friend, but we finally got to work together, and it has been amazing. We are achieving historic feats for an independent band in Brazil. Although we already knew her a bit, this is also the first time we have worked with Shauna at Shameless Promotion PR, and we are really enjoying it. And the main thing – people seem to be enjoying us!
What does live performance have in store for you that the recording studio doesn't? And vice versa? Which do you prefer?
The studio recordings end up being the first interpretation of a handful of songs. In the live performance, those songs end up taking new forms and structures so that they work well live. They end up maturing and joining the repertoire, becoming one thing. I think that is always the best part. It brings a freshness to those who see it live and makes the experience unique.
What does the next year hold for BIKE?
We plan to tour Brazil and maybe venture for the first time into South American countries like Chile and Argentina. We'd love to come back to the US and play more festivals. We hope people enjoy our new album, Arte Bruta, and get to know a little more about our work this year.
You can find them on Bandcamp