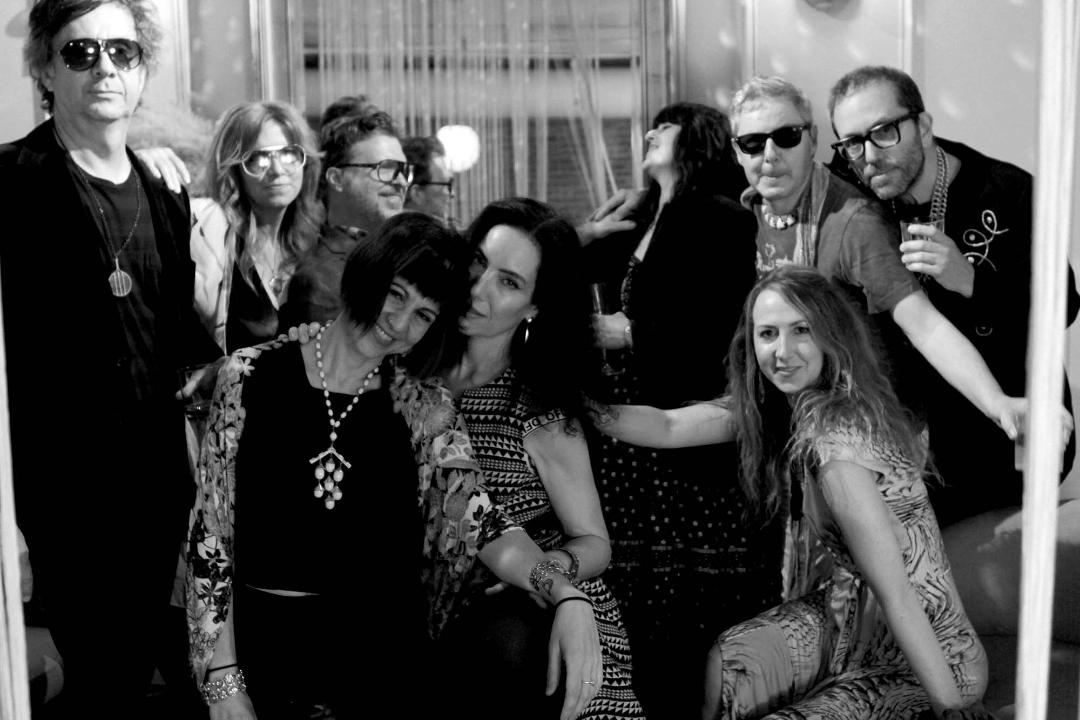 17 May 2023
With a string of fantastically well-received singles and a new album, Deleted Scenes now out, it was the perfect time to site down with Dave Derby of Gramercy Arms to discuss his ever evolving, ultra-collaborative band and the music that they make.
Can we start by talking about the recent single Yesterday's Girl, how it came about, and how you came to be writing with Lloyd Cole?
Lloyd and I are old friends and musical collaborators. We've been making music together since the mid-90s when he joined my old band Brilliantine, and I joined his band, the Negatives shortly thereafter. Our friend Geoff Sanoff, who was working with Steven Van Zandt, asked us to write a song for a Darlene Love record he was working on, and we wrote the song together. It turned out that unbeknownst to us at the time Bruce Springsteen was working on songs for the record and presented the rest of the material that Van Zandt and Love used. But we were happy to have written a great song.
And following on from there, having turned it into a duet, what was it like to work with Renée LoBue both musically and on the video?
Renee is an old friend and collaborator, and now, I'm very happy to say she's also my record label along with Ray Ketchem and Kevin March. She constantly inspires me musically and artistically. I'm a huge fan of her work in Elk City and Flowers of America as well as her visual art. Ray Ketchem, who produced "Yesterday's Girl" and our forthcoming album, Deleted Scenes, came up with the idea of turning the song into a duet between Renee and me. It worked like a charm. Her vocals were perfect and brought even more sweet melancholia to the song. Making the video with her was fantastic as well. She has such great style and a wonderful sense of humor. I love spending time with her, and the video was very much a collaboration between me, Renee, and our dear friend Debora Francis who is a wonderfully talented photographer and visual artist.
Having talked about Lloyd Cole, plenty of moments in your music chime with a nostalgic, post-punk, new-pop heyday. Are there any particular influences at work when you write?
Too many to mention/remember, so I'm sure I'll leave some out. I'm a huge fan of Lloyd's music and have been inspired by his writing since the Commotions' Rattlesnakes and everything up to the present. Other writers I admire include Jimmy Webb, Paddy McAloon, Chris Difford, Glenn Tilbrook, Marshall Crenshaw, Elvis Costello, Chrissie Hynde, Robert Forster, Grant McLennan, Martin Phillips, Scott Walker, Harry Nilsson … I'm sure I'm leaving some out.
The new album, Deleted Scene, is a star-studded affair. Who is involved in this most collaborative of recordings?
It's a long list. Here goes: Lloyd Cole, Kevin March (Guided by Voices, Shudder to Think, The Dambuilders), Doug Gillard (Guided by Voices, Nada Surf, Cobra Verde, Death of Samantha), Sean Eden (Luna), Mark Lizotte (Diesel), Phoebe Summersquash (Small Factory), Rainy Orteca (Joan As Police Woman, Dead Air), Renée LoBue (Elk City, Flowers of America), Kendall Meade (Mascott), Verena Wiesendanger (Semi Gloss), Claudia Chopek (Bright Eyes, The Little River Band, Echo of the Ghost), John Leon (Roky Erickson, Royal Arctic Institute), Rafa Maciejak (Lloyd Cole and the Negatives, Ivy), Hilken Mancini (Fuzzy, The Monsieurs, Punk Rock Aerobics), Richard Alwyn-Fisher (King Canutes, The Winter Drinks), Mike Errico, Steve Hurley (Gigolo Aunts), Lysa Opfer (Aeon Station), Carl Baggaley (Elk City, Royal Arctic Institute), Peter Hess (Phillip Glass Ensemble, Slavic Soul Party), Gary Burton (Dovedale).
I understand that this album came into fruition at Magic Door Recording and that it will be released on Magic Door Record Label. Can you tell us about these relationships and the process involved?
It was wonderful to work with Ray (Ketchum) on this record. He is a truly gifted producer with spectacular attention to detail. He had a clear vision for the record, and I felt very lucky to have him as a collaborator. I've been producing a lot of my own music over the years, and it felt so good to focus on being an artist on this record. When we finished the record, it felt like a no-brainer to release it on Magic Door. Ray and Renee are wonderful people, and when Kevin March, my good friend and long-time collaborator from the Dambuilders and almost every record I've made over the last 30+ years, officially joined the label, it felt even more like a perfect fit.
Without asking you to pick favorites, is there anyone involved who you never expected that you would get to work with?
Mike Errico, who I've known ever since college, was the unexpected dark horse on this record. He's such a talented musician but also a great singer. When the COVID pandemic shutdown happened, I could no longer record with Ray at the Magic Door, but I felt there was still something missing from the record. I initially asked Mike to sing backups on the record, but he wanted to take a crack at some guitar parts. He sent me back a bunch of perfectly performed, arranged, and recorded parts. I asked him if he'd consider recording another song, then another, then another, and finally, I asked him to play guitar on pretty much everything. He brought an entirely new dimension to the record. It wouldn't have been the same without him.
Other magical virtual contributions came from Doug Gillard, Stephen Hurley, John Leon, Hilken Mancini, the Mack family (Honey, on marimba, Leila on vocals, and Theo engineering), as well as my dear friend Mark Lizotte who took the song "Passing Through" and added dimensions and a richness I had never imagined for that song. I am so incredibly lucky to know and collaborate with so many talented and wonderful humans.
And anyone not on that marvelous roll call that you would like to have added or would love to work with in the future?
So many to mention. I want to work with Tanya Donelly again. Her vocals on our second record, The Seasons of Love, were fantastic. I would love to work with Adam Franklin from Swervedriver. He and I met through a mutual friend and were talking about working together years ago, and it never came to pass. I'd love to keep working with Peter Hess on more horn arrangements. Chris Brokaw is always fun to work with. So many musicians, so little time …
And after the album, what are your plans for the band and you personally?
The thing I am most proud of when it comes to Gramercy Arms is that we are an extended musical family that really enjoys spending time and making music together. When we get to play together, it's really a joyful experience. I want to do much more of that when the record comes out and play more shows together. I'm looking forward to recording and releasing more music. As the poet, Willie Nelson said so eloquently, the life I love is making music with my friends. I want to do more of that.
Fucked Up and Beautiful
Deleted Scenes LP
Tricky Love Stuff
Spotify
Order / stream the single
Yesterday's Girl – Magic Door Session
Spotify