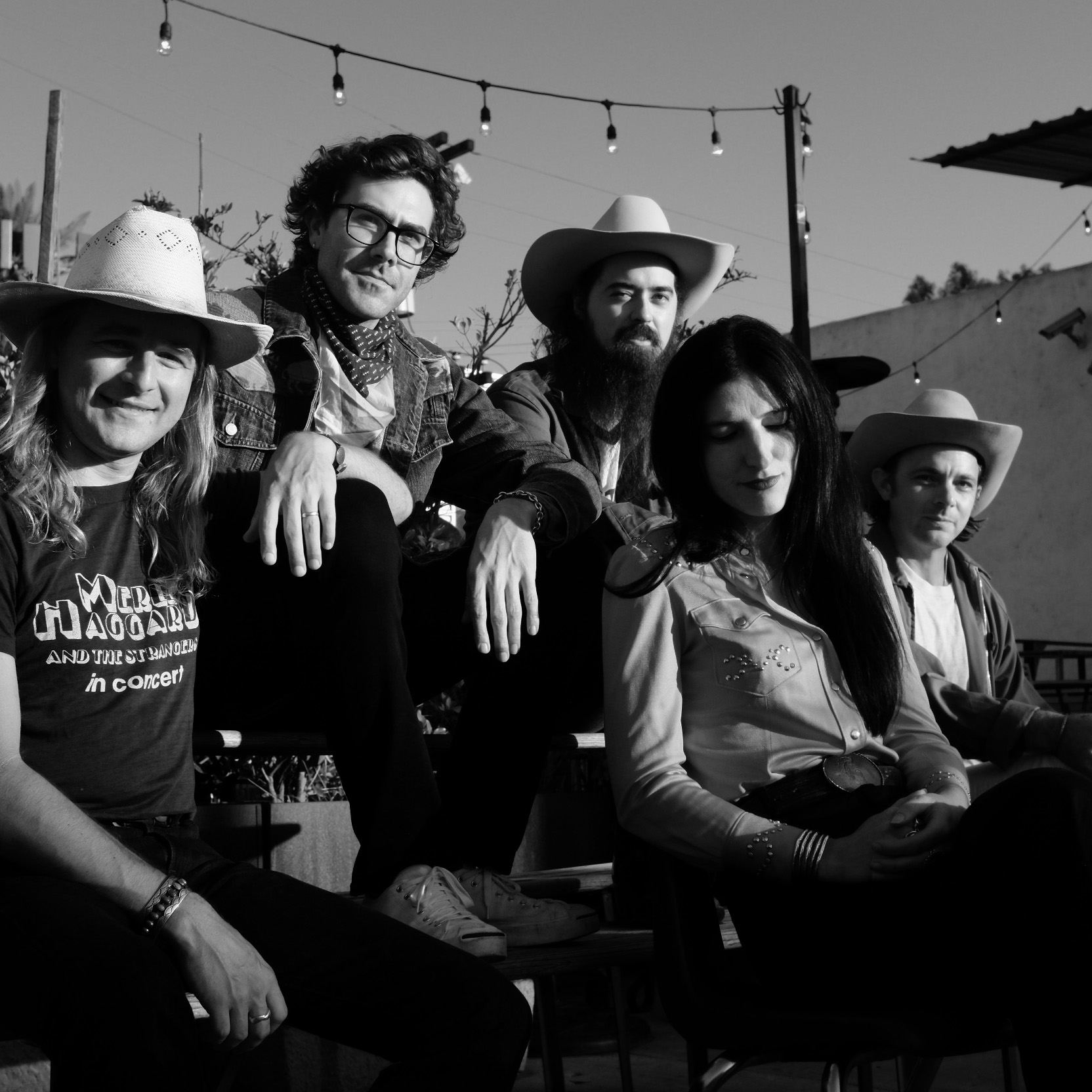 16 May 2023
Photo Credit: Danny Dodge
Los-Angeles-based traditional country outfit Emily Rose & the Rounders — led by musician Emily Rose Epstein (known for her collabs with Ty Segall + Mikal Cronin) and rounded out by other mainstays of the vibrant LA country scene who have toured with/opened for acts such as John Doe, Orville Peck, Dinosaur Jr., and Shannon & the Clams — serve up country music in the tradition of George Jones, Patsy Cline, Waylon Jennings and Webb Pierce without looking too far into the past for inspiration. They are not a throwback band, they are a band that has steeped themselves in the tradition of those that came before them and strive to make the kind of country music that has lifted them up and inspired them.
To kick off a new era, the group have just shared a brand new double-single, "The Drifter" / "Nowhere To Go Part 1," alongside an accompanying music video for the A-side, directed by Matt Yoka and starring Chris D. (Flesheaters, Divine Horsemen), Matt Momchilov, and Jason Michael. In an exclusive Q&A for The Big Takeover, Emily Rose gave us the scoop on the new tracks, and much more.
How would you say the collaborative process while working on this musical venture differs/relates to experiences you've had while working on other projects?
This is really the first band that I've ever been in where I write the songs and bring them fully completed to the band and then they kind of put their magical touches on it. In the past, I've only been in projects that were either other people's solo projects or country bands where I was writing songs with other people, so this band is really the first time I've taken the reins in the writing process.
You mentioned that these two new tracks were written quite a while ago, even as far back as lockdown. At the time, where did your motivations lie/inspiration come from, and did those initial thoughts and ideas that resulted remain or change regarding these modern versions?
During lockdown I was just trying to be as productive as possible, writing a lot, trying to stay busy and connected with a life I hoped would resume again. That said, there wasn't a whole lot happening in my small world for some time so I was actually digging into some old writing for inspiration…the lyrics from the Drifter actually come from a notebook I had from when I was like, 18 or 19 and living in San Francisco and I finally just found a melody for it. I don't know if anything has changed in the meaning or my feelings towards them now…they're both sort of time capsules for me of two very different and very strange stages of my life.
Regarding the visual for "The Drifter," can you describe the behind-the-scenes involved while putting that together? Any fun memories from the filming process?
I had so much fun making this video. The fun really began when we were location scouting…my best friend Sheila, who I went to college with, designated drove me and Matt Yoka, the director, who also went to college with us, around the Valley one night and we just went to all the dive bars we could find and we would stop and have a drink, soak in the local sounds and characters. Some of these bars I had been to before, some I had seen my whole life and never walked into. Between bars we were blasting like Flesh Eaters and X and Tom Petty and Gram Parsons, just nerding out on the LA stuff we love.
Shooting the video was a total blast too…we got up early which I don't normally love but there was kind of this amazing and unusual misty gloom happening that day that really added to the surreal feeling of being in a bar at 9AM. It's never my favorite thing to be at the center of a photo or video shoot but doing it with the Rounders guys and Matt Yoka and Matt and Jason and Chris was so much fun. I've looked up to and admired Chris D. my whole life so it was a total honor having him involved and Matt and Jason are old friends of mine and everyone in the video is so photogenic in their own really beautiful way so the whole thing just felt really exciting and warm and collaborative and perfect.
Do these new tracks point toward what's next for Emily Rose & the Rounders? If so, what does that future look like?
Yeah! The new record will have these songs on it and some songs that are in a similar vein…a lot of the songs were written either during the pandemic or a little before that, a few are new new songs, but they're mostly not on the lighter side of the spectrum in terms of their subject matter! I like to always be expanding and trying new stuff but we'll always be making traditional country music so don't expect us to reinvent the wheel or anything!"
Stay tuned for new music from Emily Rose & the Rounders, coming soon.
Instagram
Facebook
YouTube
Bandcamp