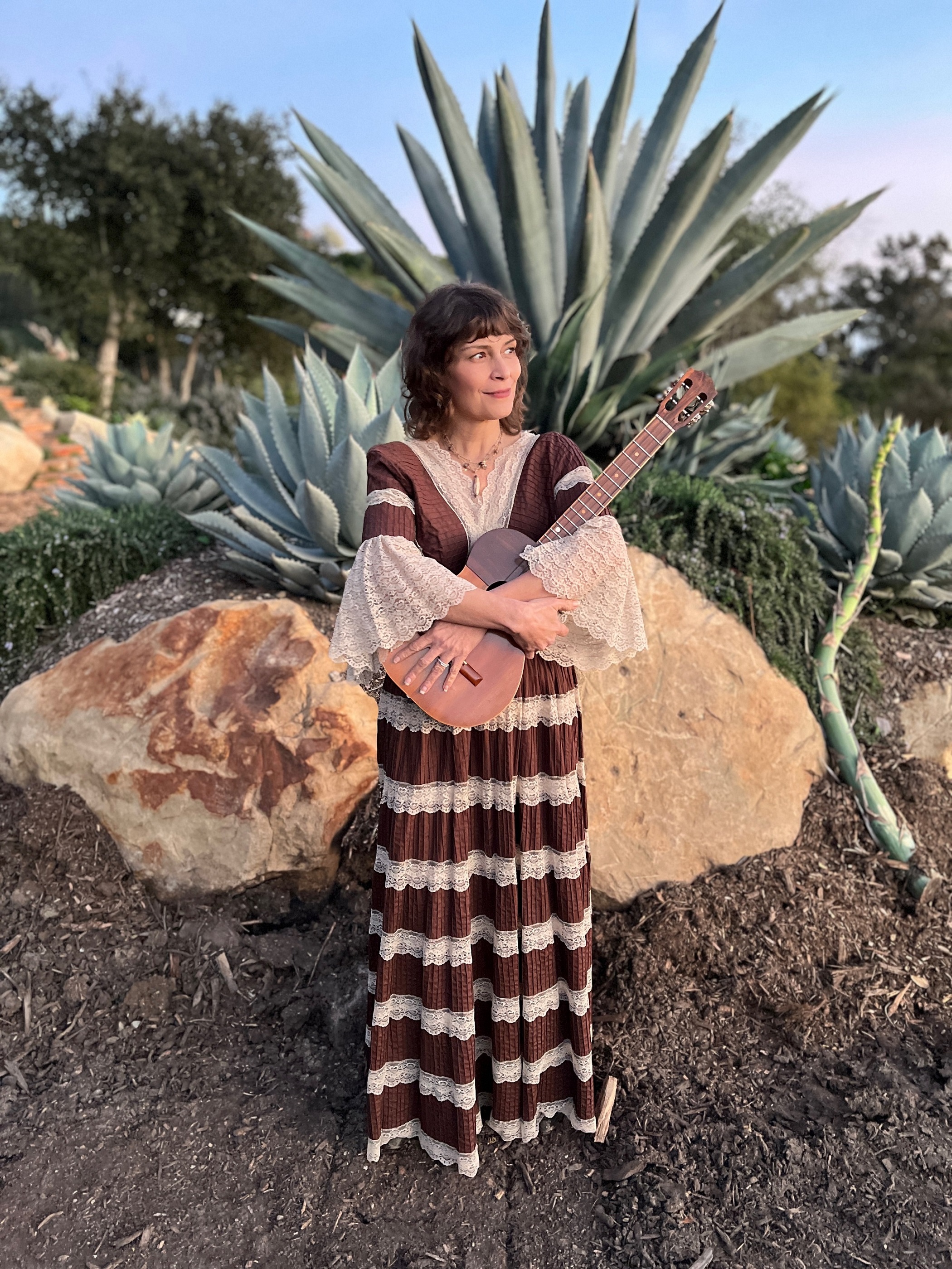 4 September 2023
Photo Credit: Elana Lavine
For Venezuelan singer, songwriter, and multi-instrumentalist Ane Diaz, her love for her beloved homeland has always stayed at the forefront of her musician journey. On her debut album, Despechada, produced, mixed and mastered by Jim White, Paul Fonfara, and John Keane, her fear of forgetting cherished memories of Venezuela fueled the inspiration behind the reimagined renditions of iconic folk songs. Diaz's majestic musical prowess comes alive through each track, ranging from powerful and thundering vocals to soft and gentle crooning as she makes these songs of her childhood her own – heard on singles "Clavelito Colorado," "Carmela," "Pueblos Tristes," and "Fulgída Luna."
Diaz's debut is out via Rain Phoenix's Los Angeles-based label, LaunchLeft. Phoenix met Diaz in the late 80's in Florida's booming music scene with their then-bands sharing countless bills and even touring together. Phoenix is just one of Diaz's many fans, with the list including Jonathan Richman (The Modern Lovers, with whom Diaz opened for in 2018), Michael Stipe (R.E.M.), Joaquin Phoenix, and Rufus Wainwright. With fans like those already in store, it's clear that the emotive journey of Diaz's Despechada has the power to touch a range of listeners.
Q. You've been involved in music for a number of years, what made you feel like now was the time to create and release Despechada?
A. My father passing away and my mother being 89 has a lot to do with the release of this album. The music I have been involved in the past like The Causey Way (Alternative Tentacles) was not my parent's favorite. Being born in 1934, their sensibilities are very different. I have always included music in Spanish and even some of the folkloric Venezuelan songs in my past projects, they have always been very important to me. Now I feel there is more openness to the styles of these songs. These songs are intimate, they show you another side of our culture, another side of our struggle as a people, our vulnerabilities. I also was lucky enough to finally find the perfect producers in Jim White and Paul Fonfara and the perfect producer/label in Rain Phoenix's LaunchLeft. With all of them on board, I knew the songs were in good hands.
Q. Is there a song or a lyric on the album that is the most special to you?
A. This is really hard to decide… "Pueblos Tristes" is very special to me. I think that was the first song I ever sang. Playing records in my father's library I found an album by Otilio Galindez. Singing along to his music opened my mind to music and all its magic. "Clavelito Colorado" by Simon Diaz (El Tío Simon) is a wonderful tender song I love to sing. The song is about a day in the life of people that work with cattle, either milking or herding. I see it as an ode to all farm workers. I often compare Simon Diaz to Bob Dylan, he is that iconic personality that represents the whole of Venezuela. "Fulgida Luna" is my mom's favorite. She loves the Moon, she has been taking photos of the full moon since I can remember. I love this song and how it speaks of love, unconditional love…in the song a man is dying, asking the moon to tell his partner, an ungrateful woman, that he did not suffer while he was dying and to please forgive him for any offense he might have committed. The imagery of this song is absolutely beautiful. It is a perfect example of latin magical realism and our relationship to nature. Even in "Carmela," the Moon is one of the protagonists. "Yo me enamore de noche, Carmela, y la Luna me engaño," it translates "I fell in love at night, Carmela, and the Moon lied to me…" As all folkloric music, Venezuelan music is full of color, magic and the honest truth about the human condition.
Q. What made you want to release an album of covers? Was it an idea you always had in mind?
A. I prefer calling them folk songs. I have covered Bob Dylan, B52's, T-Rex, The Glands, but they seem different to me. Maybe because it was my second language. When it comes to these Venezuelan gems, I feel a proud sense of folklore, meaning it belongs to all of us, they are there to be shared. But this album is also about paying tribute to the creators and keepers of our musical wealth as a country before I embark into my future projects, which I will be doing in Spanish. I had to say thank you to the creators and to my parents' musical era which informed all I know about music.
Q. Given the importance of family in making this album (with your mother choosing the tracklist and the album cover being a painting done by your brother), what impact did family have in the production of these songs?
A. I have many family members in Venezuela. My cousin Antonio recorded his friends on a Sunday for the end of "Mi Negra" and you can hear my nice Sabrina singing to herself at the beginning of "Duerme Negrito"… I really wanted their voices in the album. You see… every day my family has to wait for hours to get gasoline in a country full of oil, fear for their safety, and live in a scarcity of water, light, and food for periods of time. Yes, it makes an impact. The impotence is hard to live with. We all love Venezuela. It is hard to express how it feels to watch something so beautiful like Venezuela being destroyed by a Narco Regime and it's disgusting political assault on its people. To have this constant ache (survivor's guilt) for something so unjust, happening to so many, leaves you "despechada," heartbroken. After millions stood against the regime, once again, in 2017, having a moment of hope, where the world was watching our pleas…and then…the news dissipating, once again. These songs are here to remind us all that we are still fighting for the future of Venezuela.
Q. What was the collaboration between you and your producers, Jim White and Paul Fonfara, like in the studio? Were they familiar with these songs before you all started working on your versions of them?
A. Jim and Paul made it look easy but it was a lot of work unveiling each part of the songs. We were very good about never hearing any of the original recordings. I would sing along with my cuatro and send them over. We joked about Jim being tricked when I asked him to produce a "folk songs" album. He had never heard Venezuelan music. Paul was the interpreter. I would look forward to hearing their reinterpretation of my interpretation. For me, it was very important that we stayed far from the original as much as we could, aside from lyrics and general melodies.
Q. You also have an agave farm in the Santa Barbara area with your husband, did you gain inspiration from that landscape when creating the album?
A. Yes! We work outside, when you are around these ancient plants, you immediately get connected to the living world. It is the same way I feel when I sing these songs. The agaves have a special presence that resembles the power and message in all of these songs. They have a way of humbling you, keeping you honest, just like music. They are both so beautiful and strong. You are standing in front of something you don't really understand. After work, my husband Mark and I like to play music, dissecting these and other songs – he is the fun part of music for me.
Q. What's the most exciting part about releasing this album for you?
A. Being able to share and perform these songs, not knowing where they'll go, who will hear them and what musical world will open for them. I owe a lot to English and American music. It is my turn to pay it forward.