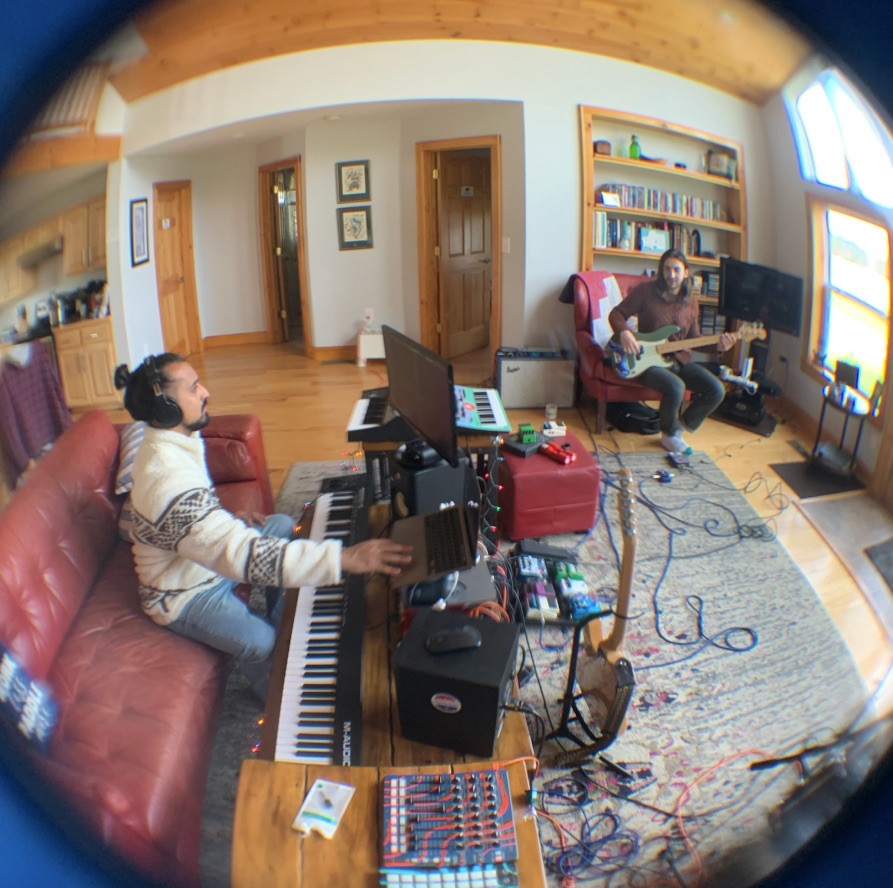 18 May 2023
There aren't too many young bands out there making must-hear psychedelic music these days. Free Whenever, however, are doing precisely that — and are inspiring a new generation of fans looking for a different kind of listening experience. While they've no doubt taken years to hone their craft, founding members Neil Guleria and Trevor LaVecchia make it look easy as they string together mind-bending soundscapes that includes a wonderful mix of genres including but not limited to vintage psychedelia, dub reggae, eastern modality and African rhythmic tradition. And it's always groovy. We highly recommend you check out their latest 4-song offering, The Movement. You'll understand why we're drawn in. We recently sat down with the band to learn more about how they got here.
Your music is so unique and soothing to listen to while studying, driving, cleaning, throwing a party… It always helps take the edge off. Have you always been drawn to create music like this?
NEIL: I have personally always leaned heavily on music to help keep my mind on track. There are lots of reasons why we chose to make predominantly instrumental music, and certainly its versatility and ability to seamlessly flow with people's lives are big drivers for that.
TREVOR: We both love all sorts of different music, but as multi-instrumentalists we tend to express ourselves best with those tools. We adore trance and hypnotic music, and sometimes lead vocals can take away from the overall intended effect.
You've been steadily releasing music for a few years, when did the songs from your new EP, The Movement come together?
NEIL: We've historically had a pretty bad habit about releasing music as soon as it comes off the stove, but as time has gone on we've become a lot more disciplined about taking our music through the process and giving it the time it needs to be released properly. The songs off of The Movement were written about a year ago and mostly recorded over a few weeks, but we spent a lot of time making sure we were thoughtful in our approach to bring this one to the world.
TREVOR: They were all fully recorded, mixed, and mastered by August or September of last year. Like Neil said, we've spent more focus this time around learning the ropes of releasing music the right way.
I've read that you're inspired by bands like SKINSHAPE, WHY? and Surprise Chef… what other bands or artists are out there that you'd want to shout out for helping shape your musical identity?
NEIL: Yeah bands like Skinshape, Surprise Chef, and Khruangbin have all served as great examples for us, especially being instrumental acts at their core. Trevor and I both have a much broader palette of musical influences, spanning from classic psych rock to jazz to Eastern music, but those specific acts have taught us a lot about how to curate our eclectic influences into a more modern listening experience. And without a lot of psychedelic instrumental acts in the NYC live music scene, they've also helped validate the path we're on and block out a lot of the "noise".
TREVOR: Surprise Chef definitely made us realize we could make amazing instrumental music that can be truly raw but appeal to all types of contemporary listeners. I have a distinct memory of listening to All News is Good News while driving into NYC, and it inspired me to refine our songwriting approach in ways we had never really thought about before. Skinshape has been particularly influential because of his diverse and extensive discography and his unique approach to writing and producing.
Some other contemporary acts we like include Kikigaku Moyo, Gitkin, and Tommy Guerrero.
You've self-produced most (if not all) of your music to great effect but are there any producers you'd like to work with down the line?
NEIL: Kevin Parker, Damien Albarn, Rick Rubin to name a few. We really see our music as being a raw material – something for a "real producer" to help blossom into something we could never do on our own. Don't get me wrong, I've very much value all the time and effort the both of us dedicate to thinking, acting, and playing like producers. It's definitely made us both better musicians holistically. That said, having to constantly switch roles of being the session engineer, the performer, the songwriter, the mixer, and the producer can sometimes take you out of the creative process. Having some help there would be more than welcome!
TREVOR: It'd be cool to work with someone that gets the music and doesn't want to change it, only to capture and amplify what it already is. Free Whenever has always kept a very inclusive and fluid philosophy to making music, so I can see us sharing some of the true producer responsibilities to the right person down the line.
Do you two indulge in any psychedelics when you are writing new music? You don't have to answer this but we'd love to know!
NEIL: Neither of us really use psychedelic substances as part of our core music-making process – cannabis for sure though. That said, I had a pretty long stretch of life-changing experiences involving psychedelic substances, and many of those experiences profoundly impacted the way I play and listen to music today. Certainly it is what pushed me into this genre. I think most serious advocates of psychedelics at some point realize that life has to eventually continue beyond the actual substances themselves if you ever want to begin to apply those lessons more broadly throughout your life.
How did you link up with Rockasaurus Records?
TREVOR: I met one of the co-founders of Rockasaurus, David Switzer, hanging around the Brooklyn music scene. I first met him at a local Bushwick bar called Tradesman and then serendipitously kept running to him at multiple other venues. Eventually we connected one of those nights and I got him to come meet Neil and I over lunch to get to know each other a bit.
One day he randomly stumbled on our original Jam Junkies album on YouTube, and we got enough attention with that to get him to come see one of our shows. I think at a certain point he had a positive enough outlook on Free Whenever that he connected us with Benny Reiner – the other co-founder of Rockasaurus. They've been great to work with and we're super happy to get the music we want to make out in the world. It's exciting.
We're excited to hear that there's even more music to be released later this year. What can we expect and when?
NEIL: 2023 is a big year for us. We're actually putting the finishing touches on our first real full length album in the coming weeks, and we couldn't be more excited about it. We expect to trickle out some singles in the summer and fall and drop the full album by the end of the year. This one really represents the fullest picture so far of our journey – lots of catchy tunes, tight grooves, and mind-bending psychedelic moments.
website
instagram
facebook
spotify