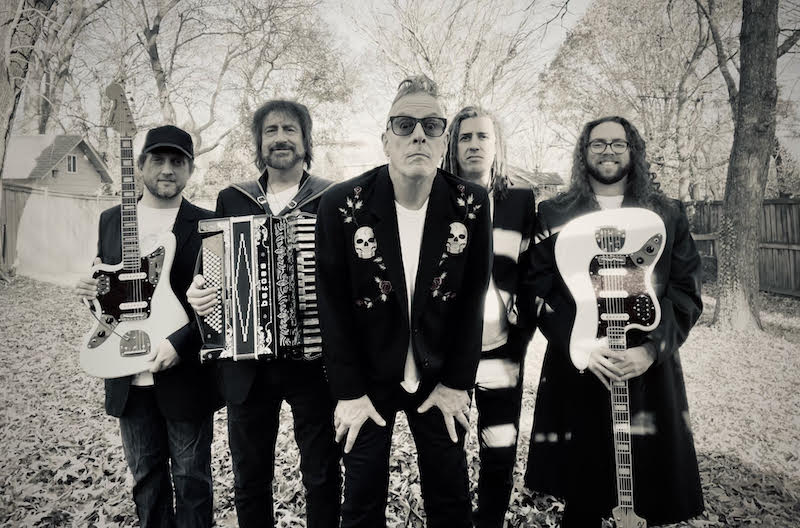 31 July 2023
FUCKED OR FREE:
A Q&A with Stuffy Shmitt
Spotify album link for Stuffy's new album Cherry
Stuffy Merch & Albums for purchase
In the chaotic shadow of the pandemic, after a tornado leveled his East Nashville, Tennessee, neighborhood and a bomb took out two downtown Nashville city blocks, Stuffy Shmitt released his last album, ironically titled Stuff Happens (2020). While that album was admittedly about purging past demons, once the world opened up again, Stuffy felt remarkably unstuck. "It was like we were emerging from a zombie apocalypse," he says. "I had this incredible rush of freedom. C'mon, let's go! Let's color outside the lines. Let's run and fly and lift this shit up and feel crazy good alive. I felt like everyone needed to remember how to have fun. Remember fun? I needed fun."
In that flash of inspiration, the eclectic, textured grooves of Stuffy's new album, Cherry, was born, featuring some of the finest players in the Nashville underground, who also happen to be some of his closest friends. "It was like somebody let the boys out," Stuffy says. "We made our escape, and then cranked it up. Cherry is the sound of me and my gang being free and having a blast—not following any rules, trusting each other and being in the moment with the songs."
The new record is a wonderfully crafted musical crazy quilt, guided by Stuffy's charmingly off-kilter brain, inviting you to join his party as he insistently chases good times, mischief and electric moments of instant gratification. Opening track "The Little Man in the Boat"—a piña colada-smooth ode to the female orgasm—unfolds as a slow-and-steady subtropical groove. If you were ever curious what it might've sounded like if Harry Nilsson ditched John Lennon and spent his lost weekend in the Florida Keys with Warren Zevon and Latin funk rockers War, look no further.
Lead single "Billy Kilowatt" feels like you've hit a hairpin curve at 100mph. The song is a two-and-a-half-minute jolt of manic, punk-tinged Farfisa rock & roll, coming off like a harder Elvis Costello & the Attractions. This is dangerous, Evel Knievel-jumps-the-Grand Canyon kinda fun, crash helmet strongly encouraged. "Little Brother"—a tribute to Stuffy's hard-partying, deceased-too-soon younger sibling Danny, who played drums for John Hiatt and Mountain's Leslie West—shows off some legit funk. And a few songs deeper, Stuffy murders with a wistful, heart wrenching gem of an Americana ballad, "110 Shotguns." It's a soul-searching and fearless moral inventory in song, a cold steel barrel between the lips of an aging barfly as he replays faint memories of reckless youth—nostalgia cut with regret and longing so potent you'll need a shot of Narcan.
The Big Takeover recently spoke with Stuffy about Cherry; ditching the music-business mindset in pursuit of pure, unadulterated fun; a New York Doll's advice on how to stay sober; and Stuffy's dreamy new video for "110 Shotguns."
Big Takeover: Tell us about the new video for "110 Shotguns." Who did you work with on it?
Stuffy: I made it with the people who pretty much do all my videos now—*Anana Kaye* and her husband Irakli Gabriel. They're from the country of Georgia—not the state but the country—and they are very talented performers and musicians and songwriters as well, and their video work is just brilliant. And we're all friends now, so it's fun working with them.
Big Takeover: What do you like about what they bring to the process?
Stuffy: My wife Donna and I usually come up with some story board ideas, and Anana and Irakli come up with some ideas as well. And when we go to shoot, it just kind of happens. We all ride along on the same journey as we're making it because things morph and change, and that gives us the flexibility to work as the mood hits.
Big Takeover: With the "110 Shotguns" video, what was the shoot like, and what were you going for with the concept?
Stuffy: I wanted a hotel room, and I found one online at a Quality Inn. It looked really screwy with an odd-pattern couch and a ridiculously colored chair, so I reserved that room I thought, but we got there and it wasn't available. It didn't exist. So we just went to another random hotel, which worked out better—it was just dark and normal and we weren't trying too hard. And then Donna gave us a little bag of eyes, and a little bag of dismembered dolls. And it all went really smoothly. I got my friend, Renee, to show her lovely shoulders, and that was that.
Big Takeover: Most of your new album Cherry feels like it's all kicks and rock & roll fun but then, toward the end, "110 Shotguns" comes out of nowhere and it really hits hard. It seems like a more serious tune—there's a lot of reflection and introspection. What's it all about? What kind of feelings drove it?
Stuffy: I actually wrote "110 Shotguns" a long time ago. Then during the time I was recording the new album, it came back to me for some reason. So I called producer Dave Coleman, and went over to his studio and laid it down. Coleman put drums and keys on it, but I wasn't really feeling it. There was something that wasn't quite right. So I called in some new musicians and we tried it again with Chris Spinelli on drums and Jeff Thorneycroft on bass, and that's the version that ended up on the album. The song is really kind of a dreamscape, from back when I lived in Chicago and was tripping my brains out all the time. It revisits certain bars I remember, and dank, dark hotel rooms and really just a lot of crumby stuff. Let me put it this way—it wasn't always fun. So I was trying to get away from those memories—you know, blow 'em away.
Big Takeover: So there's this impressionistic thing going on, filtered through time and memory?
Stuffy: Yeah. That sounds about right.
Big Takeover: Tell us about the making of Cherry. What was the initial spark that started this record?
Stuffy: Like you were saying earlier, I just wanted to just go in for fun—nothing about record deals or money. Just going in for fun with my band. We recorded at Dave Coleman's studio. At first the plan was to just go in there for a day and knock out a couple tunes for fun. And we had some ridiculous tunes—"The Little Man in the Boat," about the clitoris, and "The Hard-On Polka," and we were just fucking around. But the grooves were so tight, and so the band played so great, and the addition of Coleman as producer was magical. And then we brought Chris Tench back in [who worked on my last album Stuff Happens] to co-produce and play guitar, and I thought, "This is too good to just leave it as two songs. Let's make an album."
Big Takeover: Why did you call the album cherry?
Stuffy: When somebody sees a really great looking restored old car they call it either "mint" or "cherry." And I was thinking about how the songs on the new record are all so different—there's punk and funk and rock and ballads; they were like assorted cherries. So the original title was Assorted Cherries, but was too long for me so I changed it to Cherries. And that didn't quite feel right, so I cut it down to just Cherry. And then I was gonna change it to Cher and put Cher's face on the cover, but they talked me out of it, so we ended up back at Cherry.
Big Takeover: The album cover art for Cherry has this really clean, simple, iconic feel to it. Who was the designer?
Stuffy: The designer was actually Jeff Thorneycroft, the same guy who played bass on "110 Shotguns." He's great. He's actually done some design work for the Yazoo Brewing Company as well.
Big Takeover: Where did you record this batch of songs, and what was the vibe like during the sessions?
Stuffy: The album was recorded at Dave Coleman's place which is called Howard's apartment Studio, but it's not an apartment and there's nobody named Howard there. Don't ask. I never asked. But we did it there, and Dave and I co-produced the first two songs that we were joking around with. Then I brought Chris Tench in to help us out, and we're all pals. The vibe was great, and they're both excellent guitar players. If you listen to "Little Brother," you'll hear Chris doing the wah-wah pedal and Dave playing lead guitar, and you'll see how they complement each other.
Big Takeover: You've been making music for most of your life. How has your approach and attitude toward your work changed over the years?
Stuffy: Well, let me put it this way: There ain't no gold in them there hills. You know, unless you're Adele or Taylor Swift. You gotta be really, really, really lucky to gain any ground. The music business, as it was, doesn't really exist anymore. But that's also very freeing because that means you can do whatever you want. Screw it. It doesn't matter. My friend Aaron [Lee] Tasjan and I, we were sitting on the porch and bitching about the state of the industry, and how difficult it's become and how his record deal wasn't working out, and all this other stuff, and I looked at him and I said, "Well, looks like we're fucked." And he looked at me and he said, "Or we're free." So either we're fucked or we're free—there's a choice there. So I chose free and I gotta tell you, it's a lot of fun. And that's a big part of why Cherry's tunes are so schizophrenic. There are no rules anymore because there's no money anymore. I'm not looking for the brass ring here, which is, again, freeing. Just making this stuff is what it's always been about anyway, and when you can make music without rules, it's a lot more fun. So I'm out to have fun. No more trauma songs. Let's boogie.
Big Takeover: You've had a chance to work with some pretty legendary artists—Levon Helm from The Band, David Johansen of the New York Dolls, Gordon Gano of Violent Femmes. What were those experiences like and what did you take from them?
Stuffy: Well, I took money from them when they would come into the bar I was working. Gordon Gano and Willy DeVille used to get bad drunk in the West Village where I was bartending, and I'd throw 'em out—that's how we became friends! I threw them both out a number of times, and then they'd ask me, "You wanna play on this record?" New York, man. And Levon was a friend of a friend—*Catherine Popper*, who played with [Jack White, Norah Jones, Ryan Adams, Margo Price, Jesse Malin, etc.]. So she knew Levon, and he came down and he was a gas man. Really fun. Everybody just was really together and sober. And David Johansen was drinking some Yoo-hoo pineapple thing. David actually turned me on to Diet Coke. I told him I was trying to get sober, and he said the drink you want is Diet Coke. Don't order Coke, order Diet Coke. But it was great—they didn't make me feel like I was just a fan; we were having fun, you know, all musicians and songwriters just playing together and having a good time.
Big Takeover: Any final thoughts / parting shots for our readers?
Stuffy: Yes, I've got a new record on the way, a covers record. Everything from Bo Diddley to The Psychedelic Furs. It's called Stealin Stuff, and it'll be out in a month or two.
###