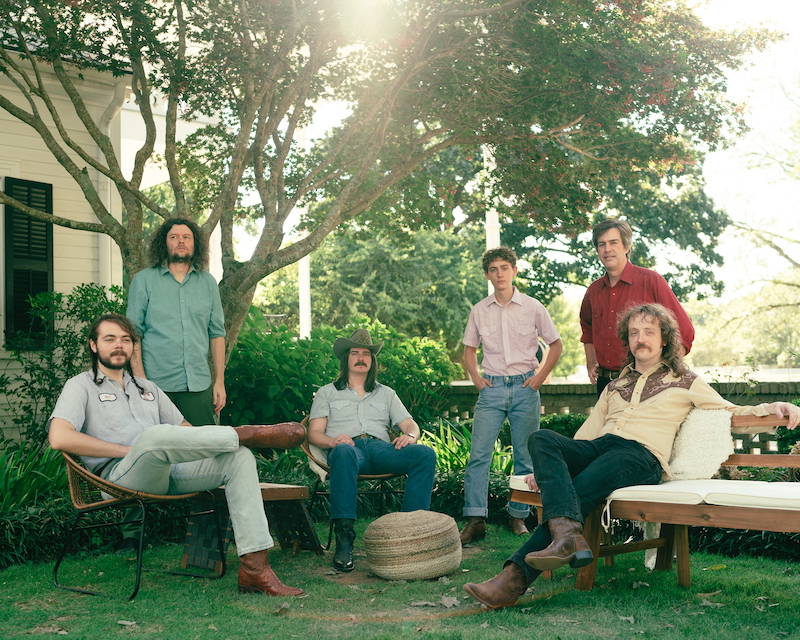 30 June 2023
Photo by Garrett Cardoso
The Pink Stones subscribe to the idea that an artist has their entire life to write their first album and six months to produce the follow up. The Athens, Georgia cosmic country band released Introducing … The Pink Stones in 2021 and have just dropped their sophomore effort, You Know Who, an album that singer/guitarist Hunter Pinkston describes as a "snapshot of us in the past year." Having spoken with Pinkston in 2021, this time around we kept things casual and tried something new. Rather than a standard Q&A, I said words and phrases and let Pinkston expound with whatever came to mind.
NIKKI LANE
I'd obviously known about her for a little while and seen her play a bunch of times, and then we signed with Normaltown and New West. We've done two records with them now, but after that first one, the door opened for us to kind of go more places and see more people, and I met her somewhere down the line.
I don't really remember exactly where George Fontaine kind of put us together. I remember she played in Athens with Brent Cobb and George took me to the show. And me and her, I think we smoked a joint on the roof of the theater and talked about music and talked about our new record, and we mentioned to her that we were kind of interested in having her sing on it.
I saw her a few more times since then. I've seen her in Nashville a couple of times and we played at the American Legion for Honky Tonk Tuesday and she showed up and I saw her there, which was the first time in a while.
We got ready to make the record and I sent her over the lyrics and a rough cut of the song. And then when she had some time, she went in the studio and sang it. Did it in like an hour.
She's really cool. I mean, me and her get along on a very fundamental level. I think it's simple to hang out with each other, and we just kind of have fun and there's not really a lot of pressure or stress. And that's why I thought it would be fun to have her do the song. Every time I've ever met her or hung out with her, it just kind of felt like we've been adjacent buddies forever.
Funny enough, the first time The Pink Stones ever played in Nashville, we played out back of her vintage store during Americana Fest, like an early day party. We drove up that morning with a drummer that I had never played with because our other drummer got sick the night before. And we picked that guy up in Atlanta the next morning and drove up to Nashville first thing and played. It was like 90 degrees and we were playing on concrete outside behind her store. That was very fun, but it was very hot.
"BABY I'M STILL RIGHT HERE (WITH YOU)"
I wrote that song before the first album came out. We had been working on the first album and had either recorded it or mostly recorded it. I wrote that song and we started trying it out live and we played it the last three or four shows we played before COVID. It's come a long way since then. We had never tried it as a duet. We played it live and had some recordings, like demos and stuff, that we had made. I wanted to do a duet for the record and naturally I was like, "Oh, I could write like a slow ballad thing." And then the more I was thinking about it, I was like, "It could be fun to do a really high energy song as a duet because most people think of them as slower or whatever." We were kind of trying to do something like "(We're Not) The Jet Set" or "Golden Ring" by George Jones and Tammy Wynette. You know, kind of trashy country songs done in an old school way. Most of our recordings are kind that way, old sounding, but we really tried to lean into that sort of thing with "Baby I'm Still Right Here (With You)" and make it inspired by George and Tammy but trying to do something new and make it our own thing too.
GEORGE JONES
When I was a kid, I had a funny split dynamic with my parents where my dad was a full on rock-and-roller who, as a young adult, played mostly southern rock and stuff like that. But he was also super into real rock and roll. And then as the '70s ended and punk became a thing he was very into The Sex Pistols and the Ramones and The Clash and all of that stuff. So when I was a kid, that was kind of some of the first stuff that I was ever shown.
My mother and her parents were all very into country music so that was definitely around. I remember learning Elvis songs when I was a kid on guitar and piano to show my grandma. But obviously, when I was a kid, the punk thing was a little more enticing.
When I got a little bit older and moved out on my own and was living my life and having time to really kind of figure out what I liked, I could just Wikipedia anything and then use all of those links to go and learn.
I just have to know every little thing about everything. And first for me, really, it was Gram Parsons and then Gram and Emmylou Harris. Gram was a devout listener of George Jones as is any person who's in country music. So I was listening to all that stuff and then reading interviews where Gram is like, "I like George Jones." And it's like, "Well, I guess I should try that out."
Then you listen to that and you're like, "I see why Gram Parsons sounds the way he does, but it's different." For us, it's kind of the same thing where people are always like, "You guys sound like Gram Parsons." And it's like, "Yeah, but we're doing our own thing." And he was doing his own thing and George did his own thing. It's like this weird thing that it's somewhat cyclical in the sense that it all kind of relates and comes back, but it's also pushing forward at the same time.
If I were a kid right now, it would be awesome to turn on the TV and see the George and Tammy mini-series on Showtime. It's super interesting and you can learn so much from it. And I guess, obviously, the Cocaine and Rhinestones podcast. They did the whole season on George, and that guy was saying that they took a bunch of his shit and put it in the show, which is probably true because he did a ton of research that was really good. And I listened to that podcast, too, which was so interesting, you learn all the deep and dirty stuff about George and Tammy. But I felt like the show did a pretty good job of doing it and just getting to see all those people dressed up in that way. It was pretty fun. I definitely could see why people might think it was a little kooky or whatever, but nothing's going to be perfect.
ACTING IN VIDEOS
I've done a few at this point. It's getting more comfortable for me. The first music videos we did were very simple. For the first album, there was not a whole lot of stuff to do besides lip syncing.
This time around, I really wanted to work with Joshua Shoemaker because I had met him in Nashville and he's a friend of so many of my friends, and I love his work, all the videos he's done. So when it was time to do these, I told George that we wanted to do them with Josh, and we set it all up.
The "Who's Laughing Now?" video was very acting oriented. Josh sent me a script or a treatment and was like, "This is what I think I want to do." We were on tour and we were going to land in Nashville right before coming home and having an off day. That was the only time we could shoot the video because it was only five days before the premiere, so it was like a really quick turnaround. I didn't even have time to really worry until the very last second when we're in Nashville, playing a show, getting wasted with all of our friends, and then I go back to the place that I'm staying and it's pretty early because we played an early show and we had to start shooting at 9 the next morning. So I was like, "Okay, go to bed." And I started kind of freaking out. I get there the next morning, and it's like all these extras. There's a cast of so many people there that I had never met, and I had to fucking get up there and pretend to be a comedian in front of all of them. I was super nervous, but it ended up being really fun. And then it's really weird. I've always thought of myself as a funny person, and I like joking around and goofing off. And that opened this huge door for me where I feel like, even now, more comfortable being silly, I'm less uptight, which I was never super uptight, but doing that first video really opened that up for me.
And then the second one ("Baby I'm Still Here (With You)") was really fun because it was just a one shot and there was not a lot of time to rehearse because we had Nikki for one day, for 2 hours. So it was like, "We've got to just fucking do this." I drove up to Nashville and we met up and talked for just a minute before we drove to the location and just started filming. And it was great. I mean, Nikki's a natural. She's good at anything that is performing. It was also very easy for me to feel comfortable then because she has so much bravado and it's nothing to her to just go out there and do it.
It was really fun. And now I feel a lot more comfortable. And I've been joking with my friends a lot lately that I think I want to be an actor, or I think I want to be a comedian now, which is probably never going to happen.
FAVORITE MEAL DURING THE MAKING OF THE ALBUM
There's this restaurant here in Athens called Seabear that I didn't go to for years because I was young and didn't know anything about food and didn't care. A bunch of my friends work there. It's this cute little bar that's a seafood restaurant. They always have great oysters, which is awesome. You go there and you can start with the oysters, get a cocktail, but they have this scallion pancake that has crab meat all over it and it's quite literally the best meal I've ever had in my whole life. And I eat it all the fucking time. Anytime I get paid or I have a little extra cash and I can spend $100 at a restaurant, that's usually the first thing I do.
I would say that that's probably definitely influenced me because we go up there and a bunch of musicians work there and everyone just sits at the bar and talks and they always play good music. Like the last time I was there, they had Bobby Charles music playing.
DAY JOB
I work at the pressing plant here in town. I've been doing that for a while. I do sales now, so it's a little different. I used to work on the physical press. I've been touring a lot more, so sales is good because I can take my laptop with me and work on the go. We played in Macon last night with Esther Rose and I didn't get home until like 3 a.m. I slept through all my alarms, showed up super late, which is fine. I'm salary, so it's not overly strict about when I get there, but it is nice when we're all there together. But I kind of stumbled in late and then got lost in the weeds of trying to make a bunch of people's dreams come true.
We're definitely really busy. There's always stuff to do and there's always more people wanting records and stuff. We haven't had a crazy influx in the past couple of years but it surely is not slowing down.
I love it and it's a cool day job because I get to listen to music all day and talk to musicians and it's very nice. If I have to have a day job, this isn't the worst one.
MOVIES, TV, BOOKS
I'm excited to see this new Wes Anderson movie that just came out, Asteroid City. I haven't seen it yet, but I love everything that he's ever done.
I was very excited to see that there's the new season of The Righteous Gemstones that just started. I fucking love all of those people. Everything they do, I'm a huge fan of, so I already watched the first two episodes and they're hilarious.
I'm one of those people who does the reading slump thing where I'll buy books and look at them forever and then maybe read them a little bit. I should be better about it and read more.. I did read Satan is Real, the book about the Louvin Brothers. I read it a few years ago and then I kind of just reread it. I love them so it's just crazy hearing all those stories that are in the book. And I'm also reading Fear and Loathing on the Campaign Trail, 1972. It's about Hunter S. Thompson when he was in Aspen and ran for sheriff. I guess they saw him as a hippie or whatever they called people with long hair back then. He didn't even have long hair, but he shaved his head completely bald so that when he went to the meeting, he could tell everyone that the cop was the long hair because his hair was longer than Thompson's. I love all that stuff.
AN ALBUM EVERYONE SHOULD OWN BUT NOBODY KNOWS ABOUT
I just got a copy of Bottle Bottle by Jim Ed Brown, which is pretty obscure. I really like it, it's very good '60s honky tonk. And in this past year, I got super into Jim Reeves. His voice is totally unbelievable and I just listen to it over and over and over again because his voice is so good. It's just called Good-N-Country.
SOMETHING TRIED FOR THE FIRST TIME ON THE NEW RECORD
On this record we tried a bunch of new off-the-wall kind of things, but we have a new piano and keyboard player on this record named Neil Golden and he's been in a bunch of bands in Athens. He played with The Glands for a long time and I got him to play some synthesizer, which we hadn't tried yet. There's this awesome song "Who's Laughing Now?" on the record. It fades out and fades back in. There's this secret hidden exit. We took the electric bass out and put in Moog bass. There's sliding synthesizer bass and then a bunch of synthesizer, which was awesome. And then Logan [Brammer] and I both played a little bit of mellotron on this record, which we hadn't tried yet. I also played piano for the first time on this one. I've been practicing piano a ton since the first album came out and playing a lot. I kind of convinced myself to play piano and organ on the record a little.
We had strings for the first time. Annie Leeth, who plays with Faye Webster, did a bunch of strings. And John James from The Deslondes played some fiddle, which was super great.
RECENT VACATION
Sometimes I'm lucky enough to have a day or two off in places that we're playing. I guess the most real vacation kind of thing I've done recently was when we went and played in Seattle for the first time and it was just a fly-in date and the band flew in on a Saturday, the day of the show. I played solo the night before. I flew in the day before super early in the morning. So I had almost 48 hours to just be by myself in Seattle and I had never been there before either so it was super fun.
I flew in and just did all the normal like went to Pike Place Market and then my new friend Kenzie, who I was introduced to out there, let me stay at her house. She took me to this place called Gas Works and we watched the sunset and did all this stuff.
We went to Al's Tavern, which is this bar that Dean Johnson bartends at and that was super fun and that was like a vacation because I really got to just fuck off and do whatever I wanted. I flew so early in the morning, like a 6 a.m. flight, that I drove to the airport super late at night and worked there all night so that I could get everything done and then not really have to work when I was in Seattle.
I talk all the time about how I'd like to be able to take some sort of vacation that's not working because even when The Pink Stones go on tour, it's always fun but it is still working. I can't really do whatever I want and I would like to kind of just take some time off but I've got to pay the bills so it's always a struggle.
SURPRISE IN YOUR PHONE'S CONTACT LIST
It's really funny that you say that because last night we played in Macon and after the show, I'm taking my guitar off. I sat it down to walk out the back door to smoke a cigarette and I feel someone grab my shoulder and I turn around and it's Jim Lauderdale. And he was like, "I think we've met before, but I just wanted to say I really loved your show." He offered all this high praise and very nice compliments. I've either met him or talked to him on the phone or something at some point. We don't really know each other, but I know of him and guess he knows of me. And that was a very cool moment because he's so fucking awesome and he's made a bunch of awesome records.
And he pushes the scene forward. He cares about the music and he does so much stuff to bring life to what all of us are trying to do, which is so cool. And I was outside smoking after this and he comes up to me and he's like, "Hey, can I get your number so that we can stay in touch?" I was like, "Sure, of course." And then he's like, "You know what? Fuck it. Can we take a picture together too, before I leave?" It shows he's just like all of us. He's a fan of the music and he'll go to the show and he stayed late to watch us and it's super cool. I'm sure there's probably some other people that I've met, too, but that one's so fresh because it was last night.
My bandmate, Adam [Wayton], who plays bass in The Pink Stones, he's got his own group called Telemarket that I play bass in. The guitar player in that band is our friend Will [Anderson]. Will was going to Miami with his girlfriend on vacation and they ran into rapper Waka Flocka Flame in the airport. Will's from Atlanta, and he says "Hey" and takes a picture with Waka Flocka Flame. And then he comes back and Adam is like, "Yo, I have Waka Flocka Flame's phone number." And we're all like, "What? How is that possible? He's so famous. No, you don't." He's like "Watch this" and he sends Waka Flocka Flame the photo of Will and him and just says, "Yo, safe travels. Nice to meet you," pretending that he's Will, and Waka Flocka Flame responds and is like, "Gang, gang," It's obviously him, and we're going crazy. And I guess he had played a frat party here in Athens, and Adam got his phone number somehow.
I met Flea one time at a Whole Foods, he was filming for that movie Baby Driver. He had just flown into Atlanta like an hour before that, rented his crazy car and drove to Whole Foods to get his groceries. And no one recognized him except for me. And I was like, "Holy shit, you're Flea, dude." I talk to him for a little bit, and I was like, "I know this is annoying, but can I take a picture with you? It's just so funny that you're here." And he was like, "Yeah, I guess. Let's just make it quick." As soon as I do it, people around are like, "Wait, who's this guy?" And then they're all like, "Oh, shit, that's the guy from Red Hot Chili Peppers." And he just gets swarmed as I'm walking away.