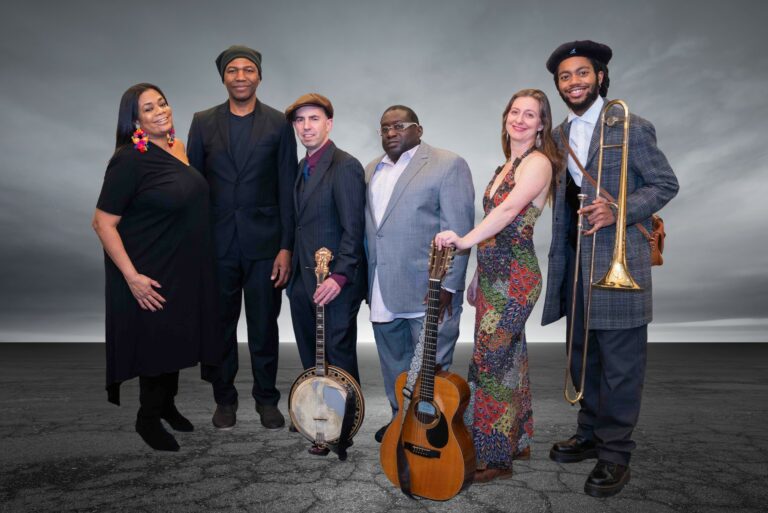 24 April 2023
It is safe to say that there is quite an eclectic collection of musicians in The Scooches. Can you tell me how the band came together?
Betina: The Scooches started with Nick asking me and a collection of top-notch NYC musicians to play country music for The Brooklyn Strawberry Festival. Then, our vision grew to "Scooch" together many genres and musicians from many different backgrounds. We have so many musical influences, and we love the diversity, tradition, and uniqueness this all brings to our creativity.
Nick: All of us Scooches just love to play music and hang together! Every rehearsal involves eating food and spending quality time together like a family. Miles Griffith is my brother from another; we attended college together, studying with Sir Roland Hanna and Jimmy Heath. So naturally, I want Miles to be part of my life's musical life journey! Since Miles and I organically gel with Dr. David Pleasant's unique and complex Gullah-Geechee rhythm concepts, we have been a part of each other's bands for many years.
As a result, I hear their musical "voices" in Betina's songs! Betina gives us a lot of artistic freedom, so The Scooches experience draws all of us and audiences to resonate and groove together, letting her original music breathe. Scooches' Get Us Out Of Fearland fiddler Kenny Kosek joins us again on "Let's Grow Our Roots Deep and True" and "I Broke The Egg," plus keyboard player Art Hirahara lays organ down on "Leavin'."
As my soulmate and wife, I enjoy writing with Betina and, more often, just adding to, orchestrating, and helping arrange what she composes on her own!
I also rhythmically resonate with drummer Harvey Wirht, especially after playing African music together in Malika Zarra's band. Harvey and I groove together as one being!
More recent Scooches! Brooklyn rapper Ra$h Ca$h was a natural connection as we play together in Russell Hall's band, Bessie & The Rainbow Kids. Bassist Russell Hall, tap dancer Michela Marino Lerman, drummer Ahmad Johnson, and bassists Hill Greene and Jennifer Vincent are also naturally featured Scooches guests on our new album, Lift You Up as their similar deep sense of rhythm, and groove, openness naturally connect us on a musical, spiritual level. My long-term music colleague and friend, Angela Workman, became a recent Scooch as my vision for this album called for her voice and kind spirit!
Given the cultural influences and musical range in your ranks, how much do you think this defines your sound?
Nick: Our eclectic and diverse cultural influences naturally define The Scooches' sound 100%! However, even when we perform as our core trio or quartet, our diversity, and eclecticism can still be heard as our original music transcends through each of us. With the strength of Betina's songs, I can still hear our diverse influences in my mind's ear, even in their original voice-guitar incarnation.
Betina: Our musical and cultural influences within everyone in our band is what make us The Scooches. We Scooch together and create something truly unique, diverse, and exciting to us.
"Stop This Climate Change", your current single, is a powerful call to arms and talks about our attitudes towards the issue. How much of a problem is this last obstacle?
Betina: I deeply believe our attitudes, this climate of denial, is the biggest obstacle to figuring out how we can change the destructive climate path we're on. If we can't all agree there is a problem, how can we come together and use all of our ingenuity to solve this climate change problem? We've got to stop this climate change!
Nick: Our attitudes need to align more so we can progress in a call to action. The opening of the original 1978 Superman with Jor-El's (Superman's biological father) being such a strong voice advocating to planet Krypton's council the severity of Krypton's climate change is such a powerful example of the ultimate fate when attitudes are not in alignment. However, I still have faith that humans can still make a difference as I advocate for more awareness through music, discussions, education, and call-to-action.
How much can one song make a difference to such significant issues?
Betina: Every single person who speaks up draws focus to the issue. Speaking up with a song can make a difference because music can touch us in a deeper way. We remember the music. We dance along. We feel the emotional connection within a song. I believe all art helps us express our concerns, dreams, and hopes and brings attention to the issues within the art.
Nick: I'm not sure how to measure it, but we can all agree that one song can lead to a conversation such as this, and I feel strongly that discussions and messages lead to more readers, growing to more listeners and expanding the message and energy outward to deeper and more robust connections, influences and influencers!
And the profits from the single are going to a worthy cause.
Betina: Yes, we are already donating to the Sierra Club personally, and a portion of the proceeds generated from the single will benefit the Sierra Club, the most enduring and influential grassroots environmental organization in the U.S., one whose purpose is to defend everyone's right to a healthy world. We hope that people hear this and go out and donate on their own, too!
Nick: Actually, as independent freelance, professional musicians, we don't know if a profit will be generated from this single, but regardless, we'll continue to donate some of the proceeds to organizations such as Sierra Club. We also hope listeners will donate on their own to any organization they feel will help lower our carbon footprint.
We personally make a difference by purchasing solar panels, using compostable trash bags, using "Who Gives A Crap" toilet tissue (saving trees with more replenishable bamboo), traveling with our metal canteens (not plastic water bottles), composting our food scraps, recycling bottles, cans, cartons, paper, metals, trying to walk and use public transportation when possible.
Genres and labels are perhaps going out of fashion, but where do you fit in the musical landscape, and what are some of your musical influences?
Nick: I grew up with blues, jazz, and R&B artists such as Robert Johnson, John Lee Hooker, Elmore James, Jimmy Reed, Muddy Waters, Willie Mae Thornton (Big Mama Thornton), Bessie Smith, Johnny Winter, Jimi Hendrix, Santana, Jeff Beck, Ray Charles, Billie Holiday, Aretha Franklin, Ella Fitzgerald, Sarah Vaughan, Charlie Parker, Thelonious Monk, Louis Armstrong, Miles Davis, Herbie Hancock, Chick Corea, John Coltrane, Wes Montgomery, Stevie Wonder, Wayne Shorter, Joe Henderson, Elvin Jones, Tony Williams, Sly & The Family Stone, Mandrill, Joe Cocker, Earth Wind & Fire, Buddy Holly, Linda Ronstadt and, of course, The Beatles to name a few.
In college, I got deep into African, Indian, Brazilian, and world music, studying with Pandit Samir Chatterjee and listening to and playing the music of Jobim, Gilberto Gil, Joao Gilberto, Mamady Keïta, Ali Akbar Khan, Ravi Shankar, Zakir Hussain, John MacLaughlin's group Shakti, and many more. Plus, my time playing as a sideman with artists such as Malika Zarra, Deep Singh, Zeb Bangash, Jimmy McGriff, Jon Batiste, Russell Hall, Gordon Au, my dad, Rich Russo, my Uncle Mike, my childhood friend/soul brother, Charlie Koci, and many others influenced and shaped my sound.
Betina: I am deeply influenced by jazz, classical, Broadway, and 1960s folk artists. Joni Mitchell, Janis Ian, Bonnie Raitt, Stevie Wonder, Aretha Franklin, James Taylor, Bob Dylan, Leonard Cohen, Jack Hardy, Ella Fitzgerald, Barbara Streisand, Nancy LaMott, and so much more.
A new album, _Lift You Up, is coming. What can we expect from that?_
Nick: As the driving force & producer, I have been listening to mixes and masters over and over again, falling more in love with The Scooches Lift You Up! It's currently my driving music and my jam!
It's such a diverse, eclectic album woven with ear-catching melodies, powerful lyrics, beautiful harmonies, and soulful, bluesy vocals!
Listeners can expect crafty songs and "feel good" grooves from reggae to banjo/fiddle-driven newgrass to sweet bossa-nova guitar to country resonator/slide to a 1920s influenced song supported by tap dancing and tenor banjo to organ-guitar driven R&B/Motown to tabla-infused rap to Gullah-Geechee protest voices to a spontaneously improvised Calypso jam!
Betina: On Lift You Up, the music is such a joyful and fierce expression of our relationships to the world, our communities, and to treating each other fairly. We bring our positive collaborative energy to issues such as refugees, gun violence, democracy, hatred, and the need to really talk, really listen to each other in order to love each other.
What does the future hold for The Scooches, and where would you like to go next musically?
Betina: I have so many songs; I'm introducing new songs to The Scooches all of the time. I'm thrilled with this album and can't wait to record more, play more, and get our songs and messages out where they can do some good. I hope we'll keep on lifting each other up musically, spiritually, and peacefully!
Nick: I'm all about the process and journey. I see The Scooches growing closer together as a family of musicians with more great hangs, powerful concerts, deep grooves, soulful improvisation, and music-making! I believe the law of attraction will lead us to more recording, more video shoots, continuing to travel, more performing art centers, theaters, both bigger and smaller intimate stages, and venues, more of a film and T.V. presence, and connecting with more warm-hearted fans and collaborators!
Thank you for taking the time to talk me through your wonderful musical world