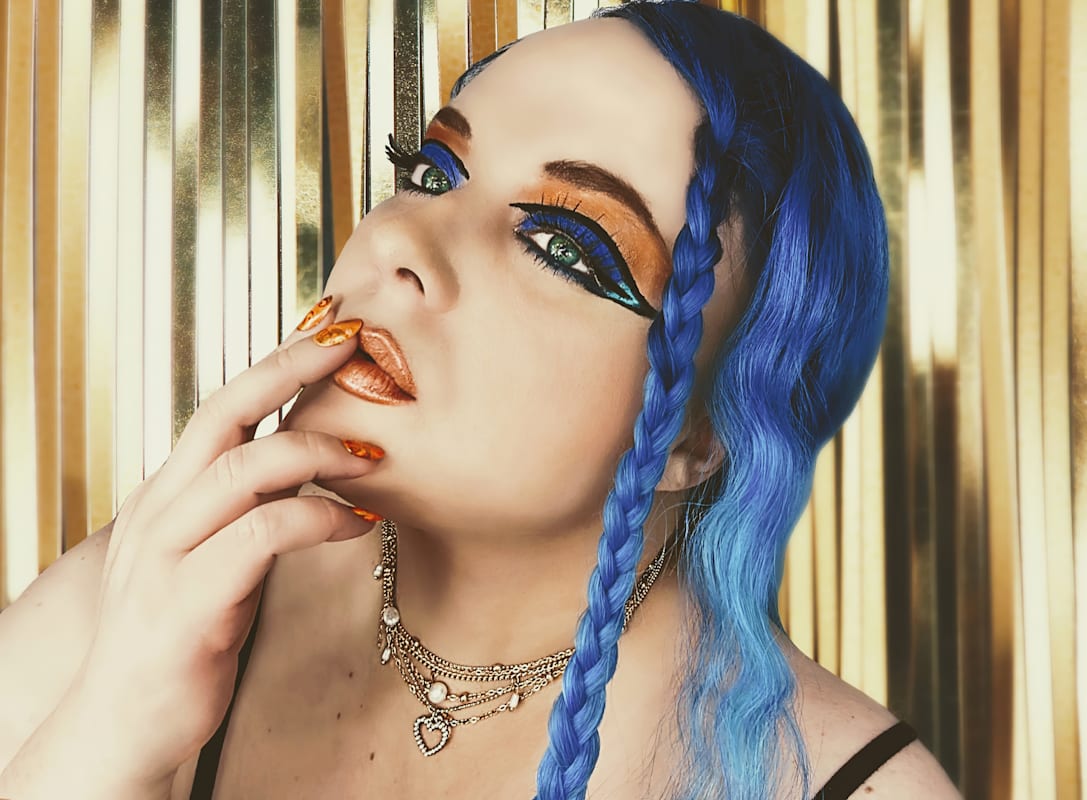 19 April 2023
Let's begin with a bit of background. How did you start in music, and what are some of your influences?
TaniA Kyllikki: There is a lot of talent in my family tree, from creative artwork to music and many other talents. God blessed me with the gift of music at birth, but what music has become for me is much more profound than I ever envisioned. I've witnessed and been through a lot of things a child shouldn't ever be subjected to, and music has become my escape. This molded the kind of singer song-writer I am now. At the age of six, I heard my mother's cries because my stepfather was again physically and emotionally abusing her or hitting our dog. I would hold my younger brother in my arms and assure him that everything would be alright, and I would silently say a prayer. My stepfather would also tell me I was unloved and unwanted, among other spiteful statements. My biological father walked away from me at birth and had no interest in being there for me.
I also felt like a part of me was missing due to the passing of my twin sister. We were both born early with heart defects; sadly, my twin didn't make it past four months old. I was a sickly child; illnesses and regular hospital visits have been my life since I came into this world. Growing up when things calmed down from the dysfunctional environment of having an abusive stepfather. I would listen to my mother's music, which included a huge variety of genres, including house music, pop music, R&B, classical music, and hip-hop. Their voices and lyrics spoke to me as if they were a member of my family or a close acquaintance; they became the warm safety net I needed to escape to. I would sing along with them and feel this overwhelming happiness inside.
Then I began writing my own songs, and later I sang in competitions; one took me to the 02 Arena in London, which was an amazing experience to be on a stage where legends who became my teachers and helped shape my own voice and songwriting, had performed. I was also the lead singer for my Church Choir. I've had a lot of exciting moments and opportunities offered to me in TV and other deals etc…, some of these I sadly missed out on due to lack of support in my personal life or health issues. I often feel like the lone ranger chasing my dream through all the deep mud, although this isn't out of choice. It's out of having no other option. But what has given me the strength to keep going is knowing that even though people have let me down, God has always walked with me every step of the way. He put this music in me for a reason, and I have never been one to give up when life knocks me down; I get back up, and I carry on, regardless of how tough the journey may be.
Hard work is not something I shy away from. What also uplifts me is having been fortunate to be complimented by some of the best of the best, that we call legends in the music business, for my voice and songwriting abilities, which means so much to me coming from them. As well as the hundreds of music reviews in magazines and blogs over these last three years have been nothing short of amazing, and I am so grateful to each and everyone who has shown me so much love and support. And now I am working on my second album.
It's amazing to be professionally releasing songs that help others feel as though they are not alone. That's what I love about music the most, how it can connect souls from all over the world and heal! There is no language barrier when it comes to music; it's a movement every single person can relate with in one way or another. Music is such a powerful and amazing gift from God. So for me, in a nutshell, I was born to do music. The truth is, there is nothing else I would be doing than this,
And now, in 2023, we have the metaverse and other virtual realms that allow people to escape their reality and create their own. But music really had become my own musical metaverse when I was a little girl. With my hairbrush as my microphone and my teddy bears and dolls as my audience to escape the reality, I was suffering with. My creative mind was and still is my very own metaverse that I can now share with millions of people all around the world.
Although music styles constantly change, something in your voice echoes with an iconic sound, capturing everything from the nineties pop icons to 70s soul artists and even earlier. Is there a conscious influence at work here, or is this the natural evolution of your voice?
TaniA Kyllikki: It's extraordinary how much of an impact music can have on your life. I've taken in a wide variety of musical styles and genres over the years. As a child, I had a profound and unforgettable experience listening to their music, and as a result, their impact is deeply ingrained in me. My singing ability has developed in a very organic way.
When I was a little girl, "At Last" by Etta James was the first song I ever learned to sing. I didn't fully understand the lyrics at the time, but I still felt them deeply in some kind of way; I understood the depth of the song. I put my whole heart into every song I perform. Several artists have reached deep into my heart and helped me feel whole again. For me, music became an oasis of refuge, solace, and fulfillment. God has given me and others the ability to use music as an inspiration, and for that, I am eternally grateful.
There always seems to be a powerful message underpinning your songs. Are there any common themes or conversations that need to be brought to wider attention?
TaniA Kyllikki: There is a lot of darkness and pain in the world, but there is also a lot of love and light. There will always be material to be written that conveys a strong message. The inspiration for most, if not all, of my songs, comes from my life and the world around me. Topics addressed in my album Why Chapter One included abuse, false accusations, learning to love oneself, falling in love again, racial harmony, loss, and support for one another.
My compositions include narratives and messages that are primarily revealed through my lyrics. I take great pride in the fact that my music is a window into my soul. Having an impact on the lives of others is what it's all about—giving people substance to feed their souls with something meaningful and fulfilling.
You have even addressed some of the heartaches in your life through song. How important was that as a process, and how much did you hope to help those who go through similar experiences?
TaniA Kyllikki: It was gratifying to be able to release some of the things that were weighing on my mind via music, it was therapeutic, and it brought healing to me on the inside that was long overdue. The process was like having a burden lifted off of my shoulders, and now I feel liberated from the sadness that I experienced in the past and ready for the next chapters in my life, both professionally and personally speaking.
I also hope that by addressing some of my problems in my songs, anyone else struggling with situations comparable to mine may find some relief in listening to my music.
Your producer, Rynellton, aka Garry D. Hairston, is also your fiancé. What are the benefits of working with your partner? And, are there any drawbacks in the workplace caused by knowing each other so intimately?
TaniA Kyllikki: Rynellton, aka Garry D. Hairston, and I have had a similar relationship with music since we were very young. We were born with it. At the age of ten, Garry was performing for a full Church service. But he's not just gospel, just as he tells me repeatedly that my voice and songwriting have many layers, and he urges me to use them. Likewise, he possesses multiple strata. He can generate any genre of music with ease, and he really knows how to bring out the best in me.
When we met, our connection was so intense. And we share so many similarities that, at times, it is actually eerie. Lol … I believe that the reason it works so well and that we are able to bring out the best in each other is because we are both so in love with what we do and with each other. Additionally, I trust him with my life, and he trusts me with his. He is my soulmate, and I am his; despite the fact that this long distance has been onerous on our relationship when we are together, it is explosive. In actuality, we are creating this enchantment together even when we are apart.
Is there a standard process for your songwriting? Do lyrics come first or the melody? And where do you find the inspiration for the themes that run through your songs?
TaniA Kyllikki: Actually, there's no standard process. There are times a melody comes and other times lyrics. It's a good thing when they both arrive at the same time. Most of my inspiration comes from life experiences, whether good or bad.
I'll put it like this. There is always a music box playing in my head, so song ideas never stop coming. With my new single, "In these eyes," off my second upcoming album, Garry was in a creative mood, and so was I, so he went off and started creating new music. While he was doing that I had lyrics for a song I had in my head. Then when he shared the music, I couldn't believe how well my lyrics fit what he came up with.
You have found your music championed by several high-profile artists, not least of all NeYo. How important is such an endorsement, or would you rather be seen making it yourself?
TaniA Kyllikki: I appreciate other artists acknowledging me and my music. That's a good thing and an honor to have that support and respect from others. However, it's most gratifying for me to know that I have the freedom to do what I want. I'm happiest being able to be me, unapologetically, and make my own decisions. Setting my own goals and achieving them is a whole other level of feeling complete and satisfied.
And finally, what does the future hold for you both as an artist and on the non-musical side of your life?
TaniA Kyllikki: As artists, we are constantly pushing and challenging one another to bring out the full potential that lies within us. Together, the sky is the limit for what we can accomplish, and that alone keeps us motivated and optimistic. We have enough music between us for many future single and album releases.
We are currently working on my second studio album, which is scheduled for release in 2024. We are both very enthusiastic about this album because Garry and I are bringing sounds to it that no one has ever heard from us before. The album's first single, "In These Eyes," will provide a sample of what's to come. This summer, we are aiming for this single to be released. There are many new exciting things in the works for us, pushing for synchronization, etc., among other things. Health-wise, I've been prescribed additional medications for my heart and blood pressure, so my health remains a challenge, but it's always been this way since birth for me.
I actually think it's amazing I made it into my adult years. However, I exercise often and eat healthily, and my doctors keep a very close eye on me. I will also begin taking a stronger medication for my autoimmune disease, so hopefully, I'll start having more energy soon. This is why myself, Garry, and our team have decided to release the album in 2024 rather than this year as was originally intended. This enables me to give my all. I know God has me covered.
Even though it's always an uphill battle for us, Garry and I are extremely grateful to God for bringing us together and for our gifts and talents. Our ultimate goal is to live permanently on the same side of the world, to be married and to have a beautiful and blessed existence together, and to continue to bring you many more studio albums for the foreseeable future.
Linktree
Instagram
YouTube
Facebook Page
Twitter