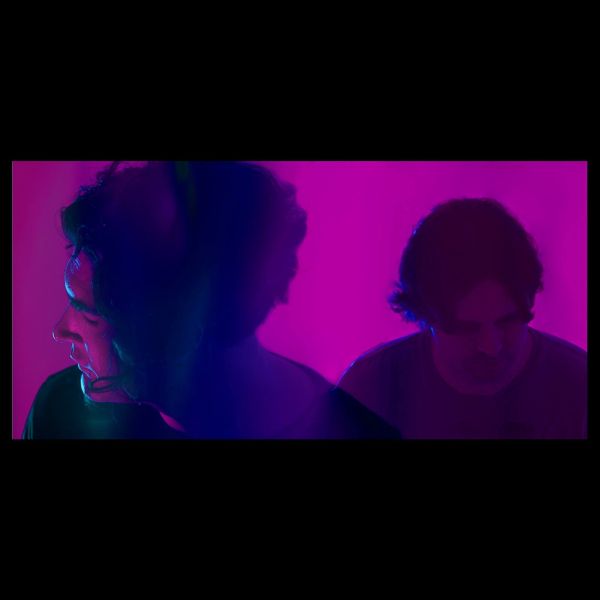 3 December 2020
Bloody Knives – Photo courtesy of Bloody Knives
Atmospheric and intense music outfit Bloody Knives are set to release their compelling new album, 70 Years of Static, tomorrow, December 4th.
70 Years of Static is Bloody Knives' fifth full length and was written and recorded by the pared down core of founder Preston Maddox (vocals, bass, synths) and Jake McCown (drums, synths), with Maddox mixing and mastering the LP.
This is the band's follow-up to 2018's White Light Black Moon and the first release as a duo since the debut album Burn It All Down bowed in 2010.
Big Takeover is thrilled to host the premiere of the 70 Years of Static today, a day before its official self-release.
Bloody Knives excel at creating a distinctive hybridized sound that has been described as nightmare dream-rock and future punk, with their style existing at a meeting point between industrial, shoegaze, post-punk, drum and bass, ambient, noise, and electronica.
The sound of 70 Years of Static marks a return to Bloody Knives' punk origins in structure and style, but continues their sonic expansion into dense noise and lush soundscapes.
Songs on the album pay homage to a non-existent future, a false nostalgia of the past, and our inexorable hurtling into the void.
The release also includes a remix album with contributions from Dean Garcia (SPC ECO, STFU, CURVE), Secret Wilderness (Screen Vinyl Image, Alcian Blue), Ian Ljunquist (Me You Us Them), and We Are Parasols.
Writing and recording of 70 Years of Static began in 2019, with post-production extending into this year. While the initial songwriting and recording was quick and spontaneous, the post-production was slow and methodical, trying to maintain the energy of the live performance alongside the digital elements of the music.
The result is a blending of the kinetic energy of a band recording in a room together with the kind of organic synth rhythm pulses common to early electronic music, filtered through a modern sound aesthetic.
Songs are propelled by kinetic industrial beats, ominous and grimy electronics, extended synths diffusion, winding and/or blasting noise, and spectrally disembodied vocals.
On this album Maddox and McCown explore more ambient space and hopeful vocal tones within the potent and prismatic collision. Maddox has a penchant for bleak sentiments, with titles like "This Is The Way You Burn" and "Extinction" being strong indicators of the generally nihilistic direction of the lyrics.
Galvanic industrial-techno slammer "Lostaway" opens the LP with a rapid-fire restlessness that marks the rest of the record, while heightened "Nye" and "Ashes Into Dust" euphorically batter the senses.
Driving single "Out From the Shadows Into the Light," which just got an accompanying performance music video, reverberates with pulsating synths, brief screeches of guitar noise, and highly dynamic drumwork.
"This Is The Way You Burn" pushes with urgent drums 'n' cymbals fireworks, while low-grinding sonics battle against Maddox's spacey, echoed vocals. The end is neigh on the vivid "Extinction" that spirals out into the expanse with jagged guitar fragments, foreboding vocals, and black-hole pulverizing noise.