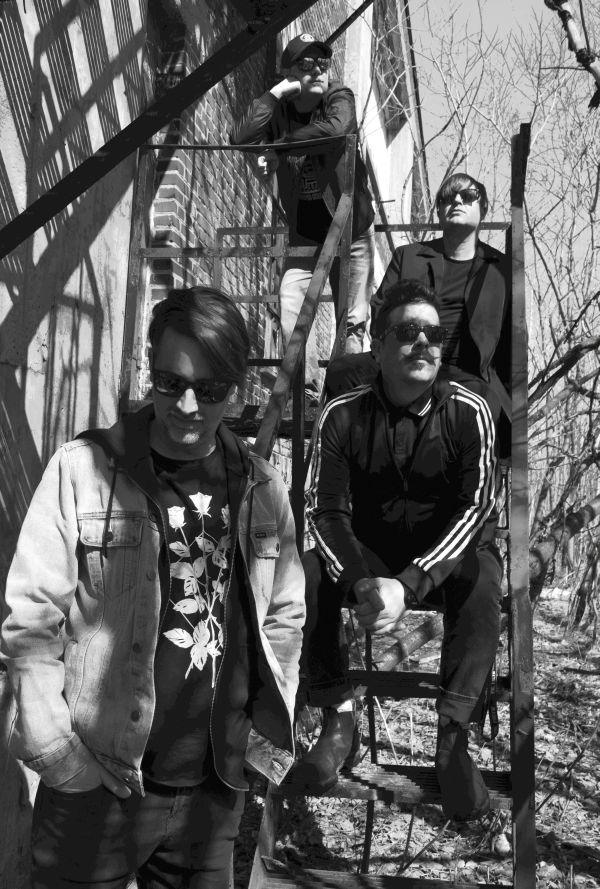 9 June 2021
The City Gates – Photo Credit: Suzy Guevin
After releasing their acclaimed Forever Orbiter album in 2018 (called a "post-punk and shoegaze opus" by Rebel Noise) via Northern Light Records (which has released albums from Actors, Black Ferns, Leathers, Rev Rev Rev, and more), Montréal-located post-punk/shoegaze outfit The City Gates returns with their highly anticipated LP Age of Resilience, out officially on June 9th on their own imprint, Velouria Recordz in collaboration with Icy Cold Records.
The City Gates' sound draws influences from the '80s and '90s alternative music scene, with the band members favoring groups like The Jesus and Mary Chain, The Chameleons, The Sisters of Mercy, Slowdive, Sonic Youth, and Love and Rockets.
Age of Resilience offers up atmospheric nostalgia steeped in raw, intense, melodic, and powerful textures. The full length is packed with 11 tracks that, according to Post-Punk.com, swirl with "dark melancholia, aesthetical soundscapes, heaping on reverb, fuzz, and delay."
The LP features the band's three previously released singles, "Cape of Good Hope," "Siegfried 1969 (feat. Vlimmer), and Roman Empire (which premiered at Stereo Embers Magazine). The songs dropped from 2019 to 2020, and have been featured on several top song charts.
The new City Gates album is inspired by the historical and social realities of the last decades. In addition, "Age of Resilience" refers to the lyrics of the band's single "Cape of Good Hope," which talks about resilience.
"Over the past two years, we, as a band, have had to deal with a lot of things: death, divorce, mental issues," reveals bassist Jean-Sébastien Tremblay. "We can add to that the contemporary social turmoil. Then, the Trump presidency, this worldwide pandemic, and the fact that we band members are not young adults anymore. In a sort of way, our fighting, rebellious days are long behind us. You get what for us represents our age of resilience."
Part of songs on Age of Resilience were worked on during the COVID-driven pandemic, which changed up the usual creative routine. Tremblay explains, "For this album, we composed almost half of it right after we released our Forever Orbiter album. We composed as we always did. Recording our rehearsals and picking up the pick of the litter, the hidden gems. For the other half, we worked completely differently. Because of the COVID outbreak, band practices were impossible. We had to rely on our home studios to share ideas. Lyrics-wise, we somehow changed our approach, trying to get creative input from everybody, and giving songs their own different flavors."
Tremblay is joined by Maxime Wingender, François Marsan, and Justin Morneau as The City Gates.
Big Takeover is pleased to host the premiere of the mesmerizing album in full today.
The band create looming to fulminating numbers that swirl with reverberating and ascending guitar chime, tugging bass lines, strictly hit drum beats, and sonorous, longing vocals from frontman Wingender.
Known for crafting massive and brumous soundscapes when performing live, they channel this restless energy into their music. Their relevant lyrics delve into themes of hope and survival against destructive forces.
In the past, The City Gates shared stages with notable acts like Trisomie 21, Actors, Bootblacks, The Foreign Resort, Nothing, The Veldt, Deserta, to name a few., have toured in the UK, the US, and Canada, and have played various music festivals including Kalamashoegazer, Focus Wales, and Canadian Music Week.
While their last North American tour was canceled due to the pandemic, the act livestreamed shows throughout the year, participating in DKFM's DreamGaze, Independencia Sónica, and Dark Spring Boston festivals (alongside Yama Uba and L'Avenir).
Marsan and Wingender also run the DIY post-punk/shoegaze/coldwave label Velouria Recordz, and are behind the Montreal Velouria Festival where outfits like Kiss of the Whip, Morte Psiquica, and Scene Noir have performed.
A music video for their song "The Pyre" expected soon, so keep an eye out for that.
Read about our VIDEO PREMIERE of "Cape of Good Hope," where we call the track absolutely captivating, and our NEWS on the hard-hitting "Siegfried 1969."
THE CITY GATES
Bandcamp
Facebook
Twitter
Instagram
SoundCloud
VELOURIA RECORDZ
Bandcamp
Facebook
Instagram
ICY COLD RECORDS
Bandcamp
Facebook
Instagram