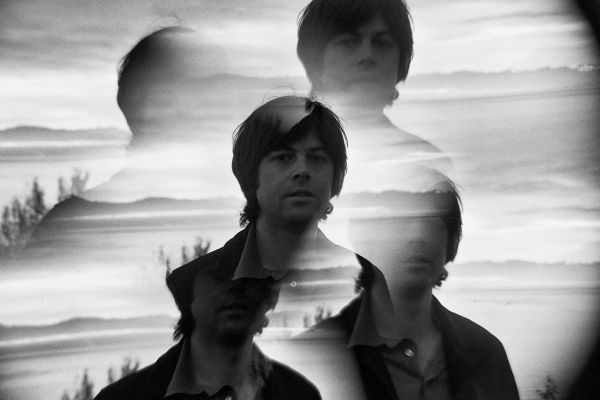 9 June 2021
Evan Cheadle – Photo Credit: Hannah Ross
There's something about a string section that just takes a song to the next level. Maybe it's because we all grew up on orchestral movie soundtracks, but the second one hears a string section the ears perk up. The first song on Evan Cheadle's fantastic new record, Fault Line Serenade, features the type of swelling strings that can coax a tear out of a stone. And that's just song one.
Cheadle crafted this record with collaborator David Parry and a host of other musicians to flesh out the arrangements. Inspired by the autumn season in his native Canada, Cheadle set out to craft a record that juxtaposes the vibrancy of the natural world with the death and decay of the human ecosystems.
Cheadle recalls, "Making music was never a more satisfying thing, sounds caught up in the crosshairs of being alive." The joy of creation is on full display in the flora and fauna of Fault Line Serenade.
This is a quiet record. It's one to play on those late nights when your brain won't stop churning. You'll find traces of all sorts of artists you love – Paul Simon, Nick Drake, Bonnie "Prince" Billy, and much much more. However, Cheadle's voice shines through both the lyrics and the arrangements.
The opening number, "No Love Lost," almost has trace elements of Beck's writing style, but is steeped in folk and backwoods tradition. Cheadle sings, "Put your mind on the sideline, baby / Put your mind at ease." It's a reimagining of the pastoral poetry that asks us to return to nature, and away from the busy, awkward, and sometimes terrifying shuffle of modern life. As Cheadle sets the scene for this record, he invites the listener to step into that woods with him.
Moving into the middle of the record, the bright organ on "I Hear The Singing" recalls the hymns and spirituals of "this old cathedral town." But here, the pomp and ceremony are gone. Instead, we are left with just bare humanity. There's something so quietly human about Cheadle's delivery of the line "it's all ground down." In the twenty-first century, it seems as though the natural world and the human spirit share the same trajectory. That industry and business continue to grind us into nothing. Cheadle's songwriting is absolutely brilliant here.
"Ice Water" is another highlight. There has possibly never been a clearer picture of the human condition than the one painted by Cheadle's words. He sings, "I'm just a run down body and a crooked heart / So much stopping and going I forgot to start / Now it's all ice water in my heart." The beautiful strings remain tucked away in the background of the song. It's Cheadle baring his soul through simple guitar chords and his soft, warbling voice. Folk music has always had this ability to see right into the heart of things. Cheadle carries on that fine tradition on this record as a whole, but particularly on this track.
While Cheadle has displayed his affinity for folk melodies throughout this record, he also shows that he's well versed in pop melodies on the final track "Float on Down the Line." From the clean guitar to the erratic strings, Cheadle shows that he could write a song that would make Lennon green with envy. For the final number of the album, Cheadle is perhaps nudging us back to our lives. Back to the bustling city. Back to humanity.
A subtle beauty that envelops this album, and the sincerity of Cheadle's writing. It's one to take the time to listen to and experience for yourself… With that in mind, here are some instructions to help you with your listening experience:
1. Pack a small bag with the essentials (water, a small snack, and your favorite pair of headphones)
2. Drive to your nearest state park or nature reserve
3. Start walking and press play
No doubt that you will fall in love with this record. While you are planning your hike, read our exclusive interview with Evan Cheadle below!
Hey Evan! So, what was the writing process like for this record? Did the songs come all at once, or was it a slow, steady drip of material?
"Both – I had some older songs ready to go, and new ones came to me right before the recording sessions. The early songs were mostly written in condensed bouts between tours. I often get inspired when I get home from a trip, when there's a rudderlessness that is conducive to creativity for me. I also find that the motion of recording brings about a certain focus, and seems to energize me, so I wrote some of the songs right before commencing to record. A fresh new song feels the very best to sing."
You've touched on the recording process for Fault Line Serenade. Did you know that you wanted to track to tape when you were writing the songs?
"I certainly did. I knew I wanted to work with David Parry who is a total analogue fanatic. The thing I like most about recording onto tape and working with David is that he gets the songs sounding like a record from the outset, by mixing as we record, committing to effects and building up songs quickly. One can hit tape hard and it sounds pleasing in a way that you can't do digitally. The fact that you have to commit to takes because of limited track availability is a liberating experience in and of itself; there's no second guessing, maybe just punching in here and there but other than that you have to roll with the take you like most in the moment. To me recording to tape makes a huge difference, especially on the drum sound. I can really hear when drums are recorded on tape, and David has a very special drum sound that harkens back to my favourite albums, so I don't question it."
How did you and your collaborators go about crafting the strings for this record? They are gorgeous, and add so much depth and weight to the arrangements.
"Maria Grigoryeva, Lyudmila Kadyrbaeva and Colin Nealis are all brilliant – it was a pleasure and very easy to work with them. I sent them a few reference songs for each track along with certain notes for each section of the song then let them do their thing. They sent me demos as they composed the sections and I offered feedback here and there. All in all I am very pleased with how it all came together."
This record is very pastoral. Were you reading anything that inspired the lyrics?
"I was totally smitten by a collection of short stories and poems written by Sam Shepard called Motel Chronicles, to the point where I'd religiously read parts of it every day. His stories and poems are like songs to me; they have a certain flow and clarity with wide open edges that draw you in with no music needed. It's obvious that Shepherd's sanctuary is grounded in country life, which I find relatable. It's almost as though his memories inserted themselves into my unconscious and almost became mine. I feel most at home in more rural areas and that certainly influences my imagery."
What's next for you?
"There are some tentative plans but due to the nature of the world right now it's a bit of a crapshoot. I'm going to start on another album in the not too distant future, hopefully tour when things open up, and continue collaborating on some projects lending guitar work."
Website
Facebook
Instagram
BandCamp