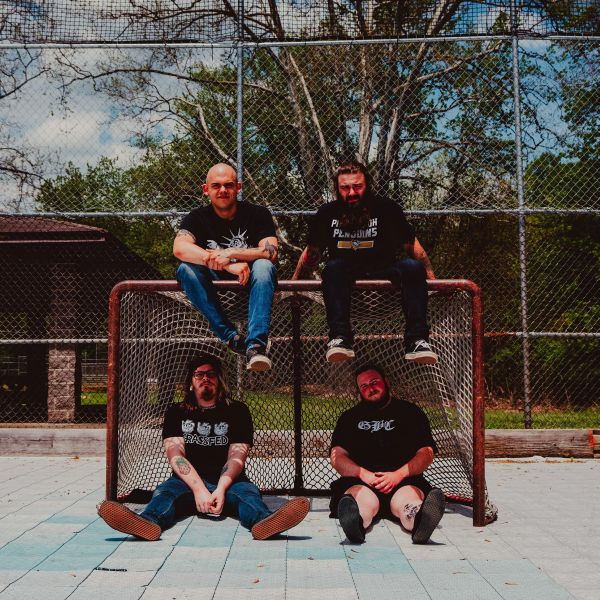 12 March 2021
Stage Moms – Photo courtesy of Stage Moms
Today, aggressive pop-punk band Stage Moms self-release their new EP Almost Heaven… Feels Like Hell featuring their latest single "231" and the smash streaming hit "Sophomore Slump."
The new collection of songs bring a fresh flavor to the genre and a genuine sense of honesty in their lyrics, while fusing the music styles of pop, punk, grunge, and rock.
The EP was recorded at Lumberyard Recording Studio (Wonder Years, Grayscale) in collaboration with Nik Bruzzese of Man Overboard and Ace Enders of The Early November. Together they've created something new for the ever-evolving genre and continue to fight on in the face of tragedy.
This is the band's second release, following their debut EP Long Drives and Late Nights. Continuing in chronological order, Almost Heaven… Feels Like Hell picks up right where the other left off, dealing with the struggles that come at the intersection of mental illness and loss.
The EP kicks off with "Phone's Dead" which centers on using alcohol and partying as a coping mechanism, something many can relate to and perhaps now more than ever as this month marks a year of quarantine shutdown in the US.
Frontman Gage Vota, who has been living with his grandmother as her caretaker, says specifically for him, the song is about coping with not having a place to call his own. This is yet another relatable sentiment for many who have moved home with family, or for those who have been spending a considerable amount of time in one living space during the last year. Whatever the listeners may be feeling, Stage Moms' music makes for a great outlet to set free any pent-up emotions.
On the flipside, later in the mix is a song called "Failing Up" which Gage says, "is about how I'm trying to progress and constantly tell myself that even if it doesn't look or feel like I am progressing that as long as I wake up every day and try to progress… then I am." For the bandmates, it's always about moving forward.
"231" is the last song rounding out Almost Heaven… Feels Like Hell and it's a departure from their more pop sounding songs like "Sophomore Slump." Gage tells the story, ""231" is about the loss of the venue I owned called Thunderbirds. The song is all about dealing with loss and trying to put all the pieces back together."
Thunderbirds was a local mainstay for live music and great times in Moundsville, West Virginia, where the band is from. Unfortunately, due to COVID-19 and the ongoing quarantine, the local venue was forced to close its doors. Since then, Gage and Stage Moms have given their all to making the most of their music and putting the band first.
"231" is very much a universal anthem for the music industry and for the ones who have suffered greatly during this last year. The song is cyclical in its emotions, ranging from anger, and helplessness, to strength, and fight. It's an endless battle to carry on.
Gage sings: "I started this year sleeping on a bench, and now I'll end it by sleeping in my bed… I guess that's progress." This year has been a battle of mental perspectives for everyone and it's a rock anthem with a specifically touching story attached to it, because even as rough as this year has been for the band, they're hoping new music will turn things around.
Originally formed in 2019, Stage Moms are a band that breaks the labels by taking influence from their backgrounds in metal core, folk-punk, hardcore, and power pop, to bring raw, hard-hitting, yet melodic jams everywhere they can.