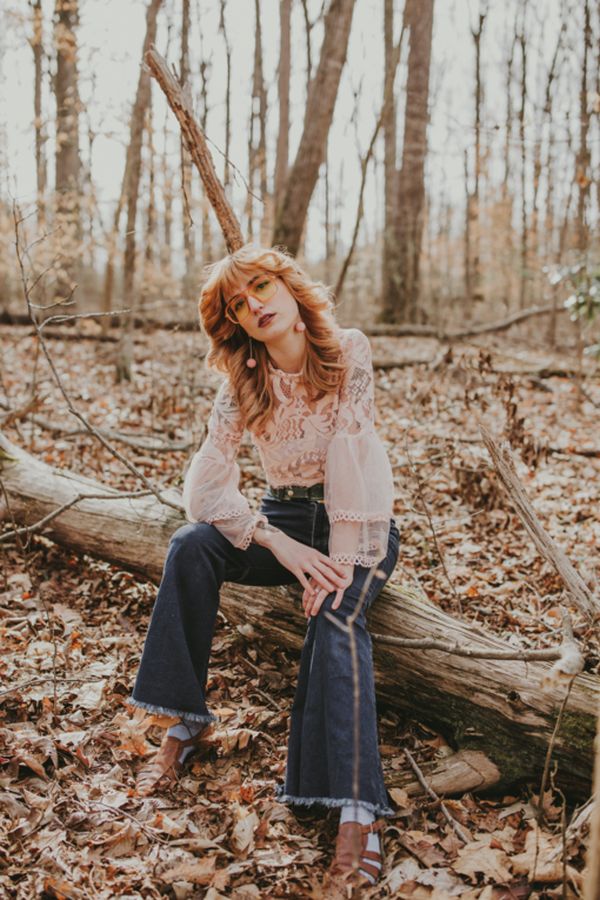 13 August 2021
Ashley Virginia – Photo Credit: Shayna Prace
"I try to remember that no matter what I may be going through, life goes on," says North Carolina-based experimental folk-rock artist Ashley Virginia. "The birds still sing, the breeze still blows, and life just goes on living." It's this sentiment that provided the title of her debut full-length album, And Life Just Goes On Living, which releases today, Friday, August 13th.
Virginia's music is built on her ability to share the deeply intimate and terrifying pieces of herself. It's evident across the 11-song And Life Just Goes On Living, which leans into the theme of mental health. "This album is basically my diary," notes Virginia. She's open and honest about being diagnosed with Major Depressive Disorder, Generalized Anxiety Disorder, and Complex-PTSD.
Virginia started songwriting at a young age as a therapeutic practice and a means of escape; turning to songwriting to express emotions not so easily expressed in bare words. "I'm not gonna lie; it's a struggle sometimes," Virginia shares. "In general I tend to have big feelings and writing music and being creative is therapeutic for me."
The album also touches on political themes. In the single "Apathy Blues," which is packaged in a '60s rock production, the lyrics offer a word-to-the-wise message to awaken one's voice and stand up for something. Virginia penned the song during 2018 in the midst of the Trump presidency and was activated by a quote she heard in a movie: "If you get shown a problem, but have no idea how to control it, then you just decide to get used to the problem."
"This song was my way of processing all of that was going on during that time, and really, it's the advice I needed to give myself," says Virginia. "I love '60s music and the culture in general during the '60s and '70s. The music of that time was really rooted in protest and cultural change, which I find very inspiring. The times we are living through now really aren't all that different."
Her song "Invisible Hand" uses audio samples from a livestream Instagram video she did while being tear-gassed by the Raleigh Police in 2020 for peacefully assembling during the George Floyd protests.
Ashley Virginia is an artist that exudes counter-culture vibes, marches to the beat of her own drum, and is a reckless lover of people . . . at least that is what those closest to her have remarked.
The same remarks could be made about any member of The Beatles, which interestingly enough is a band that wove it's experimental inspiration into Virginia's single, "Reflections." "I'd put The Beatles down as one of my biggest inspirations and influences," she says enthusiastically. "The development of "Reflections" was particularly influenced by John Lennon's song "Mother.""
"John expresses a lot of his childhood pain in a raw emotional way," says Virginia. "This got me reflecting on similar topics. I wanted to write a song that was reflecting on my inner child and just let out what she cries for: love, security, trust, happiness." What came out is a song that unveils itself subtly through all verses, no true chorus, just a powerful refrain of "Ahhh" dynamically ending in a moving crescendo.
Album opener "To Be Dreaming" is a vibrant and melodic sonic romp that's filled with heartfelt vocals and pertinent lyrics about wanting to shut out the turmoil and troubles of the outside world and "live inside my head."
Sinuous, yet lively "She's So Tired" rambles with fast-plucked guitar notes, bluesy guitar licks, shaken tambourine jingle, and drawn out sighing vocals that speak to succumbing to the pressures of life.
Virginia's blunt, but realistic lyrics potently mark each track, including "Invisible Hand," with the cutting lines, "Survive or be damned / It's crushing me / This American Dream / There's no guarantee… / We're all cogs in the machine."
There's also a message of resilience and hope woven through the fabric of the album, even if it only arises at times amid the relentless challenges to be faced in life. The fact that a determined Virginia has persevered and created this perceptive and personal album is proof of more than mere survival.
"This album, I think, very well encompasses and represents my life over the past few years," concludes Virginia. "It has been my journey of healing through that trauma and pain."