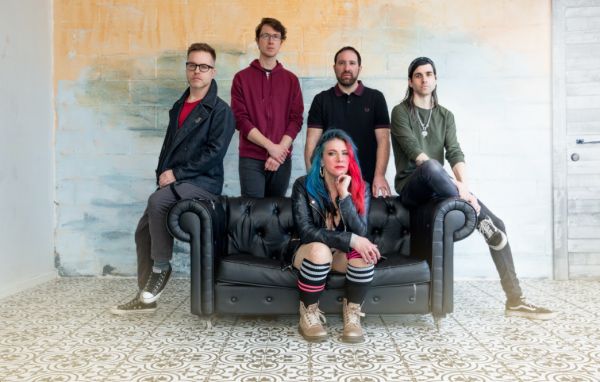 12 August 2021
Typhoid Rosie – Photo Credit: Mark Doyle
Big Takeover is pleased to host the premiere of Queen Of Swords today, the new album from Brooklyn, NY's Typhoid Rosie. The LP officially releases on Friday, August 13th.
The LP is rousing and empowering, with frontwoman Rosie Rebel's thought-provoking lyrics touching upon themes of self-love, self-worth, and not taking BS from anyone.
Rosie Rebel is joined by Jeff Crews (lead guitar), Matthew Van Ernest (bass), and Phil Wartell (drums, rhythm guitar, bass) as Typhoid Rosie, and the unit also enlisted several guest musicians to chime in on specific tracks: Coolie Ranx (Pilfers), Becky Lynn Blanca (Penny Matches), Jay Prozac (The Prozacs), and Jenny Whiskey and Rob George, both of Hub City Stompers.
Queen of Swords was mixed and mastered by Jesse Cannon, and produced and arranged by Phil Wartell, with album artwork, layout, and design by Paul Kepple of Headcase Designs.
Recorded remotely at home in quarantine during the pandemic (with the exception of drums and bass, which were recorded at Cannon Found Soundation in Brooklyn), the band's fourth album shows them at the peak of their powers.
Typhoid Rosie's dynamic alternative/punk rock offers plenty of hooks, and no matter how you identify, with these memorable feminist anthems ringing loudly in your ears, you'll feel ready to take on the world.
The band mix classic/hard rock grit with pop melodies with pop-punk intensity for a vibrant sound that fuses old-school with the new. The title track and album opener is a bright spirit-boosting blast, and this exhilarating feeling lasts through the whole record.
"All I Need" thrashes with choppy guitar licks, a romping bass line, and hard-smacked drum beat and cymbals, and includes a tuneful chorus section filled with retro harmonies.
Uptempo "1:11" alternates between chugging propulsion and a lunging bass line-driven pace. Pop-punker "Defend Your Temple" keeps the energy levels on high, while "This One's For You" features frantically scrambling guitar lines and super-speedy drum beats.
Catchy pop and gritty rock combine on the swiftly swaying "The Chariot" that rife with vintage harmonies and stormy rhythm section.
Closer "On My Way" actually cranks up the tempo to the max, a relentless press with showcases can-do lyrics like "I am stronger" and a hard rock guitar riff-rife ending.
Rosie Rebel comments, "I took all of my pain, lessons, tragedies, and everything I learned in the Ivy Leagues, and together with my incredible band – we made this badass record for you."
"I hope these songs help you in your life the way that songs have saved me. When you're pissed off about how shitty the world is, when you're doing crunches, when you're saving the world, when you need an energy boost, when you're about to fall asleep driving your car, when you need some rocket fuel—-put this record on and sing along!"
Order Queen of Swords (digital/vinyl) at Bandcamp
Pre-save Queen Of Swords on Spotify
UPCOMING SHOWS:
8/13- Savage Mountain Punk Festival- Cumberland MD
8/14-Morgantown Art Party- Morgantown, WV
8/27- Kingsland (Brooklyn) NY
9/3- The Nest (Brooklyn) NY
10/23- Apeland-Holyoke, MA
10/30-The Church- Lebanon, PA
Website
Facebook
Twitter
Instagram