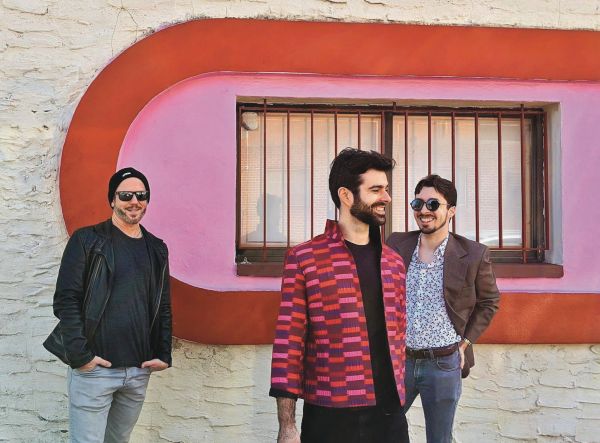 28 August 2020
André Salvador and the Von Kings – Photo courtesy of the band
André Salvador and the Von Kings is the moniker of mysterious singer/songwriter Tim Cheplick, a Brooklyn-based multi-instrumentalist who pens "tasty psych/indie tunes that feel modern and forward thinking" (The Deli).
Born in Wisconsin but raised on the East Coast, Cheplick has largely spent his time with a singular focus on making music wherever he is. Recording and putting out music under different monikers, Cheplick adopted the current band name and self-released Rock and Roll Springtime in 2016. A follow-up, This Is Play, came in 2017, the first to include Paul Provenzano who answered a "Drummer Wanted" flier in a record store for a gig on his birthday.
For their debut LP on label Last Night From Glasgow, Cheplick and Provenzano headed to Nashville to record with producer Robin Eaton (Lionlimb, the Spinto Band) at Club Roar Studios. Here they laid the foundation for a new batch of songs, recording rhythm guitar and drums which Cheplick took home to build on and craft a close approximation of what he heard in his head.
Big Takeover is pleased to host the premiere of the result of this creative process, with the album André Salvador and the Von Kings streaming in its entirety today. André Salvador and the Von Kings will be available on vinyl and digitally on August 31st.
The LP has a homemade appeal. The people, bars, streets, and scenes of New York City inform the 12 tracks which range from sparse grand piano and hushed vocals, to poppy synth-driven upbeat melancholia.
The band name itself allows for a fluid artistic group which allows musicians to come and go under that umbrella. The live act is the recording come to life, adding a keyboardist and bassist to recreate on stage what happened in the studio. The group is excited to return to the dingy clubs of its past, so check your local listings when shows start getting booked again.
Tim Cheplick kindly took the time to go into the details of each song on the album:
"I Love You (Don't Laugh)"
"This started as a crude late-night riff after trying out a new guitar tuning. I mumbled some vocals for a melody and forgot about the track for a while. When I remembered and returned to it, it had been long enough that I had to relearn the parts. When come time to record, and after much refinement and time, it was one of most effortless and fun tracks to record on this album. We double-tracked a vintage Epiphone guitar and plugged into a gritty amp from the late 1950s."
"Runaway Schemes"
"I knew this song was done when I added a last-minute little organ solo at the end. Matt Giella plays a beautiful dry trumpet here. A song about loneliness, the push and pull of another. Imagining a past that never was, as a person you never were. You live in the city and the year is wrapping up. What happens?"
"Something Nice"
"This was written in the immediate moments after hearing some good news. I was in a different mindset this day and I wanted to make something positive. Actually I was even imagining a sentiment like the Herman Hermits' "I'm Into Something Good." Though the good news had nothing to do with a romantic interest but the song organically led me there. It describes the positive attributes someone has but can't recognize in themselves. How can you pull it out of them? Well you've got to figure that out for any one individual. It was fun to record and includes a grand piano, a couple of vintage synths and a 12-string. I have heard the synth on here described as "badass.""
"Angel"
"This was written to encompass the feeling you get the next morning after a night at the bar. Scenes replay and there is a slight confusion as the sun streams in your room and you start your coffee. William Stewart adds atmosphere with his viola and cello parts. Paul plays a sort of inverted ¾ beat to add a quality of otherworldliness. The vocals are the first take. I sang it at the end of a long day of recording. My vocal cords and mental state were pleasantly loose as a result of a newly opened bottle of tequila."
"Pagan Prayers"
"Moods change like the seasons. You're stuck somewhere one day, then the next you're happy where you are. This is about trying to appreciate where you are. And, after all, it's good to be you. When we play this one live, we always play it faster than the studio version. When shows resume we're likely to throw this in as an opener."
"Second Sight"
"I was reading more poetry during the writing of this. It describes a mercurial mood. It's pondering where things will go. What's the world got in store? First envisioned as a fleshed-out ballad type thing, I decided to maintain its original, more raw form. This is made to listen to in a dark room, alone, when you're not sure how you're feeling."
"I Know"
"This song has been with me for a long time. I've worked on it on and off, beginning in late high school. I worked on it in college and in the years after, living and working in NYC. Roommates were sick of hearing it. I always imagined it would be an opening track. Well, it didn't happen, but it does open side two of the record. The song was finished when I realized I ought to rewrite the chorus. Bringing it to rehearse with Paul brought out a different rhythm which glued it all together."
"What We've Got"
"A highly personal one. This is about moving forward when you thought you couldn't. Includes conversation between lovers. Musically it aims to be pretty. Something nice after you've made it through a difficult time. I played the most comfortable 12-string for this in the studio, well over half a century old. William again plays a cello and viola here."
"Bootlegs"
"Written in front of a TV screen with no sound. I watched the same movie over and over. It was from the '60s and quite colorful. Performed on an old, beat-up Yamaha guitar which won't stay in tune for the duration of a song. It was given to me by a dear friend, who told me of the guitar before he moved, but did not mention it's wretched condition. This is more of a story-song than I usually write."
"Season in Hell"
"Well of course I read Rimbaud. It's scenes from my world as a slightly younger man. Observing my peers from a hill in the sunshine. We recorded this at Paul's brother Mark's place and made a party of it. He plays an udu on it and a weird horn he had laying around. We wanted to give an otherworldliness quality to this one. We had some people over and all sang around one microphone for the vocals towards the end of the track. If you listen carefully, you will hear Paul's grandmother's melodica. Afterwards, pizza for all."
"Joanne"
"This was written from a complicated headspace. There is no actual "Joanne" but the sentiments are real. It's nearly a letter of apology, but also a defense. It's looking at a relationship from all sides and the dynamics in the music reflect that. I've heard that the demo to this is superior to this version."
"Point of Tears"
"Are we living to our fullest extent? The passage of time, the fear of missing out, opportunity and potential. You had better live to an extent that you sometimes break into tears. The bass felt just right on this one. My producer noted the title spells out POT. Well, it wasn't on purpose. Or was it?"
Facebook
Twitter
Instagram
YouTube
Bandcamp
Spotify
Soundcloud