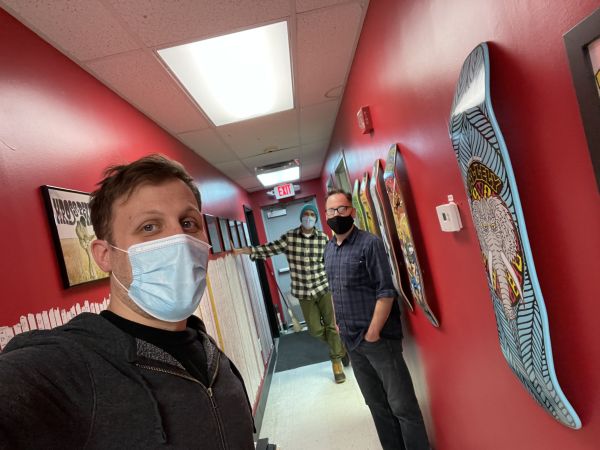 18 March 2021
A.M. Nice – Photo Credit: Nick Hill
Cincinnati, Ohio-based A.M. Nice is a punk rock band that plays noisy, energetic pop songs with rhythmic hooks. Their new, 2-song digital single "Your War" / "Patient" is the 4th release for the band since their debut in 2016, and the 66th release for Cincinnati's Phratry Records (est. 2004).
Recorded as part of an upcoming full-length LP to be released late 2021, these two songs by A.M. Nice were plucked from the band's self-described "Pandemic Sessions" which began in October 2020 after months of lockdown and isolation.
Big Takeover is pleased to host the premiere of the 2-song single, as well as the accompanying music video for the driving and kicky "Your War." The video was illustrated, constructed, shot, and edited by Adam Nice (guitar, vocals). He's joined by Nick Hill (bass, vocals) and Jerry Dirr (drums, percussion) in the band.
The pairing of these two songs perfectly showcases the duality of the band with the lead-off track "Your War" leaning heavily on speed, and a sound steeped in an eclectic whirl of punk-ish hyperactivity and atmosphere. In contrast, the follow-up "Patient" displays a more manic, post-punk, mid-tempo rhythm with dynamic song shifts.
The "Your War" / "Patient" single has been preceded by a string of releases including A.M. Nice's self-titled debut EP (2016), End Of An Era full-length LP (2018), and a 2-song 7" titled "Scooter b/w Man On A Wire" (2019).
Upon the release of End Of An Era, our very own Jack Rabid, founder of The Big Takeover magazine, hailed the album as, "Wiry, quick, pulsing, and insistent, with catchy material to inspire equally endless plays, resembling Moving Targets crossed with the manic hyper-kinetics of 1977-1979 XTC" (Issue #83). The record subsequently made Rabid's top 50 LP's of 2018.
The band has also received enthusiastic praise from New Jersey's long-running fanzine, Jersey Beat Magazine, as well as L.A.'s Razorcake Magazine, and the band's hometown CityBeat Magazine.
Like most of us, the events of 2020 had a significant effect on the members of A.M. Nice and contributed heavily to the meaning and purpose of this newest material. "Your War" contains an uncomplicated, but important message: If you treat someone like a stranger, they will remain a stranger. If you show hatred towards others, they are likely to hate you back. Actions driven by irrational fear rather than compassion create a real cause for fear, and in its most extreme instances can often fuel dangerous and violent situations or even hate crimes.
"Patient" is about trying to make sense of a crisis, trying to take responsibility on both a personal and more comprehensive level, and finally the urge to become a surrogate for a loved one's suffering.
As 2020 played out, and more specifically, the final and most chaotic year of the Trump administration, the lyrics for both songs assumed special meaning for the band in navigating the idea of how truly connected people are on both an individual level and as global citizens.
A.M. Nice Facebook
Instagram
Bandcamp
Phratry Records Website
Bandcamp