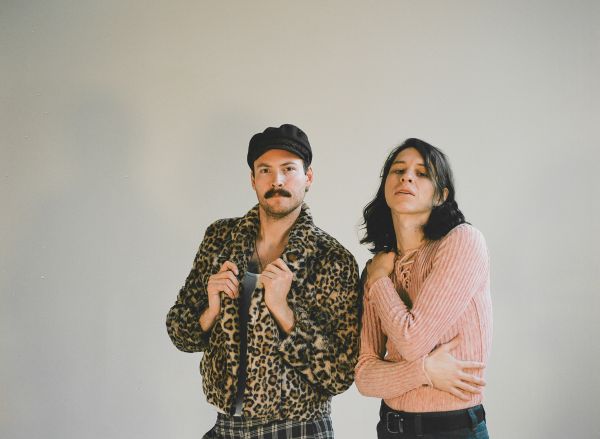 22 July 2021
Acid Tongue – Photo Credit: Chase Hart
Led by singer/songwriter Guy Keltner and drummer/visual-artist Ian Cunningham, the ensemble Acid Tongue has been touring the world and espousing a timeless rock 'n' roll/pop sound with a DIY mentality since 2015.
The touring band features a rotating roster of musicians from around the globe; with members based in Seattle, Paris, New York, London, Mexico City, Los Angeles, and Austin—lending fresh sounds to the setlist for an ever-evolving live experience.
Dismayed by their hometown of Seattle's devolution into a squeaky-clean tech bubble, Keltner and Cunningham formed a partnership to elevate their soul-drenched compositions beyond a suffocating local music scene.
Iconic radio station KEXP and a hyper-alert British audience tuned into their music since their debut EP, which was followed by a second EP, a handful of singles and cassette-only released, 2019's ode to NYC, The Night We Broke Our Lease EP (recorded at a friend's home studio in Brooklyn), first album Babies, and second album Bullies, which was released right at the start of the pandemic.
Keltner and Cunningham have made the best of the 2020 stay-at-home order by self-producing 15 new songs that are split across an EP and an LP.
Big Takeover is pleased to host the premiere of the EP, titled Blossom, in its entirety today. The EP finds the band collaborating from afar with Canadian singer-songwriter Calvin Love, Los Angeles psych-garage staples Death Valley Girls, Freakout Records' Smokey Brights, and Brazilian artist Libra.
Beyond the credited collaborations, the friends on this EP also include Glenn Brigman of Triptides and Levitation Room, the vocal talents of Matan KG (Paper Idol), bass guitar sent from Australia by Dustin Bookatz (Pearl Charles), and the band's consistent string-arranger Philip Peterson (Haim, Taylor Swift, Portugal the Man).
The songs of Blossom are a vibrant reflection on the past year—with lyrics celebrating all of our friends finally coming back home, as mentioned on the kicky opener "Home" that features a speedy drum beat, rich horn blasts, zippy guitar riffs, and anthemic exclaimed vocals.
"All Out of Time" is a soulful retro-rock groove with smooth, yet heartfelt vocals from Calvin Love, while "Rock 'N' Roll Revelations" drives by with emphatic guitar strum, low-end bass line, prominent drum strikes, tambourine jingle, and harmony-laden vocals.
Standout psych-out garage-rocker "Take Me To Your Leader" was written during the horrific January 6th storming of the United States Capitol, but reminds us to hope for freedom and hope for positive change. Bonnie Bloomgarden of Death Valley Girls adds her passionate vocals to fuzzed-out sonics that demand to be played loud.
Ian Cunningham reveals some details about the EP, relating, "The songs on Blossom represent a significant period of growth and metamorphosis for us as individuals and a band (hence the EP title). When we recorded these tracks, last summer, I had moved back to Seattle from Los Angeles to ride out the pandemic (great, another covid band story)—marking the first time that Guy and I were actually living in the same city for almost our entire history as a band. During all this, Guy got sober and found help with some serious mental health issues, I moved into a quiet little house and got a dog, and we both just became a bit more relaxed and stable."
"Our friend Andrew Ginn was running the Mysterious Red X Studio (Shabazz Palaces, Tacocat) in SODO and, due to the shutdown, there were no other bands using the space so we fell into a homebase studio for experimenting. A week into the pandemic, our friends Smokey Brights lent Guy an interface and microphone to start recording songs at home. Between that DIY setup and Mysterious Red X, we had a newfound freedom to tinker with these songs for sometimes weeks until we got them right. This was our first time not working with an outside producer and, typically, we would go into a studio with only a few days booked and a laundry list of tracks to get through so it has historically always felt a bit rushed."
"We were obviously also unexpectedly blessed by everyone's now-wide open schedules and friends like Calvin Love, Glenn from Levitation Room/Triptides, and Bonnie from Death Valley Girls, who would typically be touring 365 days a year, were sitting around at home and happy to jump on a remote session."
"There are still a handful of other songs from these 'pandemic sessions' that didn't make it onto Blossom that we're still tinkering with and it's been fun to watch more and more of our friends get involved. What started as a "song or two" has now evolved from just an EP into our next full-length album, Arboretum."
Acid Tongue is currently at work on Arboretum and the LP is expected to arrive on November 5th.