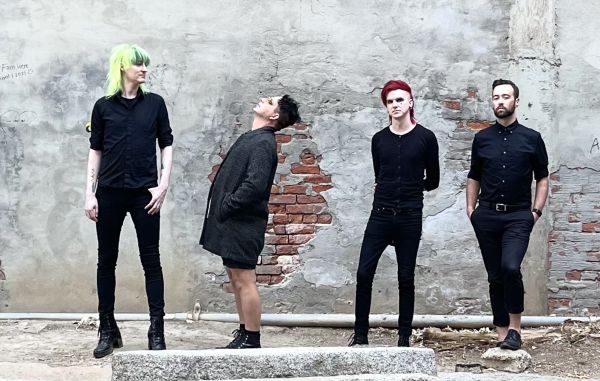 21 July 2021
Creux Lies – Photo Credit: Ean Clevenger
Today we have the pleasure of presenting you the new single from Californian alternative outfit Creux Lies, who recently announced their signing to Freakwave, a Berlin-based label that is part of the Schubert Music Europe group.
As a welcome first offering from the Sacramento-based collective, 'Misunderstanding' heralds their forthcoming record 'Goodbye Divine' – their second full-length album and the culmination of a year of dedicated recording in the studio.
While the beats in the first few seconds of the song whisk you back to an '80s dancefloor, it doesn't take long for Creux Lies to catapult listeners into solid darkwave / post-punk-trodden fields.
Feeling half like a sonic quest, like a yearning for something, and half like they have all the answers already, 'Misunderstanding' presents a fine mix of guitar-laced electropop (think early New Order and Depeche Mode) and darker hues familiar to Clan of Xymox, Section 25 and more modern peers like ACTORS and She Past Away.
The atmospheric music video is mainly focused on the band putting on an absorbing performance, but also intercuts footage with symbolic meaning, including clips of a physically writhing dancer who is manifesting her inner turmoil, and side-winding snakes that capture her attention and lead her into temptation.
Creux Lies is Ean Clevenger (vocals, programming), Barry Crider (guitars, vocals), Kyle Vorst (bass), and David Wright (synth, drum programming), who have repeatedly been cited among top emerging bands on the modern dark pop and post-punk scene. With several singles, videos and an album set in stone and tour dates to be announced, Creux Lies is definitely a band to watch for 2021-2022.
Frontman Ean Clevenger comments, ""Misunderstanding" emerged from part of this strange writing session/coping moment during the world shut down, awakened with this "whoa oh, oh oh" in my head from a dream and went to the computer just after dawn. As with many tracks on this latest album, my tentative register was landing a bit lower from trying to sing it out in the early morning hours. So, the profound moody thing resonated, and the song unfolded around my fingers on the synths. The Creux added some great additions during production and elevated this song to what it is today. Ironically, the lyrics and message behind the track illuminate a moment of clarity when the misunderstanding of a perspective actually reveals itself as absolute authenticity."
Their 2018 debut album 'The Hearth' (produced by Patrick Hills, recorded at Earthtone Studios and released via Cleopatra Records with 3 sold-out vinyl pressings) made quite a big impact on the international post-punk and cold wave scene, putting the four-piece on a trajectory that ultimately led to signing with Freakwave.
Apart from successful tours in North America and Europe, Creux Lies has shared the stage with the likes of The Soft Moon, Clan of Xymox, Drab Majesty, Soft Kill, Gene Loves Jezebel, ACTORS, Vowws and Twin Tribes, as well as performing at Absolution Fest, WGT, Murder of Crows NY and playing to a sold-out crowd at Wave-Gotik-Treffen in Leipzig.
Freakwave was formed in 2020 as part of a new international structure comprised of ten record labels established by Schubert Music Europe GmbH with international distribution by The Orchard. Focused on outstanding post-punk and cold wave artists, Freakwave offers a contemporary home with in-house connection to one of the world's leading independent music publishers – Schubert Music Publishing. Headed by Eric Burton and Thomas Thyssen, Freakwave's holistic approach combines label, booking, promotion, publishing and management services.
'Misunderstanding' hits all digital platforms with impact this Friday, July 23. Their full 'Goodbye Divine' album will be released on October 8. It can be pre-ordered / pre-saved HERE
and will also be available via Bandcamp
CREDITS
Ean Clevenger – Vocals, Programming
Barry Crider – Guitars, Vocals
Kyle Vorst – Bass
David Wright – Synth, Programming
Music by Creux Lies, lyrics by Ean Clevenger.
Final production, recording, mixing & mastering by Patrick Hills at Earthtone Studios, Sacramento, CA
Cover artwork by Alex Kanevsky
Field photos taken by Frank Nethercutt
Other photos by Creux Lies
With such a pedigree, we should also point you to some of their past works as you wait for the new record
Creux Lies
Website
Facebook
Bandcamp
Instgram
Twitter
YouTube
Apple Music
Spotify
Freakwave Records
Website
Facebook
Instagram