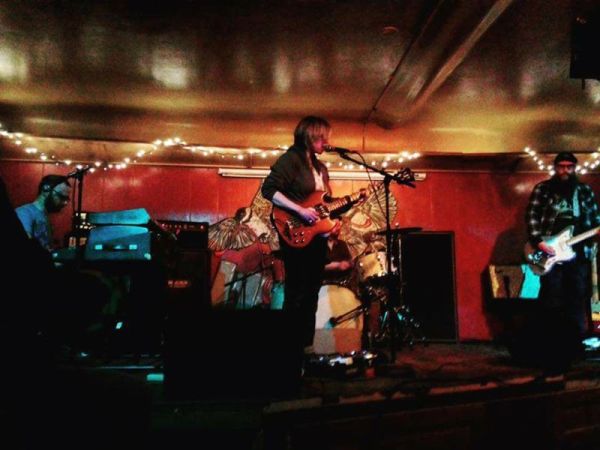 10 May 2019
Blue Unit – live – Photo courtesy of Somewherecold Records
Blue Unit is a Milwaukee-based quartet that consists of Jen Boniger Dixon (bass, vocals), Kevin Dixon (vocals, keys, synths), Drew Calvetti (guitar), and Brock Gourlie (drums). The band includes members of Brief Candles (Jen, Kevin, and Drew) and Trusty Knife, Crappy Dracula, and Scrimshaw (Brock).
The veteran musical outfit shapes beautifully constructed dream-pop sonics with catchy melodies. There is a longing and nostalgia in their songs as well, which is reflected in the throwback artwork that graces the cover of the physical release of their new self-titled EP.
The Big Takeover is extremely pleased to be hosting the premiere of Blue Unit EP in its all-too-brief entirety that will leave you wanting more in all the right ways. Lead single "Drop" has already, well, dropped, and "Evergreen" debuted on DKFM Shoegaze Radio (on Amber Crain's When the Sun Hits program) just a couple of days ago.
Blue Unit, which was recorded at Humdrum Studios, is set for release on limited, beautiful light blue cassette with pink ink and limited CD, as well as digitally, on May 17th. After the release on Bandcamp and Somewherecold Records, Blue Unit will be hosting a soon-to-be-announced record release concert in the Milwaukee area.
On an interesting note, the Brief Candles members have all switched around who plays what instrument for this band, while Brock end up drumming for his 5th band! This instrumental switch-up invigorates the ensuing shoegaze, noise-pop, and post-punk music.
Restlessly cycling, radiant guitar waves delicately rise to the sky with bright expectation of EP-opener "Evergreen". Glowing synth notes and Kevin's subdued vocals emanate a calm vibe, while lively drum strikes create a stormy ambiance. New Wave synths buzz and liquidy guitar lines zip and flow respectively through "Ground" as Jen sings gently amid the pronounced outburst of jangling percussion, shadowy bass line, and driving drum beats.
A running bass line and strict drum smack start off "From Above" before fluid guitar chime and burred synths wind through the song. Kevin sings in a dusky tone on the verses and then rises to a longing tone on the chorus sections. The fittingly titled "Arbitrary Times" dives into a spare atmosphere of post-punk guitar before a rush and a push of other instrumentation plows through with a rougher tone. Floating above it all is Jen's disapassionate vocal caress.
"(Surface Area)" sounds like a demo at its beginning, but slowly the sound increases in volume and intensity (perfect for high-end speakers!) of this instrumental…and then it fades away into the ether. Cloudy skies arrive on EP-ender "Drop", as gritty, spiraling guitar reverb is augmented by pretty bell-tone synth notes, a supple bass line, and the crash of cymbals and bash of drums. Jen vocals hover amid the clouds, contemplative and dreamy against the rising storm.
Bandcamp
Facebook
Somewherecold Records Bandcamp