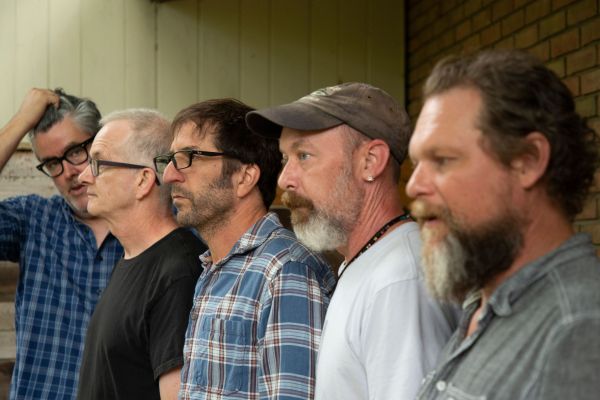 2 September 2021
Moviola – Photo Credit: Camille Housh
The Midwest, and Ohio in particular, has a proud history of uncovering hidden gems all across the musical spectrum. Some of the more iconic entries include Pere Ubu, Devo, the National, New Bomb Turks, Brainiac, Guided By Voices, and, sure, Pure Prairie League.
Often overshadowed by their coastline counterparts, these bands have become favorites of collectors, critics, and fans seeking intimate artistic connections by exploring sonic highways less traveled.
Perhaps even more hidden is the case of Columbus' Moviola. On the fringe of the indie Rust Belt scene since the 1990s, the quintet has quietly forged a low-key career of high-quality recorded output, issuing 10 records and countless 7" inch singles over 25 years. In this artistic continuum, the indie roots rock/Americana band has evolved over time, releasing from everything from 4-track fuzz-pop to hi-fi country soul.
Now the band steps forward with new album, Broken Rainbows, their strongest collection of songs to date, written, recorded, and mixed inside the group's HQ in Columbus. The LP will be released on September 3rd via Anyway Records.
Moviola is composed of Jake Housh, Ted Hattemer (Thomas Jefferson Slave Apartments), Scotty Tabachnick, Greg Bonnell, and Jerry Dannemiller. "This album feels like a culmination of our collective wits," says Dannemiller. Housh adds, "There is a certain directness to it. The songwriting is more assured and topical, matched only by a clarity in the production."
Housh started Moviola in 1993 in the shadows of The Ohio State University (all its members have graduated from OSU) as a noisy, fuzzed-out indie quartet. However, over the years, the band has morphed into a unique DIY music and art-making collective with five distinct singers and songwriters, recalling the creatively democratic lineage of The Band, The Mekons, Pink Floyd, and many others.
"We've learned to keep our ego in check, and bring each other's songs to life," Housh says. "Everyone plays other instruments and all efforts are in service of the songs." Friends for nearly 30 years, it's the kind of musical shorthand borne out of a lifetime of artistic pursuit rarely encountered.
Broken Rainbows is a milestone release carefully crafted and meticulously produced to showcase a band confident of its songs, assured in its artistry, and supportive of its members' songcraft.
Big Takeover is pleased to host the premiere of the album in its entirety today.
Thematically, the 11-song album hovers over a plot of ground that's optimistic in its despair. Album topics range from the personal to the political, showcasing each member's unique songwriting within an overall cohesive band aesthetic.
Broken Rainbows was recorded and mixed at safe distance in Housh's home studio in Columbus in the second half of 2020.
Select album standouts include "Orders Of The Day," "Go With You," and "Stripes And Stars." The lonesome and pretty "Orders Of The Day," replete with pedal steel (courtesy of Barry Hensley of Big Back 40) feels like a lost Sweetheart of the Rodeo -era Byrds track. The lyrics are poetic and potent, and one powerful passage reads: "Losses always end up the same/Propping up the work that remains/They're not striking out/Just hitting back, for themselves."
"Go With You" features Bonnell on lead vocal and evokes Mazzy Star with a Crazy Horse-like eruption by song's end. "Stripes And Stars" is an indie folk sing-along with dense harmony vocals, whose lyrics ultimately belie its sweet nature. Housh relates, "This seemed like a silly one, though I feel proud of it. By inverting 'stars and stripes' in the title, I'm saying we got a lot of things backwards."
Album-opener is another prime example where the pointed socio-political lyrics ( "I wanna be an expat / I wanna ditch this place / leave without a trace / homegrown stupidity has won the race.") are leavened by tasty indie rock guitar lines and dreamy harmonies.
Plaintive country twang resounds through the heartfelt title track that's also touched with organ trill, soft to sprightly piano notes, and again those wandering and winding harmonies.
A soulful groove and horn bleats runs through the funkier "Which Way Did You Run" that incorporates the importance of the Black Lives Matters movement, while "Rise" is a swaying barroom ballad with acerbic lyrics about being indecisive in life, but that someday everything will work out. The question arises if this statement is meant in jest – or in the hope that real change will come and lift us all up out of our respective strife.
Hattemer digs into some details about the album as a whole, stating, "This record – our 10th, if you're keeping score – is the most thematically coordinated LP we've ever produced which, weirdly enough, was unintentional on a conscious level."
"With five songwriters each record can go in a different direction and have different points of view. But with Broken Rainbows we were all experiencing very similar emotions due to the BLM protests and the pandemic. The record is unintentionally cohesive in its subject matter and that surprised us all in a really good way."
Moviola has opened for or shared stages with: Flaming Lips, Red Red Meat, Califone, Superchunk, Bettie Serveert, Grifters, Acetone, Wussy, the Clean, Guided By Voices, and Dub Narcotic Sound System, among others.
The band's label, Anyway Records (Guided By Voices, Ass Ponys, Jenny Mae, and others), is run by longtime friend Bela Koe-Krompecher whose first book will be coming out via the esteemed label Don Giovanni (Jamie Kilstein, Screaming Females, Waxahatchee).
Website
Facebook
Twitter
Instagram