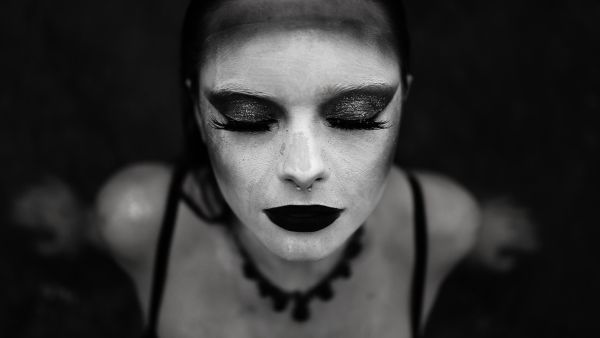 19 November 2021
Wrene – Photo Credit: Maria Gitane
Toronto, Canada-located avant- garde artist Wrené aims to defy the constraints of conventional music and adopts a dark, ethereal, and surreal aesthetic with the release of her new EP, Dark Matter, set for release today, November 19th.
A follow-up to her acclaimed album Live Wire, the forthcoming EP delves deeper into raising awareness about and destigmatizing mental health issues. It offers her own unfiltered perspective and showcases an effortless mix between artpop and experimental noise.
Through her unconventional song structure and experimentalism, Wrené straddles the line between reality and surrealism in her music and visual presentation.
She is an actor, poet, producer, and vocalist fluent in many singing techniques. Wrené brings a unique sound to life through unorthodox musical arrangements and haunting vocal performance.
Each song presents an atmosphere created by the addition of foley sounds, original samples, and subliminal messages. The integration of pop melodies, avant-garde instrumentation, and soulful vocals lend themselves to an ethereal soundscape, where the counterpoints of beauty and darkness coalesce.
Big Takeover is pleased to host the premiere of the EP in its entirety as Wrené moves through a record that is mysterious, noir, and noise-spiked.
About her alluring new EP, Wrené reveals, "Dark Matter is a 4-track EP that explores lyrical introspection paired with heavy noise, and a thematic motif of outer space. It is musically consisting of electronic textures, modular synths, distorted guitars, and manipulated strings."
"All of these elements, surrounding an emotive, and at times operatic vocal performance- contribute to an atmosphere that is eerie and vastly haunting. Each song is a representation of inner emotional turmoil, and the dialogue within- coming to light as a catharsis in times of social isolation."
"Dark Matter is self-written, produced and performed. It features Devlin Flynn on guitar, backing screams/vocals, [and] additional synth, and with mixing by Bernie Cisternas."