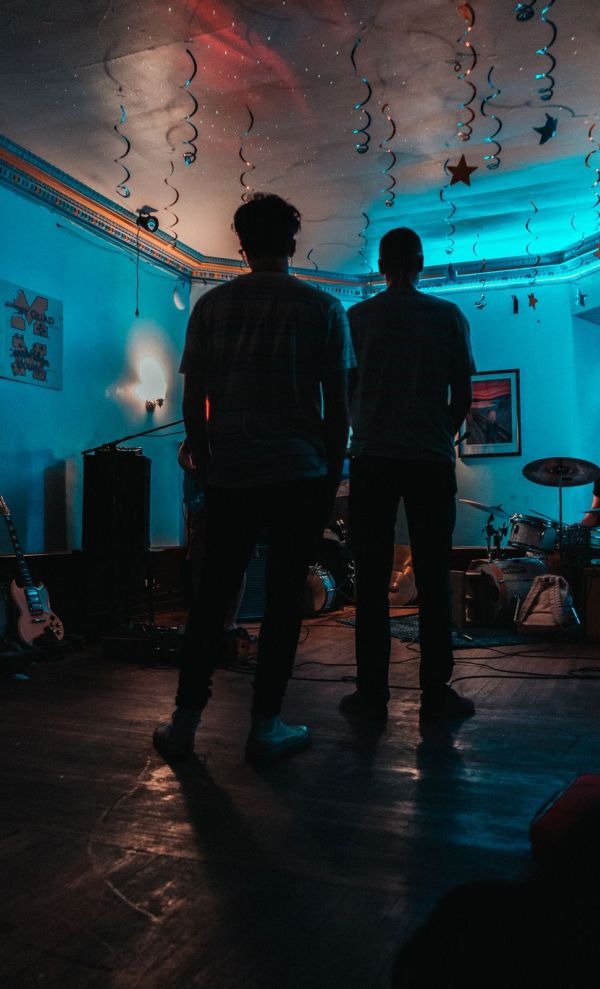 19 November 2021
Painted Friends – Photo Credit: Hannah Mcwhorter
Gomnia: Volume 1 – Insula and Hyber is a title one could easily imagine as a sci-fi novel or an epic D&D campaign, but this upcoming concept album is the newest release from Allen Park, Michigan's Painted Friends.
Painted Friends is a two-piece indie rock band fronted by Jeremy Rolph on guitar, piano, and vocals and backed by Mitch Crosby on drums.
When playing live the duo utilizes an array of backing tracks to fill out the sound. The album is dropping on December 4th, but ahead of the release, the band is providing a sneak peek of their new material in the form of an inspired music video.
According to Painted Friends, Insula and Hyber (love and sleep) are the two main themes of the album and the latter is very much the focus of their first music video.
It begins with a dream experiment: "It's been a little over 24 hours now so I'm gonna go get ready for bed and then I will let you guys know how it went when I wake up." Cue pre-bed rituals. A driving rock beat opens up to a cheerful verse. Our protagonist (Rolph) finds himself in a forested dreamscape full of striped suits, creepy Halloween masks, clownfish, and floral crowns. The foliage from the absolutely beautiful Lower Huron Metro Park in Belleville, MI is mirrored by the arboreal indoor set pieces.
According to Rolph: "The name 'Turritop' comes from the scientific name of the immortal jellyfish 'Turritopsis Dohrnii'. The reason I chose this is because the trees in 'Turritop' represent our instincts that have been birthed into us over the course of thousands of years and seem to never really die off." Painted Friends is looking backward and within to move forward. A lucid, proactive nostalgia radiates from the music and the visuals.
The chorus of "Turritop'' shifts to an uplifting 6/8. Rolph's voice, with notes somewhat reminiscent of Mangum, intones: "Although I am tired I will rise into the sky into the light." A silver telecaster descends from the dropped ceiling panels heralding a triumphant tremolo picked guitar solo. Synths emulate theremins as the song crescendos.
Our protagonist runs through the woods as the dreamscape begins to unravel and he awakens after the final line, "When our enemies are tired, give 'em sleep." His eyes open with an expression of revelation.
This excellent video is a befitting and illustrative companion to an equally excellent track. They mesh perfectly both aesthetically and thematically. They leave us wanting more in the Painted Friends Cinematic Universe.
Jeremy Rolph kindly answers some questions we have about the song and video, and what the future plans are for the band:
Was the dream experiment a success? What was the goal?
"The Gomnia dream isn't meant to be a one time thing, so we haven't found out yet if it is a success. It's meant to be a journey of sorts. The first night is just an introduction to a much larger and dense setting that will be shown in later music videos and stories. The end goal is the same for everyone who receives the Gomnia chip… it is to have a chance to face our enemies head on and to defeat them."
What was the meaning behind the masks in the video?
"The reason we wore masks in the video is actually more of a logistical reason rather than a creative one to be honest. At the filming of the music video, Mitch Crosby (our drummer) actually wasn't a member of Painted Friends. Which meant that I needed to find someone else to play drums for the video who wasn't in the band. Likewise with the other band member in the video, they aren't in the band so they wore masks to cover up their face. I put one on for some of the video for aesthetics mainly. Basically there isn't a deep meaning behind the masks."
Trees, branches, stripes and lines all seem to play a major role in this video. Even the neck tattoo has branching lines. Who created that design (it seems to be the new album art) and can you talk more about those primordial instincts you're tapping into?
"Yes, I'm doing my best to give everything meaning and representation in this story. The first song on this album is called "Turritop" and it is the name of the forest that you spawn in when you first experience Gomnia. It's a forest of instincts, with each tree being an instinct. What does that have to do with facing our enemies head on? You see, I'm not talking about an enemy that you have in the real world."
"I'm not talking about somebody you hate. What I'm addressing is the enemies in our instincts. The way we are so ripe for addiction and so ready to murder and so willing to consider our group identity our only identity. Gomnia is a way to look inwardly at high resolution to address all of that. And hopefully change it for the greater good."
"The neck tattoo is the symbol for the Gomnia chip. I wish I could say I designed it, but I actually found it on Pinterest and thought it was a perfect visual for what I wanted. So I bought the rights to it and that's that. It's supposed to be a tree with one of the branches of it being red. There's a reason for that, but I'm actually gonna hold off on explaining it for now."
Is there anything about the upcoming concept album you'd like to share ahead of the release?
"Expect more music videos. "Turritop" is just an introduction. The fish has a name and it's name is Marlemo."
Website
Instagram
Spotify
Facebook
YouTube