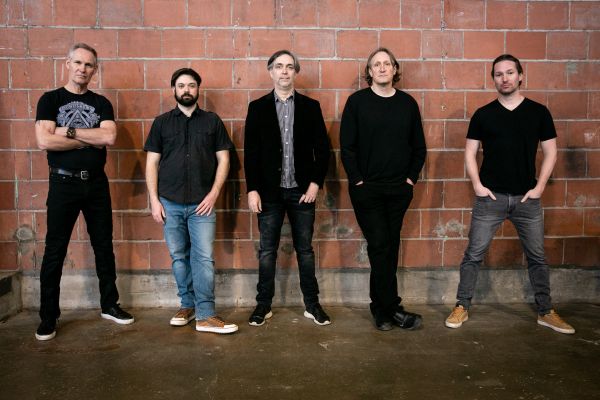 16 April 2021
Elephants and Stars – Photo Credit: Caroline Hester
Hailing from Toronto and the Hamilton area, the indie alternative rock band Elephants and Stars are back with more music following the release of 2020's Recovery EP. Just before COVID and lockdown, the outfit entered the studio with heavyweight Canadian musician and producer Ian Blurton (Lowest of the Low, The Weakerthans) and recorded six new tracks.
"Working with Ian was something we'd always wanted to do, dating back to earlier bands we were in," says guitarist Manfred Sittmann. "I knew I was always a fan of his production so I knew sonically it was going to make us sound as good as we possibly could. What surprised even me was what a great ear for pop music he has. Most of my favorite moments on the record came out of Ian's suggestions. Plus it was a thrill to work with someone we'd admired for so long."
The new EP, the aptly-named Dreamland, leans a little more heavily on Elephants and Stars' rock influences than did Recovery. Riffs are a little edgier and choruses are a little bigger, as did the band itself. Along with drummer Chris Chambers and bassist Michael Macmillan, the band now features full-time keyboard player Mike Glendon and lead guitarist Adam Seed.
Big Takeover is pleased to host the premiere of the vibrant and dynamic record that sweeps from restlessly driving opener "Car's Running Let's Go" and crunchy and dynamic "Ceasefire" to rousing rocker "Schroedinger In Love" and heartfelt and dreamier "If You Let It" to anthemic and tuneful blaster "Nothing Matters Anyway" and robust and harmony-laden "When The Wind Comes Down."
Sittmann reveals some details about the meaning behind the EP, explaining, "The name of the record came from the cover photo which I found on social media. It is an abandoned theme part called Dreamland and I thought it was such a great metaphor for life. There is this great and wonderful facade, but inside it's just all left to rot in the end."
"I think the songs we picked went along with this as they all have a kind of darker underbelly, lyrically. There are a few recurring themes on the record weaving through all of the songs. Isolation, conflict both internal and external, and escapism."
"While it doesn't tell a chronological story, all of the protagonists are dealing with difficult situations or toxic relationships and are looking for ways out. Those ways out can be substance abuse, ending relationships, or even killing yourself."
"In a way, this record could be the unmade soundtrack to the Twilight Zone episode Five Characters in Search of an Exit, especially as there were originally only 5 songs on the EP…"
Facebook
Twitter
Instagram
TikTok
Spotify
Apple
Website