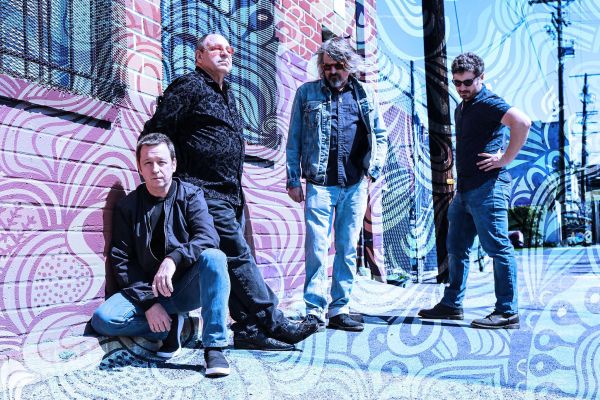 16 April 2021
Tombstones In Their Eyes – Photo Credit: Rachel Roessler
The guitars had been sitting in their cases collecting dust for several years, but there are some things that have a way of coming back around. Just ask John Treanor, guitarist and songwriter of the Los Angeles-based mesmerizingly brooding and fuzzed-out 'n' fiery alternative rock outfit Tombstones In Their Eyes.
It would be a chance encounter with James Cooper, an old friend from childhood, that would reawaken Treanor's inner force of creativity and pave the road to the writing and recording of the Tombstones' 2015 album Sleep Forever and their 2016 EP Bad Clouds.
Drawing upon some tough life experiences (both past and present), as well as musical influences such as The Brian Jonestown Massacre, Elliott Smith, and The Melvins, it was in 2015 that Treanor decided it was time to take the demos to the studio.
He recruited drummer Samuel Sherwood (who has since left the band) and bassist Josh Drew to begin the process on the band's debut album Sleep Forever. He sought out one of his childhood heroes, Paul Roessler (ex-Screamers, 45 Grave), to mix the album to ensure that the proper colors and emotions would be present. This led to a fruitful collaboration between John and Roessler that also spawned the band's EP Bad Clouds.
A huge outflow of material followed: 2017's Fear EP and two-single "Nothing Here", 2018's Shutting Down EP, the 2019 full length Maybe Someday, a compilation double album Collection released last year, as well as Demos Vol. 1.
And the beat goes on with a new album, Looking For A Light, arriving April 20th via Somewherecold Records and Kitten Robot Records.
Big Takeover is mighty pleased to host the premiere of the moodily ruminative music video for, "Quarantine Blues," one of the highlight tracks off the upcoming LP.
The song's introspective lyrics are relevant and perceptive, grappling with the anxiety and depression caused by the pandemic and ensuing quarantines/ lockdowns. The tune itself flows with hypnotic, but sedate guitar loops and Treanor's sonorous, drawn out vocals and downbeat resignation to the situation.
The eye-catching music video matches this despondent and destabilized tone by focusing on a dispirited Treanor doing his daily indoor activities like brushing his teeth and sleeping.
But a fantastical element present that has to do with how the video is filmed… Visually, through stop motion animation, there's an artificial veneer and stilted movement to the mundane display – and then things really start getting weird…
Inanimate objects, like the stove, tea kettle, and vacuum, start a sprightly dance as if they were alive – and Treanor eventually finds himself outdoors in the fresh air, amid the pine trees brush – free at last! – only to find when he opens his eyes that he's still under the covers of his bed…
Treanor delves into the meaning of the song and the video, revealing, ""Quarantine Blues" was written during the first month or two of the Covid lockdown in California. It was the first song I had written in quite a while. Inspired in part by Covid and the lockdown, definitely, but it also comes from personal experience in the past of putting myself in a quarantine-like situation without a pandemic going on, and having the same feelings of being locked up and surrounded by loneliness and fear."
"My songwriting process is almost always to write the rhythm guitar part, then sing a stream of consciousness scratch vocal track over that. This is what came out that night, with very minor lyrical changes."
"Once the song was demo-ed at my home studio, as is our process, the tracks went to our musical home, Kitten Robot Studio, where our drummer, Stephen Striegel, added live drums tracks and percussion. The vocals were re-recorded. Josh Drew added a new bass track. And then Paul Roessler, our producer, and I honed the song to where we wanted it to be; nice and creepy."
"The mixing process generally takes the longest, as we examine and manipulate the songs down to the smallest details. Paul and I have, over the last six years, created a method that works very well for us and I'm extremely grateful that we (TITE) found Paul!"
"Shooting the "Quarantine Blues" video was really fun, as well as exhausting. A 14-hour day with a five-woman film crew, headed up by Heather Galipo (of Crowjane – also on Kitten Robot Records). Everyone involved was really patient, kind, and professional – a total pleasure to work with."
"The stop motion animation required a lot of moving one inch at a time, either walking or on my back, which was a trip and ended up looking cool. We tore the cabin apart, and then put it back together."
"Halfway during the shoot, a tree fell on the cabin's power lines, necessitating a visit from the fire department and then the power company, who I had to deal with while wearing huge prosthetic ears and makeup covering my eyebrows."
"The power company guy was very nice, and cut the tree that was hanging on the power lines. Very lucky that it didn't knock the power out, or that would have been it for the shoot."
Bandcamp
Facebook
Twitter
Instagram