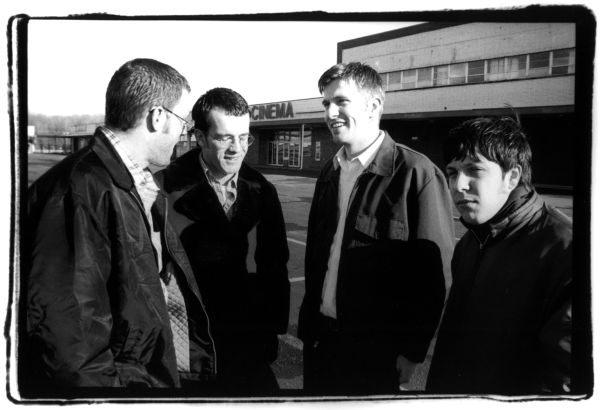 18 March 2019
Brandtson – Photo courtesy of Steadfast Records
Renowned and influential 1990s alt-rock/emo band Brandtson continues to gain notice and raves as Steadfast Records continues their reissue campaign of the act's seminal albums.
On April 12th, Brandtson's debut album, Letterbox, will be the next reissued record. Cleveland's Brandtson were favorites of the '90s emo-punk era, and stood out with a pop-leaning punk sound highlighted by their intricate and infectious dual vocal harmonies and dueling guitar lines.
Led by the anthemic charge of "Blindspot" and the starkly evocative "January"; the band's first album, Letterbox, is a love letter to the beginning phases of their marriage of pop-oriented hooks and hardcore punk past.
Originally released on Steadfast Records in 1997, and then reissued the following year on Deep Elm Records, the recently-revitalized Steadfast Records – operated by Brandtson's Matt Traxler – is reissuing the album on limited edition vinyl and cassette for the very first time.
The vinyl is limited to 500 total copies, housed in a gorgeous gatefold jacket, featuring restored and expanded artwork from the original Steadfast Records release. Available in the following variants:
Still Life Green – 200
Bruised Blue – 200
150gm black – 100
The very limited cassettes are available in either blue or green and limited to 50 copies of each variant.
Pre-order Letterbox
For more information, go to Steadfast Rocords' Website
The Big Takeover is might pleased to host the new lyrics video for the original track "Blindspot". The song itself is a massive whirlwind of of cyclonic guitar churn, passionately exclaimed vocals, and driving-forward drum beat. Through the heaviness, lighter vocal harmonies lift up the song to the wild skies above.
In contrast to the perpetually restless drive of "Blindspot", its lyric video slowly and smoothly moving, tracking through a decrepit brick and cement building to its crumbling-into-ruins interior. Lives once lived in it are fodder to the inexorable march of time as foliage and graffiti and deterioration have taken over the premises.
Matt Traxler gives some interesting details about the song "Blindspot", revealing, "Our first album Letterbox kicked off the next two decades of our lives. Somehow, "Blindspot" remained throughout the years and made it onto set lists up until the end. We later re-recorded a different version of this song, and I had forgotten how raw and heavy this one was. The lyric video imagines a karaoke bar for the blatantly despondent."