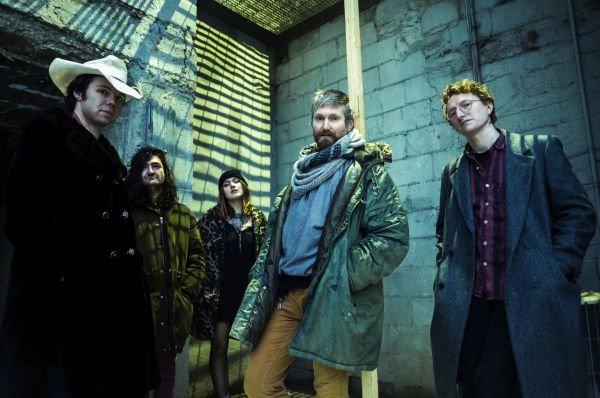 8 June 2021
Jeweler – Photo Credit: Sam Bramble
On their debut album Tiny Circles, Minneapolis, Minnesota-located quintet Jeweler mine the iconic sonic palettes of lush U.K. shoegaze, melodic noise-pop, and expansive post-rock to build a melodic vocabulary that is engaging and uniquely their own.
Jeweler grew out of the bedroom studio project of Michael Voller. The the group has expanded to include Sylvia Jennings (vocals, keyboards), Dillon Marchus (bass), Sean Levine (lead guitar), and Lars Oslund (drums).
With Tiny Circles, Voller and his bandmates have crafted a captivating and fully wrought record of profound breadth and nuance.
Voller grew up immersed in music, playing and writing from an early age. Yet he was also drawn to the sciences, and in college he studied Aerospace Engineering (Voller is, in fact, a rocket scientist). Prior to Jeweler, Voller had formed another band in his limited spare time, but he wasn't satisfied with the results that didn't fit his vision.
Eventually that band dissolved, yet Voller redoubled his efforts in making music. He turned his scientific mind to the process of recording and studied synthesizers and sound design. When making demos these new creations, he realized he needed a full band to meet his specifications.
Voller put the word out to the Minneapolis scene, and soon enough Jeweler came to be. After rehearsing the material, the outfit enlisted local audio guru Elijah Deaton-Berg and his King Creation Studios to track the record.
Big Takeover is pleased to host the premiere of Tiny Circles in its entirety ahead of its official release date of June 11th.
Lyrically, the LP is a meditation upon the recurrent patterns that permeate an individual's reality. Sometimes this repetition is for the good, but more often it's for the not-so-wonderful, and it's only through awareness of these cyclic feelings, behaviors, and situations that we can hope to free ourselves from them.
Each song was initially built from little loops – tiny circles – that Voller used as building blocks while writing the record. Circles within circles, the songs function as discrete entities that form a composite whole.
On Tiny Circles shoegaze-inspired chiming guitars and shadowy bass line drive meshes with angular and shifting post-punk art rock contructs, expansive post-rock rumination, and keyboards-touched noise pop melodicism.
Post-punk-leaning lead single "Don't Cry For Me" is a plaintive brooder, while second single "Savior Complex" also runs on post-punk bass line darkness that bursts into passionate chorus sections.
The up-tempo pop pace, handclap percussion. and gently hushed vocals of "Betrayal" belies its stark and bleak lyrics. Next number "Forgiveness" is a dreamy reverie of reverberating guitar strum and aching harmonies that arc to the sky.
Contemplative "End Of Days" drifts by on the laid-back verses, with Voller musing, "Could it be I'm just a spirit?", but lifts up on the more buoyant chorus sections and Voller's rising emotions.
The title track is a delicate delight of softly harmonizing vocals, gleaming guitar diffusion, and lightly resounding drum beats.
The dynamics of each song is always restless and changing, with calmer reflective lulls sweeping into stormier atmospheres.
Ultimately, Voller and his Jeweler cohorts have crafted a record of bold intent, embracing the vulnerability that comes with raw honesty. Tiny Circles will resonate with anyone who has dared to strive for their own little spark of perfection, and inspiration for those who want to follow their creative dreams.
Michael Voller comments, "We are proud to present our debut album to the world. It was labored over intensively for several years by several people. Tiny Circles is about recognizing patterns in one's life that they no longer wish to keep repeating, breaking those patterns to live a healthier life, and the repetitive nature of that very process. We hope that it connects with anyone who is attempting or hoping to live for the better!"
Pre-save Tiny Circles HERE
Bandcamp
Facebook Twitter
Instagram