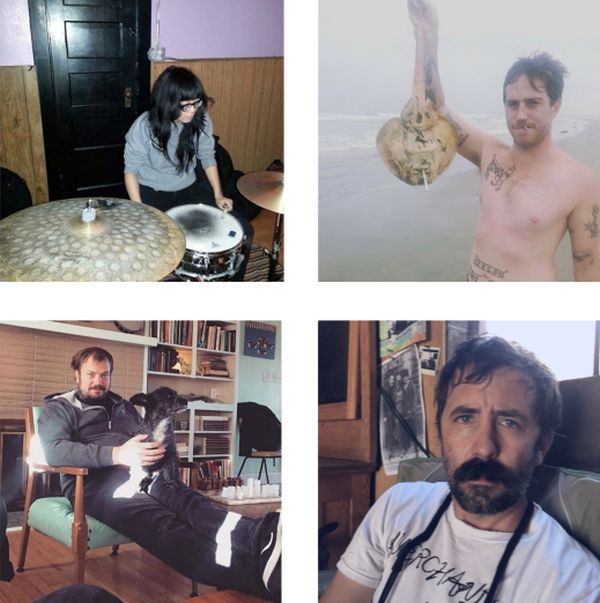 12 March 2021
American Culture – Photo courtesy of American Culture
Nothing is more American than the flawed idealism of rugged individualism, but any ruggedness you see in Denver-located band American Culture only comes from years of touring, living in a GMC van, lugging that bass cab down another steep DIY basement staircase.
This is DIY music. But it isn't alone. It's a culture, a community. One that American Culture and so many of their peers have nurtured, town after town, basement after basement, selling one record at a time, not to "fans," but to friends. Animals!
American Culture's third album For My Animals was finished pre-COVID and sent to HHBTM Records in early March 2020. What would become 'the great isolation of 2020' was just beginning. At that time no one knew if the world was going to have any use for records. (Or, more specifically, a record industry.) And that's still up in the air…
However, the more record sat on the shelf during the intense summer of 2020, it was decided that absolutely YES… the world needs weirdos making things in every corner, more 4-track song sketches, more Xeroxed zines, more hand-folded J cards, more screen-printed LP jackets. Now more than ever. The industry may die, but this culture is unstoppable.
So, HHBTM decided to press it on vinyl. No touring in sight. But it's not just a product. This album was made for hearing. It can't just sit around waiting for industry standards to come back. There was something special about this album. It speaks directly with the listener, one-on-one just like the band has at so many of their shows. The artwork and packaging had to do the same. Handmade art objects. Each physical record is a labor of love, like the recordings themselves.
Big Takeover is pleased to host the premiere of the album in full today.
The songs on For My Animals isn't strict about genre. Like their favorites The Meat Puppets, Crass, The Grateful Dead, and The Feelies, this band does whatever they feel. There's bits of noise-pop, outsider lo-fi, washes of psychedelia, and even hints of Jamaican dub influence here.
It's definitely punk. Punk, but not rock. This album seems to be set in a different era. A time when people didn't have much to do but chill at the mall. You made new friends by maybe seeing a Dead Milkmen tattoo peeking out from under a sleeve, or 'Sonic Youth' scrawled in sharpie on the rubber toe of their converse. You didn't know each other, but, also, somehow, you did. Same with this album.
Chris Adolf, the songwriter/frontman of American Culture, kindly took the time to detail the tracks on For My Animals:
"Silence"
"This is one of the few here that were recorded in a proper recording studio (Silo Recording Studio in Aurora, Colorado). I originally wrote it as a simple little two-chord primitive thing, but the studio brought out a more '80s pop feel that we leaned into. I like the recording process to kind of reveal sides to a song that I didn't know were there. I remember Michael's guitar part reminded me of "Billie Jean" by Michael Jackson, so I wrote a synth part to let the song lean into that more."
"For My Animals"
"I wrote this one in one sitting without the band. In this band and in my own songwriting we only keep the songs that just kind of write themselves. I was falling to sleep on the couch with a guitar in my hand (a super-light Jaguar that's super-comfortable to just play around the house) and the words just came with the chords. I remember trying to play super-heavy, hitting the guitar super-hard like Daniel Johnson does. (Did you know I was once in his backing band for a Denver run?)"
"No Peace"
"This one was strangely written with the drums first. I was just lazily tapping around on the drums and I started chanting "No peace." Also… the chorus. In our Denver music community we have a lot of friends that are in more extreme bands. Hardcore and death metal. They have a very loyal and supportive fanbase. It's so loyal that their support sometimes extends to us when we go on tour. Especially when we've toured with Michael's (AC guitar) other band Homebody, which has Morris from Blood Incantation in it. The chorus, "Hello, I'm friends with Paul…" is referencing our friend Paul from Blood Incantation/Spectral Voice and how his fans are so true and loyal and they often have put us up for the night."
"Small Talk"
"This one was written with the band. Just a little two-chorder jam. Most of us in the band are quiet people and the social aspect of touring can be super-tiring."
"Pedals"
"This is me trying to do a Brit Kinks/Who style riff. I think this song has the most chords of this album. We were super-proud of Kim's drumming on this one. And Michael's super-shred at the end!"
"Lude Dub"
"Outside of just songwriting, messing around with the studio is a medium I really like fucking with. I was just listening to King Tubby or Scientist or one of those guys and I wanted to try that style of production. It's just a tip of the hat to those pioneers. I recorded it all on tape and did the mix through tape delays feeding back on itself as a performance as it was mixed. One take."
"Losing My Mind"
"I know Morrissey is a dickhead and I'd never support that douche now, but that harmonica on the Smiths stuff is super-cool. I just wanted to figure out how they used the harmonica and somehow made it feel British and not American. This is another two-chorder jammer that the band wrote in a sitting."
"I Like American Music"
"What else can I say about this? I like American music! Recorded all on tape using tape delays."
"Drug Dealer's House"
"This is one of the few songs that we have that was set out to be written about something specific. Colorado legalized weed a little earlier than a lot of states. None of us are really that big of potheads but this is about being sad that with the legal weed shops, people will miss out on that age-old tradition of sitting around at some weird drug dealer's house waiting on some weed while you look at his weird aquariums, or RC cars or whatever weird stuff they had in their house. Why was there so much waiting back then? I'm also super-stoked to have saxophone from one of my favorite bedroom lofi bands, Red Pony Clock. Gabe is a wizard."
"1972"
"Our attempt at a Kraut-rock song. I like the patience and reserve those bands like Silver Apples, Nue!, etc had. Eli from Spectral Voice once showed me this album made in Soviet Russia where, at the time, it was illegal to make American or Western-influenced art (or perhaps any art unless it was for patriotic reasons) so they made this kind of Kraut-rock music saying it was made for their Olympic team to practice to. I forgot what it was called and am too lazy to Google it right now. But… this is my inspiration for the production here."
"Horoscopes"
"This started as just a free-jam in the recording studio. Tod is an insanely good engineer. We just jammed and then the music told us what it wanted to be. Just a little mood."
"Here She Comes"
"Can you spot the Olympia, WA, reference here? Also… a lot of this album was deeply influenced by The Feelies. They have a freeness to them that we are really related to. This song is one of the more obvious tips of the hat to their influence."
Lude Dub pt 2
"Tape machines are fun!"
"Dub for Eagles"
"Yes they are!"
"Natural Violence"
"Named after our guitarist Michael's other band. Just a 4-track jammer! Did you know J Mascis played lead on one of our early tracks? I tried to get that Mascisonian squeal on the guitar."