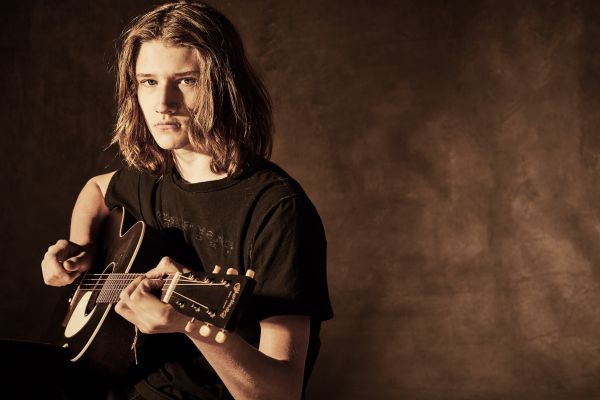 26 July 2019
Jack West – Photo courtesy of Jack West
Fourteen-year-old Jack West will release his debut album, For the Record, next Friday, August 2nd. It's a collaboration with renowned Seattle producer Barrett Jones (Nirvana, Foo Fighters, Jawbox) at his famed Laundry Room Studio. Today The Big Takeover is super-excited to premiere the album ahead of its release next week.
West's masterful songwriting proves maturity and wisdom well beyond his age, and the exceptional riffs and explosive cross-pollination of influences demonstrated on For the Record are a sure sign he is here to stay.
For the Record proves that sometimes it takes youth to lead us to the next place; to revive rock 'n' roll by taking what's classic and putting a new spin on it.
West compiled 18 tracks, laid down the piano, guitar, bass, and drum tracks on Logic, from which he and Barrett Jones chose to make For the Record, a nod to both old-school vinyl records and Jack's first official recordings made public. The songs on this LP are about preparing to take flight, but at the same time, wary of plummeting to the ground.
Opening track "Won't Look Back" sounds like a lost outtake from Dark Side of the Moon crossed with After the Gold Rush, while the plaintive David Gilmour-ish guitar riffs in "Look Out Below (How Long)" offer a paean to surfing and the thrill of catching the perfect wave.
An homage to his hometown of Rochester, NY, "The Flower City" is a slice of '60s psychedelia that refers to the city's annual Lilac Festival and the flour shipped through the Erie Canal from the shores of Lake Ontario, while "Unsinkable" has that unmistakable Springsteen fervor in its vow to rise above the world's chaos.
The rollicking glam rocker "Revival" manages to channel the spirit of Ziggy Stardust and Mott the Hoople, as well as Foo Fighters and Jack White, with whimsical flower power sentiments. West touches on the threats of global warming in the chilling apocalyptic, end-of-days Crazy Horse refrain of "Into This Lifetime," then shows support for war veterans and gun control in the acoustic blues of "Leave Us Behind."
West has previously performed with Eddie Vedder before 30,000 at a concert in Nashville. He and his five-piece band recently performed at BottleRock and A2IM's Indie Week before select East Coast dates, including an upcoming performance in Boston for The Who Cares Teen Cancer America Benefit.
Take the music video for "Revival" for a spin:
TOUR DATES:
Aug 02 – Fairport, NY at B-Side (solo acoustic)
Sep 13 – Boston, MA at The Who Cares Teen Cancer America Boston Benefit
Sep 22 – Naples, NY at Naples Grape Festival