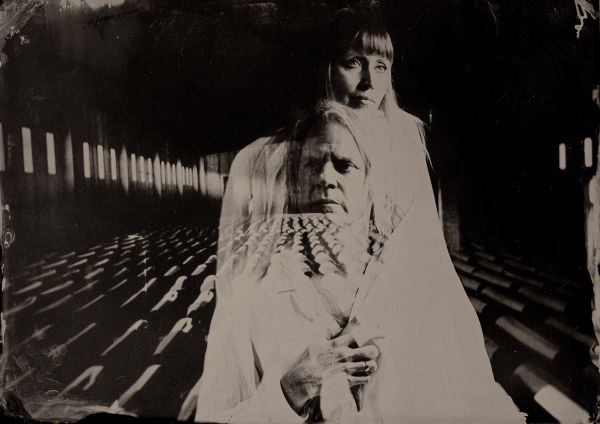 25 July 2019
Society of the Silver Cross – Photo Credit: Lucas Mobley
Fresh off the release of their debut record 1 Verese, Society of the Silver Cross have returned with a new visual for their track "Take a Ride", which The Big Takeover is pleased to premiere here. The Seattle-based post-metal five-piece has earned raves for the LP, which arrived on June 28th.
The video was made with the real vinyl from the group's album, a toy VW van, a record player, and a hypnotic spinning and dissolving effect. According to Society of the Silver Cross, the song is, "about truth, and how the truth cannot be created, only perceived."
1 Verse is an epic musical journey crossing over to mystical landscapes and otherworldly terrains, while playing with concepts of life and death, shadows and light, and going beyond the veil. Songwriters Joe Reineke (The Meices, Alien Crime Syndicate) and life partner Karyn Gold-Reineke score lush, dramatic, and ethereal layers of instrumentation and vocals with the intention of sparking an emotive inner-experience for the listener.
Joe and Karyn's travels to India, and resulting deeply devotional yogic path bears influence to their artistic expressions both musically and poetically with chant-like vocals at times, and recurring themes of seeking deeper spiritual truth and wisdom. Their unique songwriting style also blends East and West with Gothic undertones.
The album features eastern instruments (harmonium, shahi baaja, dilruba, ghungroo bells), 12-string guitar, esoteric synthesizers (swarmatron, therevox, mellotron), Hammond B3 organ, heavy rhythmic percussion and gritty soundscapes.
Tap into the this mysterious experience with the new video here, and be sure to listen to 1 Verse if you haven't already.
Website
Facebook
Twitter
Instagram
YouTube
Spotify
iTunes