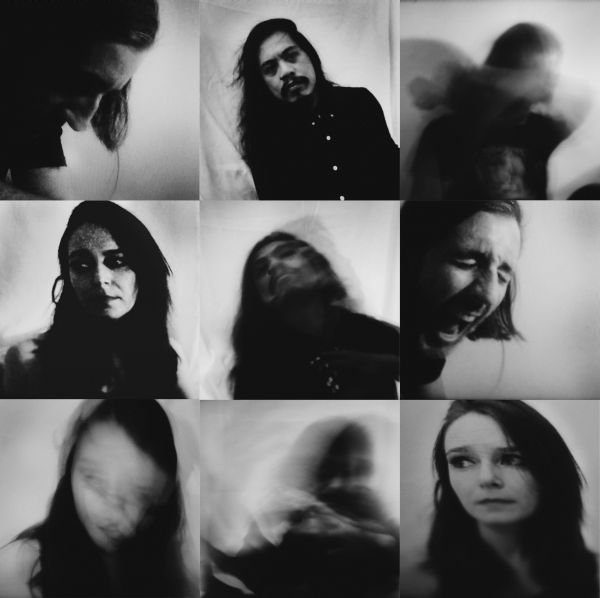 28 October 2020
My Dear Mycroft – Photo courtesy of My Dear Mycroft
My Dear Mycroft is a New York City-based dark and moody rock band comprised of Joemca (guitar, vocals), Jess Luck (analog synth, low end, vocals), and Rob Heath (drums). Their upcoming debut album, Heaven's Entertainment will officially be unveiled quite appropriately on October 30th, All Hallows Eve.
The mesmerizing and noir LP follows up two independently released EPs, Dinosaur and Wiiiild, and solidifies their core sound that alternately, or many times as a combined force, lurks with a murky foreboding and floats with an ethereal dreaminess.
Named after Sherlock Holmes's smarter and more misanthropic brother, the band explores nightmares, defeats, regrets, and the unknown, and mines these angst-ridden places in order to grow. Their sonic landscape is full of mysterious caverns, impressionistic and full of hidden wonders.
Heaven's Entertainment was recorded and mixed at Strange Weather in Brooklyn, with additional recording at Joemca's Laboratory in NYC. The band members are inspired by classic literature, untamed nature, vintage cinema and television shows, and various uneasy emotional states that pervade the mind in the midnight hour…
Big Takeover is thrilled to host the premiere of Heaven's Entertainment in its entirety today, Songs lurch forward like slumbering behemoths in their lairs, awakening from their dormant state and slowly lumbering into the daylight.
Encroaching shadows throw menacing shapes against dimly lit cave walls on the title track album opener, while fiery guitar licks build in intensity against the heavy and measured drum beat. Joemca sings of "dark times" that have come, while Luck adds a softer vocal touch to the albeit bleak lyrics "after the floods / beasts become the prey…"
"For Peace" continues to skulk with a burgeoning menace, part Phantom of the Opera with Joemca's dramatic vocals and the darkened Western plains with the deeply reverberating guitar lines. A driving force behind the album, "The Ghost That Slows You Down" is an ominous and restless missive that pushes with a determined grinding bass line, hard-smacked drums, _Stranger Things_-like synth notes, and emotive vocals.
"Go Insane" rings out with Western guitar reverberations, ghostly vocal harmonies, and a chugging pace as Joemca frustratedly sings that "…we never change." The low burn of buzzing synths and pronounced drum strikes mark the medieval "Put Against The Wall," while the sparer alt-folk vibe of "Wicked Hour" is steeped in emotional turmoil as Joemca exclaims, "…we lost everything…" and We burn in the fire / of our desire."
A slinky and propelling rhythm slides through "By Passion Alone" as an alluring Joemca reminisces about "…memories full of unrest…". "These Dreams" simmers with a beguiling sway and guitar scintillation, forming a vivid background for Luck to sing fervently about dreams that catch her by surprise.
The reflective "Psyche" balances Joemca's duskier vocal tone with Luck's sweeter register as he agonizingly wrenches out the lyrics "You bare your heart / to be torn apart." The staccato "Bloodflow & Heartattack" bursts out with vibrant piano notes and sporadic drum beats and cymbals crash, but also flows with mellow and ghostly backing vocals from Luck. Amid the contrast Joemca exclaims passionately, "Wash my sins / This kingdom is a broken castle."
Joemca relates some details about the album's themes, stating, "Heaven's Entertainment is inspired by prophecy, ruins, love, and regret, the apocalypse, and the darkness before dawn. We wanted the album to feel sonically hazy – haze from fog or fire that slowly dissipates to reveal the damage done."
Joemca also kindly took some time to go into more detail about each track, adding interesting backstories about the creation of the album:
"Heaven's Entertainment"
"Rimbaud's "After the Flood" and witch burnings were the seeds for this song. It's that feeling when you see the storm swiftly approaching and then it hits hard in torrents, and as it dies down the sun peeks through the dark clouds."
"For Peace"
"This song was inspired by nature's violence and destruction and how the chaos of pounding waves and relentless wind is humbling. When I was writing this song there was a sense of the world changing in dangerous ways."
"The Ghost That Slows You Down"
"This song was inspired by the image of an ancient vampire full of remorse, the weight we carry that hinders our growth and the fear that we may unknowingly become that burden for someone we love. This song was the birth of the album. Though some of the other songs were already in the works, it was with this song that I discovered the album, its direction and its vibe. It all started with the drums."
"Go Insane"
"The image in my head while writing this song was the river of blood from Dante's Inferno. I hear the backing vocals as the dead souls and bones. I wanted it to have the weight and pulse of that deep sludgy current."
"Put Against the Wall"
"A draft of this song existed before the album, but writing the rest of the album gave it final direction. The feel of Greenwood Cemetery in Brooklyn with its big steepled gate was an inspiration."
"Wicked Hour"
"This song felt like midnight and prayer. It's the moment of making a dangerous decision and jumping in head first. This song is a bit of a nod to The Shangri-Las and The Ronettes."
"By Passion Alone"
"This song emerged from a nightmare of being trapped in the last dark moment before dawn in the no-man's land between the woods, the city and the ocean. The song is also an ode to my demons and fears, and how I can't live without them for better or worse. I love the synth on this one- it's a nod to the X-Files."
"These Dreams"
"This song was written for Jess. I wanted to hear the darker underside of her voice and how it cuts through the loud and dense instrumentation. Jess collaborated on these lyrics. The central image while writing was of blazing forest fires. The song is loosely inspired by fairytales and the character Laura Collins from the '60s soap opera Dark Shadows."
"Psyche"
""Psyche" was originally inspired by fortune-telling and prophecy. Other influences include the sunrise and romantic poetry, especially William Blake and Percy Bysshe Shelley. This song was a fight to get done, but worth it. It was met with a long case of writer's block and the minimalism of the lyrics made it the most difficult of all the songs to get the right feel. It wasn't until one dawn when I let go of trying that everything fell into place. The process affirmed the main theme of the song – that of letting go. This song also existed unfinished before the album, but it was the last one to be completed."
"Bloodflow & Heartattack"
"This song is basically a requiem. The feel is influenced by the last scene of Werner Herzog's film Cobra Verde. The piano part was loosely based on Lurch's style of playing the harpsichord on The Addams Family. This song is another nod to the '50s. The drums are inspired by crashing ocean waves."
Bandcamp
Website
Facebook
Twitter
Instagram