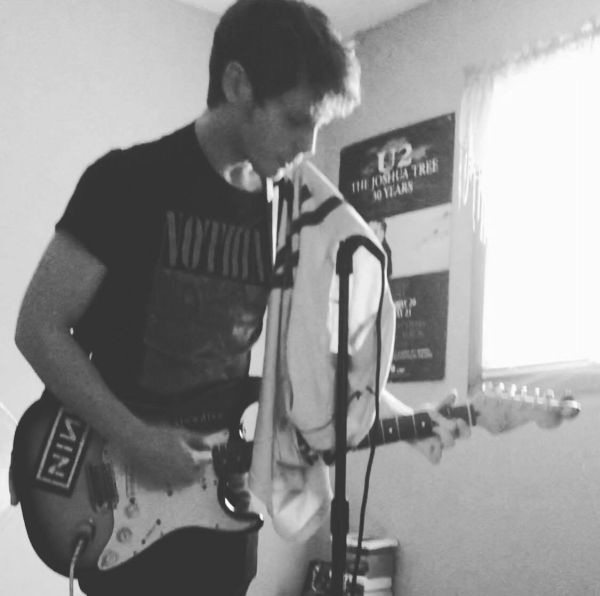 27 March 2020
Corey Philpot of Outward – Photo courtesy of Corey Philpot
Outward is the musical extension of Austin, TX/London, Kentucky-located Corey Philpot. This 100% DIY music project is a labor of love for Philpot; a means of expressing what he feels inside and delivering his emotions and viewpoint to the outside world.
The prolific Philpot has already released a debut album, That's Life, in 2019 and Big Takeover was extremely pleased to host its premiere
Now, just over a year later, Philpot will be unveiling his second full-length, I Will Be Something, which drops April 3rd via Somewherecold Records. Once again, Big Takeover is supremely pleased to host the LP's premiere in full.
I Will Be Something is an album that realizes the conscious choice of perception. Life is a constant flux of the perception of now, and a series of point-of-views that our mind paints a portrait full of meanings and descriptions.
The album explores the side that lives in the attempts of trying your hardest, but still resulting in failure at life, yet purposefully making the choice to stop at nothing to be something. Not something to the world or anything external, but to the internal self that says, "I'm never defeated."
At its core, I Will Be Something is a guitar-based rock album. Dynamic in texture from the sound of bedroom depression to grand walls of sound traveling through outer space; pausing on thoughtful contemplation, and passing by planets and admiring what is naturally beautiful in existing. Passion seeps through every track to link them all in a story of the ability of the self to never give up.
Two singles have been released prior to the album drop-date, with exclusive B-sides. "Bored of the Universe" / "Set Go" was premiered on new tracks weekend via DKFM (February 22nd – 23rd). The second single "You're So Beautiful" / "Trip and Fall" came out on March 4th on the show Drowned in the Sea of Sound.
Ten deluxe versions of the album for diehard fans are available on Minidisc in a special jewelry box with insert, label sticker, and a little something extra. At this time stock is low on this special version of the LP.
Philpot's determined spirit shines brightly throughout I Will Be Something. He's had his share of hardships and his joys and pain, and love and loss fill his lyrics and the atmosphere of his songs. Searching inwardly, Philpot dredges up emotions fraught with tension and wonder.
Outward's sound is a blend of various styles, including shoegaze, grunge, and dream-pop. He balances the heavy with the dreamy to create a hazy, but weighty ambience. "All Else Failed" exemplifies this with its ponderous pace that at times bursts out with guitar-driven scintillation.
The title track is a blazing grind of gritty guitar burn, measured drum pace, winding lighter guitar reverb, and Philpot's light and wistful tone. The track whips up sporadically into a shimmering whirlwind that dazzles the ears.
Philpot's grunge-love shows on the melodic '90s-era alt-rocker "Bored with the Universe." The number is extremely catchy, but still roils with a deeper angst. And on "Mist Blowing Sideways," he conjures up the warped sonic allure of My Bloody Valentine with hypnotic and wavering guitar loops.
"Pseudo Dream" is a thick and resounding miasma of reverberations and conflagration, while "The Best I Have" lurches with edgier guitar jags and Philpot's heartfelt exclamations.
Philpot divulges insightful details about his perspective on life, the meaning of his new LP, and his evolution in sound and compostion, candidly revealing, "This has been the quickest time frame I've ever recorded [music], but I think it's because so much happened in such a short time period. Coming off the tail end of That's Life, my whole writing stance was how to exist and live with depression. I began to feel it was more important [at that point to focus on] how to face coming out of depression; well, to the extent [that] one can try."
"Life is completely neutral I feel; everything just is, and just happens… leaving us to paint a negative or positive light on it with perception and perspective. If this is the case, then we can choose to view the positive angle as much as we can try, and recalibrate our thought patterns; which also recalibrates our perception of reality. The biggest recalibration I had was my wife being pregnant with our now beautiful baby boy named Ciel. Life-changing is an understatement, but in such a grand and great way."
"The album shifted into a positive one, without me even realizing it. It had gone through three different title changes revolving around depression, with the last being I Will Be Something. This is also a title of one of the tracks. That song rewrote my perspective as a songwriter. In my head, I pictured a child coming through the universe, admiring all that is in its beauty, including the planets, civilizations, and stars; ultimately, ending up right in my wife and my arms."
"Instead of focusing on the negative aspects, I wanted to be something for Ciel. And instead of wanting and hoping, I wanted to make it a confirmation, which is why I used the wording "I will." The album dips into despair at times, but ultimately pulls its head up for air to breathe."
"Besides changing thematically, I felt it was important to evolve my sound and recording. Usually when I wrote a song, I would end up with 70-80 layers of tracks, all becoming a cohesive mess of sound. I decided to strip it all down to necessities, recording songs with roughly 8-10 layers, and not putting endless melodies over one another. I also wanted to simplify the writing techniques of each. Instead of worrying about if I matched into anything specific, I just wrote freely to my heart's content. Whatever came out, came out."
"My two favorite songs are "I Will Be Something" and "Lay In The Ground."; the first one because of Ciel and the overall first time I felt I found my sound land. And "Lay In The Ground" because it's the truest bottom point I ever felt; as in defeating myself when I wrote it, and also my most honest song emotionally. Every listen to it makes me cry."
"Another main thing this album is about is to just do the best you can. No one can ask for more."
Facebook
Instagram
Bandcamp
Somewherecold Records