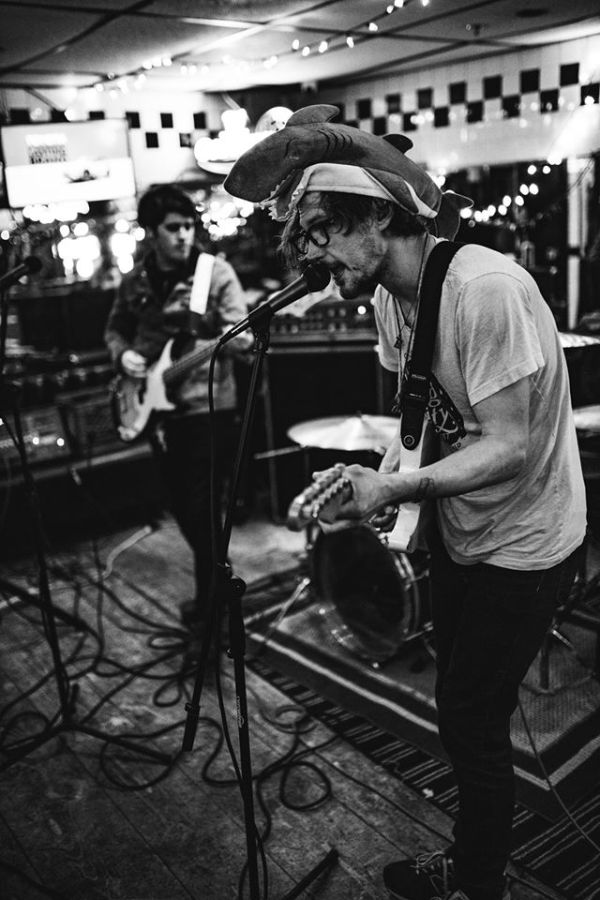 21 August 2020
Special Moves – live – Photo Credit: Adam Parshall
"If you want something done right, do it yourself" may not be an entirely accurate translation from the original French, but it's proven to be a powerful strategy over the last forty years of American underground rock music.
Special Moves is the latest name of Olympia, Washington's Joshua Hoey (Box Fan, Parasol, Blood Orphans) and his friends, and he's applied the aforementioned saying to a life-long project of lo-fi, small-scale cultural production.
Hoey has played fuzzy, energetic rock music in living rooms and basements – even the occasional rock club – for almost two decades. The rough outlines of this band's sound are Superchunk, Archers of Loaf, Butterglory, Guided By Voices, Sugar and early '90s indie rock in general.
The specific sparks that have fed the drive to write, record, and travel were generated by random short-run seven-inches, cassingles, and one-off tracks on tape comps, some of which have been released by Olympia-located label Reflective Tapes.
Special Moves is an attempt to continue the proud legacy created by folks with talented friends and an uncontrollable urge to document the creativity and vibrancy that would otherwise fade from view.
So, in a nutshell, Special Moves is an open-source rock band. Line-ups and instrumentation vary from gig to gig, and from one recording to the next. Collaborators are encouraged to bring their unique stylistic choices to bear.
And all this bears fruit on Special Moves' new album Little Help, which releases on August 28th via Solidarity Club, Reflective Tapes, and * Jigsaw Records* in digital, CD, and cassette formats.
It's a true community effort to spread the word about Hoey's musical work.Little Help is for fans of GBV, Boyracer (it even includes a Boyracer cover), Crayon, and is a total throwback to those times when you'd discover your new favorite band off one of those themed K Records cassettes.
Big Takeover is pleased to join in the amplification by hosting the premiere of the album in its entirety a week before it officially drops.
Dynamic tracks dominate the LP, whisking by with lively drum clatter and at times mechanized beats, churning fuzzed up guitar grunge, bright cymbals clash, vivid synth noise. Hoey sings in a direct, but emotive tone, reassuring listeners with his retateable lyrics. So get ready to go on a nostalgia-packed trip through '90s indie/collage rock without having to leave your home.
Joshua Hoey kindly took the time to write some insightful lines about the backstory of each track off the album:
.
"OUR SUMMER"
"Sometimes it's fun to start an album with a bubbly kinda exciting blast of color and energy. Like when the Rockers would lead off Wrestmanias and stuff. This existence just keeps on existing and I dunno why. That's kinda the story of this album, and I think this one sets the scene a little. Maybe sometimes we're trying to pretend there are still more colors out there that we haven't seen yet, and maybe sometimes we're trying to pretend there aren't. My friend Lily says this song sounds a bit like GBV's "Motor Away" so that's fun as well. This one has a whole bunch of people playing music simultaneously, almost like a rock band."
"THANK U PILE OF CD-Rs"
"This one introduces my regular drummer, Free iPhone Drum App That's Extremely Limited. I started using it as a placeholder but by the time I made a bunch of demos I decided I like how it sounds. This is about a nostalgia trip I recently experienced after finding a CD binder of my college radio show, complete with banter and awkwardness. I had no idea this time capsule existed, and similarly no idea what I'm talking about most of the time (on the show). I originally wrote it to perform at my friend Alyssa's backyard open mic series, and serves as something of a prototype solo-style Special Moves tune."
"LOOK AT THE GROUND"
"This began life as a tossed-off iPhone demo that I'd listen/sing along with while walking around downtown Olympia. Anxiety brain makes it hard for me to decide where I should set my gaze while wandering. Sometimes I'll carry a tennis ball and concentrate on bouncing/catching. Other times I'll try and focus on something in the middle distance. While walking one evening I thought about an NPC in Super Mario RPG who walks around looking at the ground all the time and I started singing these words. Again, I meant to re-record this but by the time I had the lyrics I'd gotten accustomed to the scruffiness, so what u hear on the record is literally the first time I played the song."
"I THINK ABOUT U AND IT MAKES ME SMILE AND NOT WANNA DIE FOR A LITTLE WHILE"
"I've always wanted to write a song in which the entirety of the lyrics are right there in the title. Luckily for me, most of the Special Moves songs have a maximum of like three sentences worth of lyrics. I wrote this one for a friend who was hospitalized with a mystery infection. I sang/played it into my old-timey portable cassette player/recorder and dropped it off in their room. I felt pretty cringey playing this song at first cuz it's quite direct, but usually most of the buds watching find it endearing."
"BASED ON A TRUE STORY"
"My friend Lily plays folk/drone music as Squill, which is among my favorite projects. I have always been struck by the way she uses effects that have a temporal component – delay, reverb, looping, etc. I borrowed her setup for a week or two and fooled around till something clicked. This is one of my early attempts at incorporating these tools."
"I'VE GOT IT AND IT'S NOT WORTH HAVING"
"Love this song, love this band as much as my other fave Leatherface, love doing covers. Usually I just look for a chord change or vocal melody or lyric that hits hard, and then pretty much disregard the rest of the structure and just do whatever. This one has both a great little arpeggiated guitar riff intro thing and the titular lyric, which was my original album title til I remembered it was already a thing. It describes a thing I learned after pretty much dialing in my idea of the perfect Josh life, then watching it fall away."
"SOMETHING I FORGOT TO DU"
"I think it's pretty weird when memories kinda come out of nowhere. Even like normal, not particularly volatile things. Sometimes yr driving under a bridge just west of Philly and remember yr sweetie showing u the second Dismemberment Plan record while driving under this bridge. Or a similar one, can't remember exactly but it was an arched stone railroad bridge I think. I can't remember as well or as much I would like due to mental health stuff and substance abuse or "getting free" or whatever I would say."
"U NEVER WENT AWAY"
"This one also began as a rough draft iPhone demo that subsequently started sounding good to me. There are a handful of songs on Little Help that are partially about a breakup, which I feel very self-conscious about, so I try and provide at least one alternate interpretation. So this is either about some folks u don't know breaking up, or maybe it's about yr favorite local band that never tried venturing outside of ur town."
"LIFE GOES ON"
"I guess the breakup theme is pretty direct on this one. Same topic as the Boyracer cover – coming to terms with continuing to be alive but not sure why. My buddy/sometimes-bandmate KC Monster really put this one over the top with her wild nonverbal vocalizations. John Mellencamp already wrote the lyrics this song required, so I lifted them (with attribution)."
"ONE LAST BIG SCORE"
"An early version of this instrumental indie rocker appeared on the first Special Moves cassingle ("January") as "Intro". It's just one of those riffs that I kinda always default to when jamming. It's either a noisy palette cleanser (if ur feeling generous) or an excuse to slack on writing lyrics/melodies."