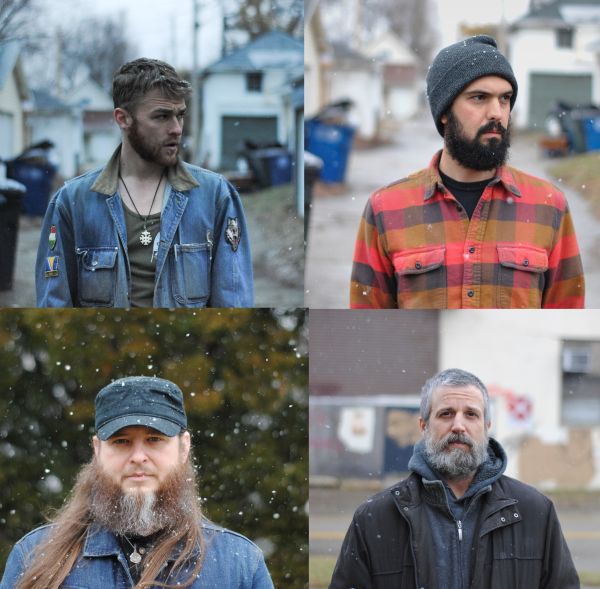 27 February 2021
Nineteen Thirteen – Photo Credit: Evan Davell and Nineteen Thirteen
Newer Dayton, Ohio-located alternative/hard rock band Nineteen Thirteen are unleashing their self-titled (in Roman numerals) debut record, MCMXIII, today. Big Takeover is pleased to host the premiere of the harrowing EP in its entirety on release day.
The quartet is composed of veteran musicians, including members of Mouth of the Architect, Twelve Tribes, Neon Warship, and more.
Nineteen Thirteen have been significantly influenced of by bands and artists from Godspeed You! Black Emperor to Silver Mt. Zion, Black Mountain to Pink Floyd, Pile, Unwound to The Mars Volta, Ennio Morricone, most Western film soundtracks.
The band began recording in August 2019, applying the finishing touches with the engineering/mixing/mastering assistance of Micah Carli at Popside Recording in 2020.
"We got the concept of '1913/Nineteen Thirteen' from a dream [band member] Evan [Davell] had," vocalist Brett Hill says. "1913 was the year that a great flood devastated Dayton, which was the most extensive natural disaster to hit any American city up to that time. It changed the tide for Dayton, and was symbolic of the death of the old world for our city."
"This tied in well to two themes I wanted to explore as a songwriter," Hill adds. "The results of the changes within that five year period [1913-1918] in Dayton after the flood and across the whole world what with World War I changing the global system entirely. This led to the content of the first two songs on the album."
"Post Blue Collar Blues" is about the average children of the working class, living in a time after industrial jobs disappeared and the plight of a destitute city life.
The rough-hewn storyteller lurches like a monster roaming the desolate land, attacked at times by scraping and screaming guitar noise and pummeled by emphatic drum strikes.
Hill's words are relentlessly grim, but morbidly descriptive of a hardscrabble life in which death is just around the corner – or staring at some unlucky city-dwellers directly in the face.
Devastating "Dog Fight" tackles the experience of a soldier fighting in the trenches during the battle of Verdun, 1916. He witnesses unforgettable atrocities and recalls a time before it was believed this kind of war could be fought. Simply put, it gets pretty brutal.
"I can't say I've ever written such vivid imagery of war and carnage," Hill says of the lyrics: "Is that a horse or is that a human being / Smeared red upon the earth / In a pit I heard the piggies squealing / Turned back to bacon fat and I tucked in."
Foreboding and vocally winding and raging "Old Face on the Wall" is about the torments of being pulled between an old faith and a new one, while "Cripple John" is a fable set in the West around a gun battle between a legendary old-timer Cripple John and the rambunctious youth that are moving in on his town.
On hard luck number "Cripple John" Hill wails away with raw passion amid the fiery guitar immolation, ground-bound bass line, and heavy drum tread.
"Cripple John was a great-great uncle of mine who had a limp his whole life from a Tennessee kids game where you'd try and scale a whole tree and come back down before the other kid could chop it down with an axe. He got axed in the leg at age six."
MCMXIII can be purchased in digital and CD formats at Bandcamp.