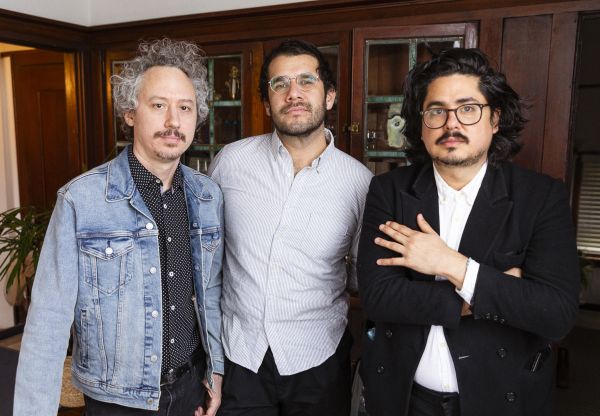 7 May 2021
Best Move – Photo Credit: Marc Kallweit
Sacramento, California-located indie rock outfit Best Move are unpacking their debut record, the Mirror Image Twins EP, today, May 7th, via Park The Van.
Kris Anaya, Joseph Davancens, and Fernando Oliva formed Best Move in 2019. Anaya and Davancens, the primary songwriters of the group, have spent the better part of the past decade playing a wide variety of music under various banners.
Best Move take direction from two sources, the first being the cinematic song stylings of sardonic yet unfettered, quasi-confessional 1960s and '70s troubadours like Randy Newman, Van Dyke Parks, Brian Wilson, and Harry Nilsson. The band's name is even from the latter's song of the same).
The second inspiration for their music is the "visual scoring" of indie pop song placement in 21st-century TV shows and films, where the music quickly took on the personalities and sensibilities of its makers.
Anaya was sparked by film and TV soundtracks, citing specifically the niche rock takeover of post-2000-era films by directors like Michel Gondry, Sofia Coppola, and Wes Anderson. He worked to inject the new material with that same sense of visual emotion.
Big Takeover is pleased to host the premiere of the nostalgic and engaging Mirror Twins Image EP today.
Symphonic indie pop reverie "Invisible Sigh" flows with gently reflective vocals, pastoral to glowing guitar lines, shining percussion, and the sweet shiver of strings. A cycle of mellifluous acoustic guitar notes and cinematic tape reel clicks inform the appropriately named "Guitar Loop."
The hazy daydream vibe continues on the contemplative title track that touched by woodwinds, golden motif of guitar lines, and melancholic, drawn out vocals. A hushed bed of synths materializes occasionally, with lower bass accompaniment adding to the ruminative feeling.
Melodic "A Phrase" picks up the pace with a pluckier rhythm of kinetic drumwork that pushes the song along,while the soft, layered vocal harmonies are emotionally more assertive. EP-ender "Out Of Touch" is a poignant piano-led lament that knows how to use sonic lulls to increase the pensive nature of the track.
Lyrically, the standards prevail—love, loss, friendship, searching for purpose—but the themes bubble under the surface of a sea of metaphor, leaving the listener to decipher the message in their own way.
Anaya calls their sound a, "thank you to the past," and while a warm, familiar tone echoes throughout the band's universe, something unmistakably modern remains. Perhaps it is simply the sound of a decade of winding, disparate avenues finally convening in a perfect center, or of the confidence that comes from recognizing, at last, a perfect fit.
Fanlink
Bandcamp
Instagram
Facebook