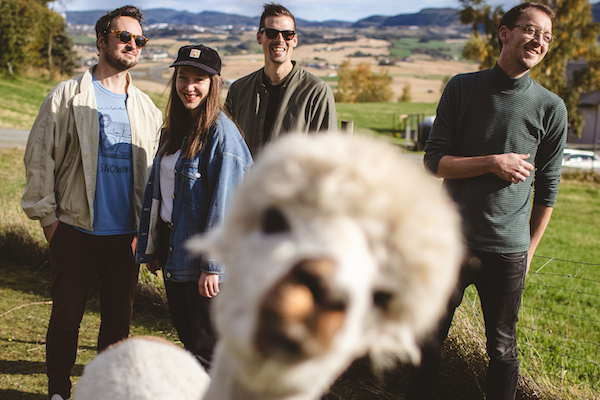 13 January 2022
Onsloow – Photo Credit: Erlend Lånke Solbu
Trondheim, Norway's Onsloow is a fresh, well-crafted indie-rock band that creates rousing and dreamy power-pop sounds with nuances and nods to pop punk. The sweet, feminine energy of Johanne Rimul's charming vocal work mixes smoothly with the confident and ferocious playing of guitarist Mathias Nylenna, bassist Lasse Berg and drummer Morten André Samdal. Onsloow's new, self-titled release finds the band in league with contemporaries like the Beths, Tigers Jaw, Girl in Red and Paramore; and even more veteran bands like Superchunk, Weezer and the Get Up Kids.
It's no surprise, then, that Onsloow — who are not to be confused with Onslow, a new rock duo from Perth, Australia — draw a far-reaching fanbase that includes aging parents longing for the sweet nostalgia of their glory days, as well as young hipsters who have embraced the '90s-era aesthetics and charm of melodic guitars and catchy sing-alongs.
Onsloow's eight-track, self-titled album was produced by Marius Ergo (Lukestar, Truls and the Trees, Insomniac Bears) and will release January 21 via How Is Annie Records. The album release is preceded by its first single, "Overthinking," which was launched to rave reviews in the British music press; and a second single, "A Good Day to Forget," which is currently on heavy rotation with NRK P13, Norway's BBC 6 equivalent.
"The album was recorded during the pandemic in downtown Oslo, in a building with tons of studios, so you could hear hip-hop and EDM beats pounding through the walls," drummer Samdal recalled. "I guess we were the only ones using jaguars and tube screamers …
"We live in another city, and Oslo was shifting on being locked down and open, and [whether] we were allowed to travel domestic at all," Samdal continued. "We felt like a guerrilla or something, waiting for the government's go. As soon as they gave allowance, we went in the studio, trying to finish before they shut down again!"
Onsloow was produced and mixed by their friend Ergo and mastered by hardcore legend Will Killingsworth (Orchid).
"Eight songs made the cut, and we love them," Samdal said.
In addition to the exclusive stream of Onsloow's new LP, the band is offering up an exclusive premiere of its video for "Unstoppable."
"A music journalist once wrote that we 'sounded like an obscure '90s band,'" Samdal said. "I guess our nod to the '90s can't be more obvious than in this video. You couldn't grow up back then without seeing 'Ironic' by Alanis Morissette nonstop on MTV, so the video idea was basically just putting Johanne in a sweet ride and having her channel her inner Alanis. And she did!
"Her trip ends up on an alpaca farm where we've hung out before and done press photos," Samdel added of the picture accompanying this post. "We love those animals, especially Georg, a white alpaca who's curious and sweet. The song 'Unstoppable' is about sucking and trying not to suck that hard, and the video is directed by our friend Finn Walther, who's made tons of good stuff."
Onsloow links: