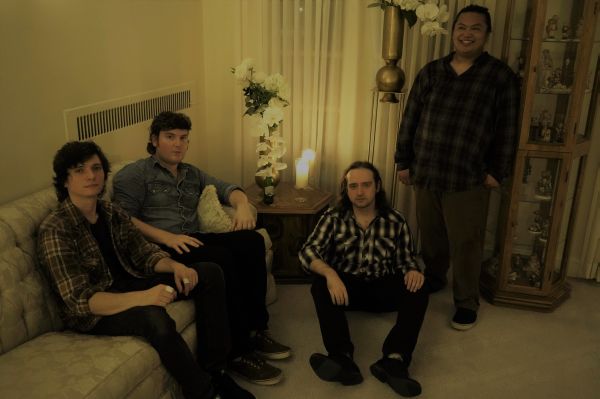 3 December 2021
St. Marlboro – Photo Credit: Bobby Serwa
St. Marlboro is a Chicago-located rock 'n' roll band influenced by twangy classic country, ethereal indie rock, and the melodic grit of Chicago punk.
The four-piece band creates a unique urban Gothic sound that's reminiscent of early '00s folk-rock powerhouses. This mercurial backdrop serves as the vehicle for singer-songwriter/guitarist Kyle Paulin's straightforward storytelling, which is complemented by melancholy Americana undertones.
Paulin is joined by Anthony Cook (guitar, bass, organ), Liam Shanley (guitar, bass), Garrett Campbell (drums, vibraphone), and Keifer Douglas (piano, organ), with additional vocals on "Gas" from Tim McDonald.
After honing their craft on their debut record, their second LP, Photo Album, will be released on December 4th via Dropped Beauty Recordings.
Photo Album was recorded and mixed by Douglas at Jamdek Studios, and mastered by Carl Saff.
In honor of the album's release, they'll be playing a show at Schuba's on December 4th, supported by Old Joy, Sonny Falls, and Graham Hunt. The first pressing of Photo Album on vinyl will be available at the show.
Big Takeover is pleased to host the premiere of the engaging and heartfelt full length in its entirety today.
With 10 songs to its name, Photo Album is yearning, introspective, and brooding. Pensive lyrics are complemented by Americana guitar riffs with Midwest musical tradition. Their live show is a high-energy, yet intimate experience, featuring a spectrum of sounds ranging from delicate to scathing, and this comes through as they channel this energy into their record.
Lead single "Earth to Illinois," which was written by Paulin, with the music being written by all the band members, is brimming with… those moments in which we feel especially wistful. The band comment, "The song… is about feeling nostalgic about lost and awkward moments after looking at them in hindsight," sentiments that inform the entire album.
LP-opener "Pigeons" richly unfurls with passionate vocals and an equally intense electric guitar line, while a more sedate drum pace and melodic supporting guitar lines for a softer bed for the rock-oriented dynamics.
A Western guitar curl runs through Americana-steeped "Heat Lamps" which moves with a staccato tempo and is filled with a variety of guitar lines and wavering organ press. "Gas" is a rockabilly runner, jumpin' out of the gate with a breakneck pace, shouted-out vocals, and scrambling guitars.
Retro ballad "Invocation" slowly sways with a high school dancefloor sweep with the focus on reflective and plaintive vocals, dug-deep bass line, and unspooling guitar shine. "Souvenirs" starts with guitar agitation, but then changes to a waltz-pace and contemplative vocals, before stirring up again with tumultuous, pent-up energy.
A rumination on the passage of time, a bittersweet look back at cherished memories and lost connections, all leading to the longing instrumental hymn "The Angels' Share" that closes out the record…
Bandcamp
Instagram
Facebook
YouTube