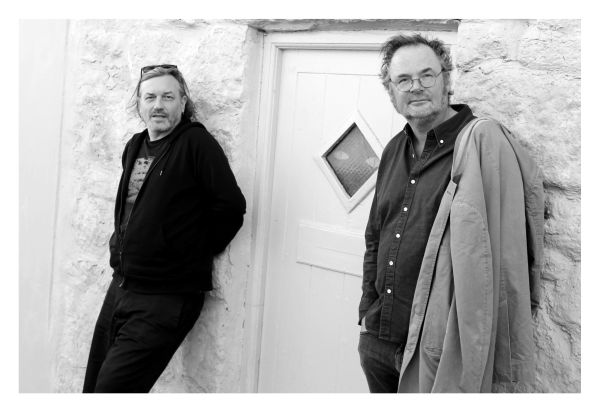 8 September 2020
Marty Willson-Piper and Niko Röhlcke of MOAT – Photo Credit: Olivia Willson-Piper
English-Swedish duo MOAT (Marty Willson-Piper and Niko Röhlcke) are gearing up to release their second album, Poison Stream in early 2021 via Schoolkids Records.
Willson-Piper was an original member of renowned Australian band The Church, a later member of England outfit All About Eve, and still plays with Sweden-based group Anekdoten. Willson-Piper is known for working in a multitude of bands concurrently, and yet again he's found another music project to devote his creative energy upon with MOAT.
Willson-Piper collaborates with Röhlcke, a Swedish-German composer, multi-instrumentalist, and member of Sweden's widely known act Weeping Willows.
Despite Willson-Piper's super-busy schedule with more on-going projects (Noctorum, Atlantaeum Flood, Space Summit, an unnamed project with Tangerine Dream's Jerome Froese, and a production role and guitar contribution to Texan Salim Nourallah's latest project), he also finds the time (at least pre-pandemic) to tour with his wife and violinist Olivia in a completely separate entity that incorporates songs from all the said projects.
But at this moment the spotlight is on MOAT and Big Takeover is pleased to host the premiere of the the single "Gone By Noon," a dreamily ruminative number from Poison Stream.
The sedated pace holds steady throughout, but around this core slowly spins glistening harpsichord-like guitar webs, silkily strummed acoustic guitar with a shadowing bass line, lightly wavering keyboard echoes, and the ebb and flow of Willson-Piper's alluringly mysterious vocals as he sings about betrayal and loss.
"Gone By Noon" is officially available from September 9th via all your favorite platforms.
Credits
Niko Röhlcke – acoustic guitar, keyboards
Marty Willson-Piper – lead vocal, bass
Olivia Willson-Piper – backing vocals
Dare Mason – additional keyboards
Eddie John – drums