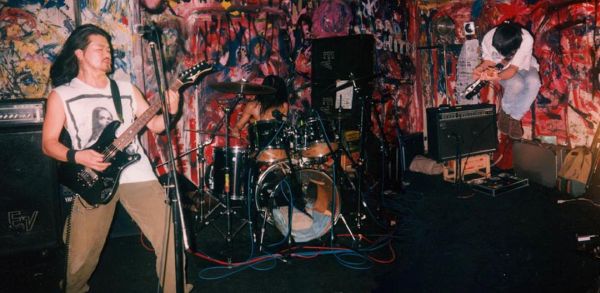 11 August 2021
Zeni Geva – live – Photo Courtesy of SKiN GRAFT Records
Over at its Bandcamp page, SKiN GRAFT Records has been meticulously bringing its long out-of-print single and comic book sets back to life in remastered archival digital editions.
So far the series has reanimated long lost cuts from the likes of North America's U.S. Maple, Shellac, and Yowie, as well as Japan's Melt-Banana and Space Streakings (both of which were covered HERE at The Big Takeover last April).
The latest entry is from another unconventional band from the Land of the Rising Sun – Tokyo's monolithic Zeni Geva.
Formed by renowned experimental multi-instrumentalist K.K. Null in 1987, Zeni Geva (which roughly translates to "money violence") reflects his multi-disciplinary approach by creating heavy music that incorporates elements of death metal and hardcore punk, as well as stoner, math, psychedelic, and progressive rock.
Zeni Geva's 1993 SKiN GRAFT single was recorded and produced by renowned engineer Steve Albini in his Chicago basement studio during the same sessions that produced the band's Desire For Agony LP.
SKiN GRAFT founder Mark Fischer met the band in Madison, Wisconsin a year earlier when they played a show alongside SKiN GRAFT recording artists Dazzling Killmen. "I had imported a CD of Zeni Geva's album Nai-Ha from Japan and it knocked my socks off. I was so excited to see the band perform live and they really delivered… Dazzling Killmen, Zeni Geva, and I all hit it off that night and we became friends."
Null would later form the band Yona-Kit with Dazzling Killmen bassist Darin Grey, and even enlisted the Killmen's drummer Blake Fleming to fill in on one of Zeni Geva's US tours.
Null later inquired about releasing Dazzling Killmen material on his Japanese record label Nux Organization, but since there were no unreleased songs available, arrangements were made for the band to record a single for SKiN GRAFT – to be accompanied by one of the label's then customary wrap-around "comic book" sleeves. Fischer went on to paint the cover for the band's Desire For Agony LP over at Alternative Tentacles, which, by design, tied in to the cover and comic book found in the SKiN GRAFT single.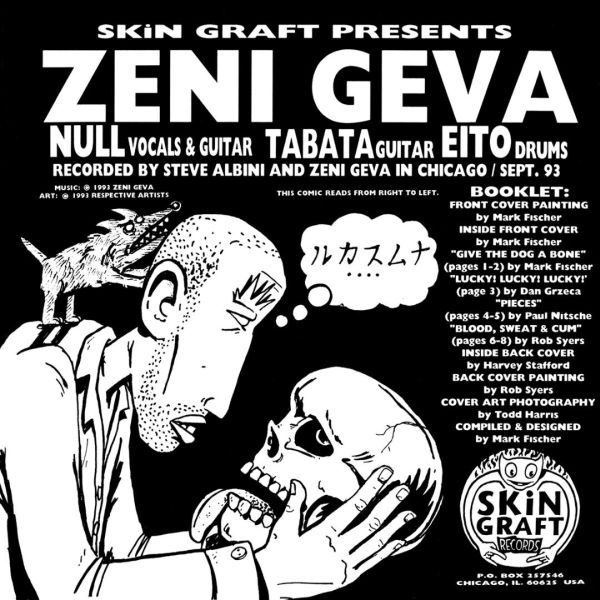 Zeni Geva comic book cover – via SKiN GRAFT Records
The two songs capture Zeni Geva at the height of their powers – and with their best-known line-up, consisting of Null, drummer Eito Noro, and second guitarist Mitsura Tabata of Boredoms and Acid Mothers Temple.
While the A-Side "Autofuck" is not atypical of Zeni Geva, with its heavy, grinding, low-registered guitars; pounding drums, gutteral vocals and stop-on-a-dime dynamics; the B-Side is sure to take even the most ardent Zeni Geva fan by surprise.
Null explains "When I Was On Horseback" is a traditional British song." Before forming Zeni Geva, Null was in the indie progressive band YBO2, alongside drummer Tatsuta Yoshida of Ruins and Koenjihyakkei. "YBO2 played the song live when Tabata and I were in the band. It was released on a live CD, but no studio recording of the song existed."
Null and Tabata remedied that, rearranging it as one of the most surprising Zeni Geva songs in their entire repertoire. Tabata adds, "It's a beautiful song. I haven't heard our version for a long time, but I believe our arrangement still holds up as a unique way to translate an old traditional song into a rock format."
In contrast of the single's A-Side, Tabata comments,"And "Autofuck" – that is one of Zeni Geva's most intense tunes. I always looked forward to playing it live."
The tracks were remixed and remastered by KK Null at prima natura studio on August 10th, 2021.
Zeni Geva "Autofuck" b/w "When I Was On Horseback" is available now at SKiN GRAFT Records Bandcamp page and includes a downloadable PDF comic book. The single will hit Spotify, iTunes, and other digital services in September.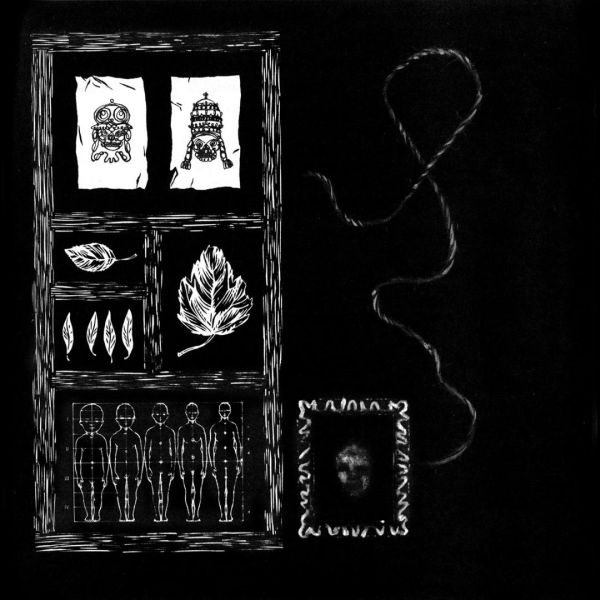 Zeni Geva comic book page – via SKiN GRAFT Records