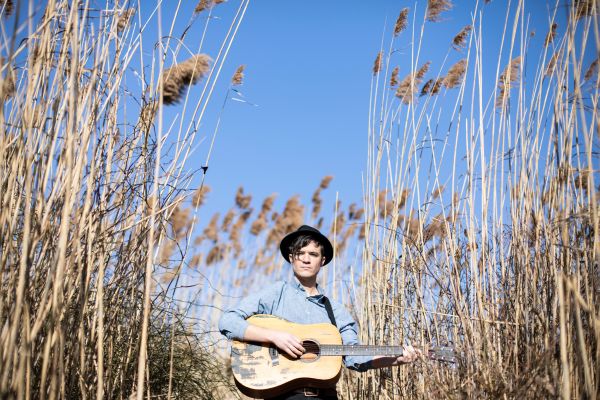 24 September 2021
Tom Moran – Photo Credit: Stephanie Augello
Though Tom Moran swears he's not currently in love, his debut album is a collection of tender, breezy love songs that he's been accumulating.
After years performing in various bands, the New York-based songwriter is stepping out on his own with Roommate of a Friend of Mine.
Big Takeover is pleased to host the premiere of the heartfelt album in its entirety today.
Gently strummed acoustic guitars are backed by brisk drumming, flourishes of harmonica and piano, and the occasional pull of violins. It's an assured collection that stuns in its confidence, and puts Moran's talent for writing concise pop songs on full display.
The title track erupts with charming energy, recalling a dreamlike night out in New York that has you pinching yourself, engulfed in the butterflies of budding love. It's a perfect introduction to the diarist, miniature stories each song paints.
On "Stay", an anxious lover makes their case for why their partner should remain, ultimately coming to the conclusion that only they make that decision. Delicate piano riffs backlight the sprightly guitars and soft snare roll that propels the track.
Moran explains that "Hermit" is one of his oldest songs, written when he was only 16. It's rustic and earthy charm feels wise beyond the experiences of a teenager, and the song has stuck around due to its impact on audience members. "I remember a friend of mine who was a big metal head told me it made him cry, so I've never stopped playing it," he says.
Outside of the excellent songs he's shared ahead of the record's release today, there are gems aplenty. The sparkling guitars and splash of reverb on his voice puts "Virgin Smile" somewhere in the same universe as Red House Painters, though Moran's open-hearted voice brings a ray of sunshine to the emotional song.
"Secret Emotion" features some soaring synths that accompany the song's nostalgic atmosphere. The chorus on "She's Gonna Be Happy" feels like a lost '90s hit. Instantly memorable, it could easily fit on the closing credits of a happily-ever-after rom com.
Across the 10-song collection, Moran paints relatable, everyday stories of love, and the difficulties of navigating it. It's a record full of moments we've all experienced, and a perfect soundtrack for these final summer nights.