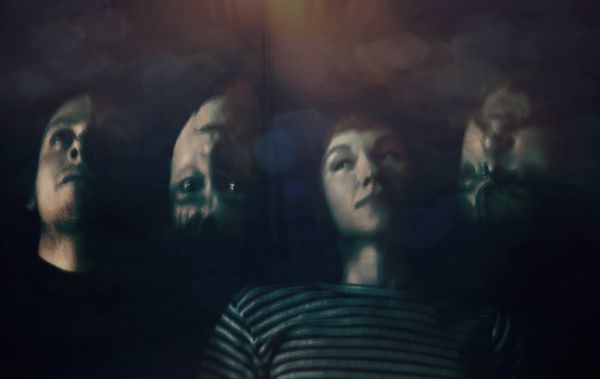 17 October 2018
Tears Run Rings – Photo courtesy of Tears Run Rings
Tears Run Rings return with an enchanting, transporting, and dreamy new four-track release, the EP Somewhere, which comes out October 19th on limited clear 10" vinyl and digital formats through a global label partnership of Shelflife and Deep Space Recordings.
Tears Run Rings released their third album, In Surges, in 2016 and are working on a 4th LP. The four songs on the new Somewhere EP were written when the band met over a weekend in the late fall of 2016, and recorded over the next two years. The making of the EP was, as is customary for the act, mainly a long-distance effort, primarily recorded in both Portland and San Francisco home studios. However, this EP marks the first time working with Kurt Feldman (Ice Choir, POBPAH, The Depreciation Guild), who mixed all the tracks.
Dreamy opener "Helios Heliadae" features Ed Mazzucco and Matthew Bice's burnished and buoyant guitar chime and Bice*'s aerial, layered vocals alongside driving rhythms from Laura Watling on bass and Dwayne Palasek on drums, giving a nod to the early-'80s New Zealand sound.
Next track "Someone Somewhere" is a floating pop song with dual alternating vocals from Bice and Watling that, on one hand, is a return to the lush,slowly sweeping sound from Tears Run Ring's transcendent debut album, but also showcases the band's more polished, melodic pop sensibilities.
The super-dynamic, ironically titled "Be Still" exerts a frenetic energy reminiscent of acts like Moose and Pale Saints and at times twins the swooning vocals of Bice and Watling. The EP winds down with the introspective "Daylight," which is drenched in soft melancholy and shimmering beauty.
Tears Run Rings are playing live for the first time in a decade this fall, with shows in Portland, Oregon (October 20th at Turn! Turn! Turn! with Vibrissae and A Certain Smile), and in Michigan as part of the Kalamashoegazer festival on November 10th at Bells (with Ringo Deathstarr, Airiel, Soft Science, Springhouse (band reunion featuring our very own Jack Rabid, founder, owner, and editor of The Big Takeover magazine and online site!), Tambourina, Seashine, and Brief Candles).
Out on October 19th is a re-release of Tears Run Rings debut album Always, Sometimes, Seldom, Never. The album is fully remastered and available for the first time on colored vinyl. You can Pre-Order both albums at Deep Space Recordings
Website
Facebook
Twitter
Instagram
YouTube