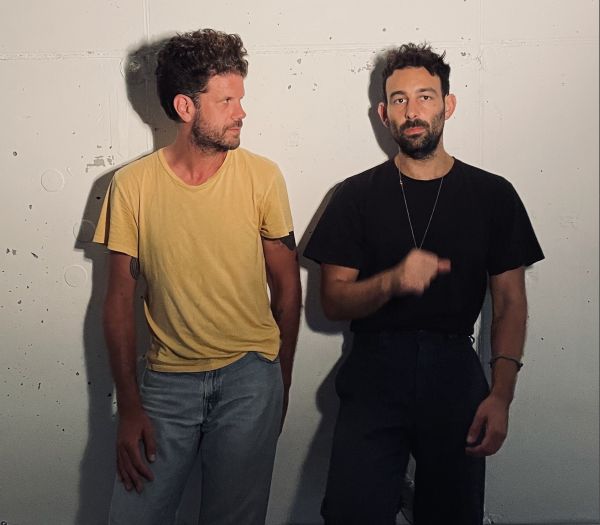 12 October 2021
Star Rover – Photo Credit: Maryam Turkey
Earlier we introduced you to a very cool duo called Star Rover, who are making fantastic and innovative music – they somehow seem to have roots in the past and are, at the same time, futuristic but not in the way you might expect. Through this music, they have reached for the stars and have clearly attained their goal, creating beautiful unexplored musical territory that weaves together a melange of influences, genres and instruments in an astounding way.
Earlier, band presented the singles 'Ghosts of New York' and 'The Springs', along with an animated videos directed by Clara Trevisan. In these, like the full album, their smooth and intriguing improvisational energy, delivered through semi-live sets during the recording process, are complimented with all the advantages that are to be had by recording in a studio environment.
With the break in performances caused by the pandemic, Star Rover seized the opportunity to work on their music free of time constraints. Frequent collaborator and Grammy award-winning songwriter Jesse Harris produced the new record at his Long Island studio, a fruitful exercise of telepathic communication in spirited live takes, using those as springboards for sonic experimentation. The result is dynamic, aggressive, nostalgic and beautiful all at once.
"We went to a small beach house in long island with our friend and collaborator Jesse Harris, who produced the record with us. Not trying to over-think or over-arrange it, we let ourselves have a blissful sort of creative week together discovering what this record might be. It seemed to encapsulate elements of what we used to be, what we are, and what we can be," says Jeremy Gustin.
"We let the record come to us, and working with the amazing engineer Vira Biramji we often let the sounds dictate the material just as much as any pre-arranged ideas we brought. You can hear the buzz of insects and waves in the distance. Setting up microphones on the porch, I even played the wood sides of the house with my hands on a song. The whole environment, including the taste of the clam linguine Jesse would make for us are in these songs."
Standout tracks include Ghosts of New York State, The Springs, Ember Remember, Heart's Attack, and Little Red Shark.
Will Graefe and Jeremy Gustin met during gig sessions back in 2011. Later that year, they recorded their first record 'Western Winds Bitter Christians'. Having toured throughout the USA, Europe and Japan, they are both in-demand session and touring artists, working with the likes of David Byrne, Kimbra, Bill Frissel, Okkervil River, Sam Amidon, Marc Ribot, Delicate Steve and Nels Cline, among others.
Between touring and other recording work, Star Rover's writing developed towards futuristic post-rock, connected to the directness of folk melodies, leading to their 2018 album 'I May Be Lost But I'm Laughing', a more produced effort featuring such artists as Sam Evian, Shahzad Ismailly, Rob Moose (yMusic), Daniel Rossen (Grizzly Bear) and Sarah K Pedinotti.
The next year, Star Rover collaborated with Brazilian musician (and frequent Caetano Veloso collaborator) Ricardo Dias Gomes. They wrote and recorded 'This Whole Emptiness' album in Lisbon at the studio of Marcelo Camelo.
The 'Star Rover' LP can be purchased HERE
CREDITS
Written by Jeremy Gustin (Peppermintolive Publishing) and Will Graefe (Gravymusic Publishing)
Will Graefe – Guitars, vocals, bass, programming, Casio
Jeremy Gustin – Drums, percussion, vocals, programming, Op-1
Jesse Harris – Bass, Casio
Shahzad Ismaily – Bass, Moog
Produced by Star Rover and Jesse Harris
Recorded at Secret Sun East
Engineered by Vira Byramji
Mixed by ze' Nando Pimenta
Mastered by Michal Kupicz
Videos created / directed by Clara Trevisan
Enjoy the two short films they've had made to accompany their very soundtrack-friendly music (sync licensing agents, take notice):
Star Rover
Website
Facebook
Instagram
Twitter
SoundCloud
YouTube
Apple Music
Spotify